GIMP is a free photo-editing software available for MacOS, Windows, and Linux. It offers a vast collection of editing tools, including advanced features. However, some users may prefer other alternatives that can meet their specific requirements.
In this article, we will explore the top five GIMP alternatives in 2023, providing a comprehensive overview of each option to help you make an informed decision.
What is GIMP?

Let's first decode GIMP. It stands for "GNU Image Manipulation Program." It is a free and open-source raster graphics editor used for tasks such as photo editing, image retouching, graphic design, and creating digital art. GIMP provides a wide range of tools and features similar to those found in commercial software like Adobe Photoshop.
GIMP is developed by a community of volunteers under the GNU General Public License (GPL), which means it is free to use, modify, and distribute. It is available for various operating systems, including Windows, macOS, and various Linux distributions.
GIMP supports various image formats and offers tools for tasks like painting, drawing, selection, cropping, resizing, colour adjustment, and more. Additionally, it supports plugins and scripts that can extend its functionality even further.
While GIMP is powerful and versatile, it might have a steeper learning curve compared to more user-friendly paid software, and its interface might differ somewhat from other image editing software. Now, let's explore the top five GIMP alternatives.
Read More: Top 5 Free Alternatives of Chat GPT
Affinity Photo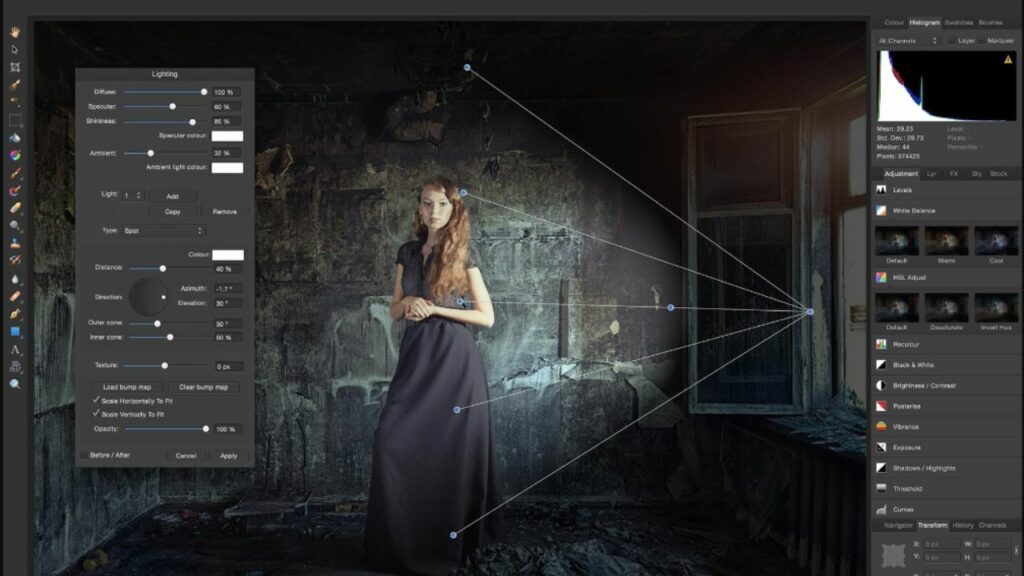 It is a feature-rich image editing software suitable for both professional photographers and creative designers. It offers all the essential tools and advanced functionalities to bring your visions to life.
Affinity Photo has an intuitive interface for both beginners and experts. Plus, it offers a large brush library to make painting easy and natural.
Compared to GIMP, Affinity Photo offers a wider range of advanced editing tools, including the liquify tool, which surpasses GIMP's warp transform feature. It is available for Mac and Windows for a one-time purchase price of $49.99, which includes a lifetime subscription and a year of free updates. There is also a 90-day free trial available.
Pros
Unique features
Long free trial
High-quality vector tools
RAW image editing capabilities
Lifetime updates
Clear UI
Supports PSD files
Imports free photos
Cons
It may run slow at times
A limited selection of plugins
It doesn't support GIMP files
Read More: Google Translate: Top 5 Free Alternatives
Adobe Photoshop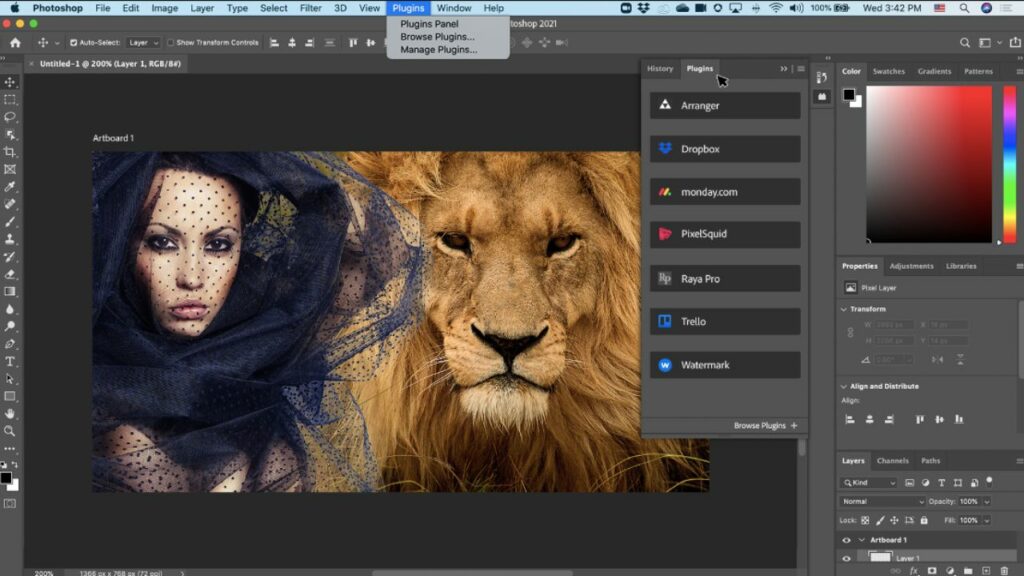 Adobe Photoshop is the most popular photo editing software. In the world of image editing, it continues to dominate the market with its extensive range of tools and unparalleled editing capabilities. While it comes at a higher cost than other alternatives, its expensive toolkit and integration with other Adobe Creative Cloud applications make it a required tool for graphic design and photography professionals.
Photoshop remains a go-to choice for those seeking power and flexibility in their editing workflow. No doubt, Photoshop offers more sophisticated editing features than GIMP. It is undoubtedly a top option for professional photographers thanks to its AI-powered selection tools and raw editing features.
Adobe Photoshop can be used for a lot of things including creating collages, headshots, and business cards. It requires a monthly subscription, with basic prices starting at $20.99 per month and $239.88 per year. However, a free trial is available.
Pros
Deep image retouching
Layers and masks
Top-notch image editing tools
3D design features
Synced Libraries and Cloud Documents
Cons
Few tools for working with vector graphics
Costs subscription for use
Learning it can take some time
Read More: Top 5 Popular Android Games
Canva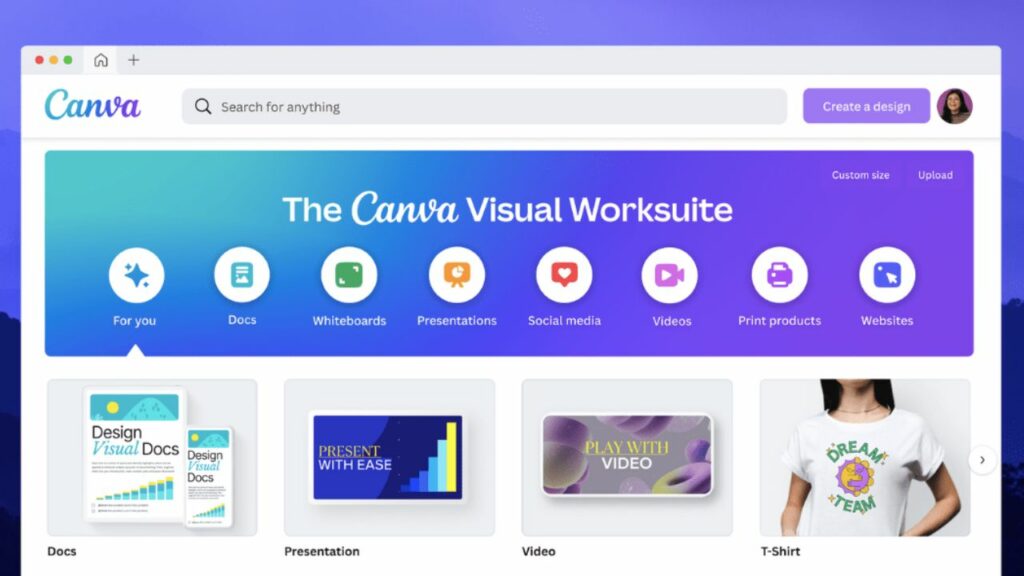 Canva is a popular online graphic design tool that provides users with a wide range of features to create visually appealing designs for various purposes. We suggested Canva as the best alternative to GIMP for beginners.
It is known for its intuitive and easy-to-use interface that allows users, even those without design experience, to create professional-looking designs. It offers an extensive library of custom-made templates, ranging from social media graphics and presentations to posters and flyers.
Users have access to a rich repository of stock photos, illustrations, icons, and elements, which they can effortlessly integrate into their designs. It also offers export options in various formats and supports direct sharing on social media platforms, making it an ideal tool for individuals, businesses, and institutions.
Canva and GIMP differ from one another in that the former is a web extension while the latter is entirely web-based. This implies that it is accessible from everywhere. There are two different price ranges for it. Monthly costs for a team of five persons are $14.99 and $12.99 for a single person. It has a free version as well in which only select resources are available.
Pros
Easy-to-use
Built for businesses
Web-based
Cons
Limitation on the number of templates
The free version is limited
Read More: Top five AI tools to create an Instagram post
Pixlr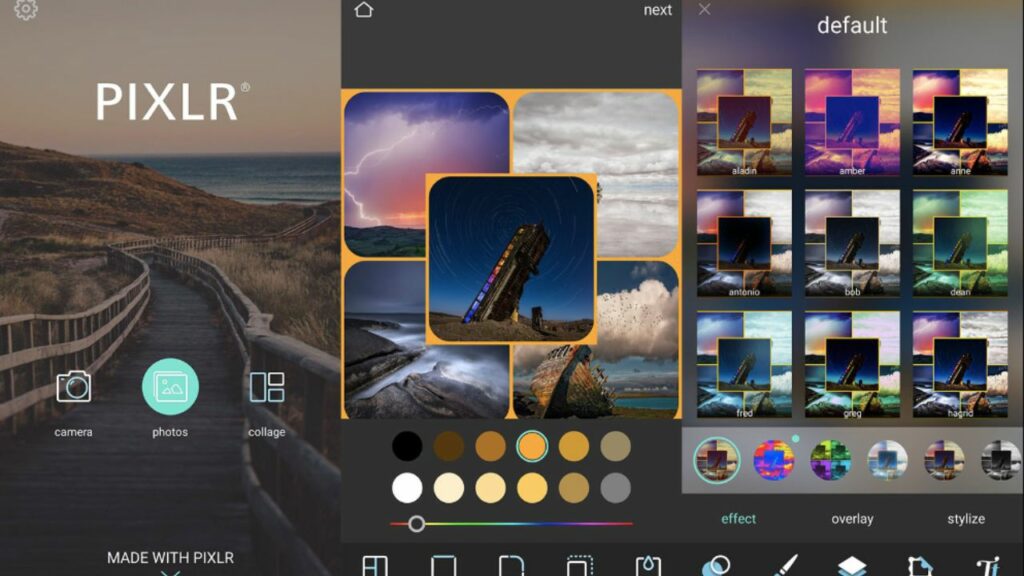 Pixlr is a user-friendly alternative that offers both basic and advanced editing tools. With its playful interface and vast collection of filters and effects, it appeals to beginners who want to easily enhance their images. 
This web-based editor has a mobile App version, offering convenient editing on the go. It balances simplicity and functionality for a seamless editing experience, although it may not have an extensive toolkit like some other options.
It is available online and supports numerous file types, including PSD, PXD, JPEG, PNG, WebP, SVG, etc. It is suitable for both photo editing and graphic design.
Pixlr doesn't require you to download and install any software package in order to use it, unlike Gimp and most other tools of a similar nature. Although Pixlr doesn't have as many tools as Gimp, it more than makes up for that by being incredibly simple to use. Choose the $4.99/month premium subscription or the $14.99/month creative pack, both of which are invoiced annually with a 30-day trial period.
Pros
Lots of filters
A collection of cutting tools
Colour replace
It comes with pop-art effects
A collection of cutting tools
Tools for digital painting
Layer support
Cons
Advertising
Some bugs while saving a project
Read More: Top 5 apps to rent AC, Furniture, Home appliances
PhotoScape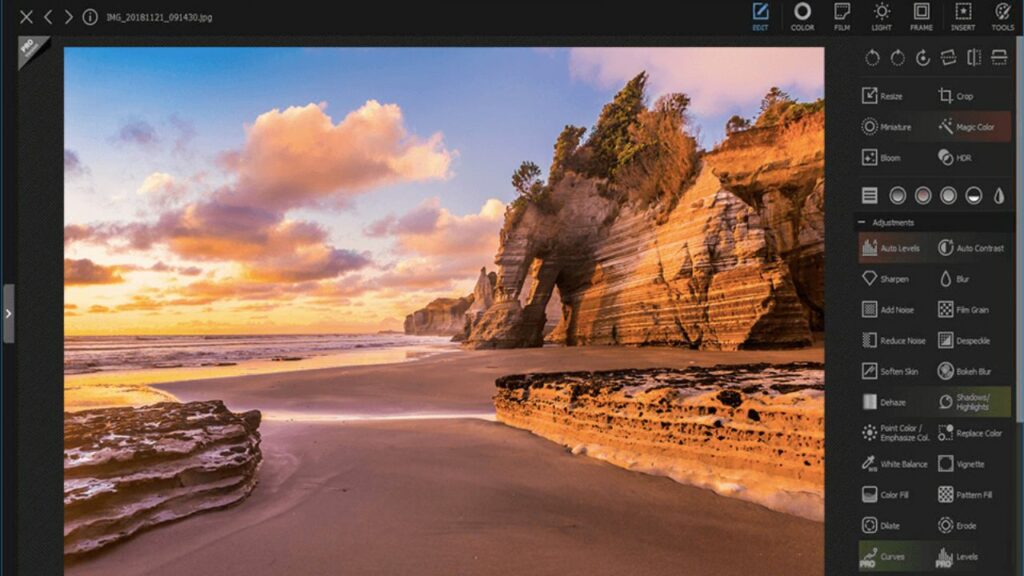 PhotoScape is a lightweight software that offers a combination of editing features. From its intuitive interface to the variety of filters, effects, and frames it provides, PhotoScape presents a comprehensive solution for quick and easy photo editing.
It also offers additional features such as batch editing, RAW file conversion, and GIF creation, further enhancing its appeal. Though it may lack some advanced capabilities found in other alternatives, PhotoScape stands out as a user-friendly option that delivers satisfying results.
You will not need to download third-party applications. Also, free PhotoScape supports and works with different file types, such as gifs. PhotoScape is available for all Windows versions previous to Windows 10/11 and a separate version.
Besides, you can use it as a decent Analog to free photo mosaic software. However, there is another version, namely "PhotoScape X Pro," in which the functionality is expanded. The cost of PhotoScape X Pro is $39.99.
Pros
Good optimization
Supports various file formats
Screen capture
Free service
Batch editing
Cons
Loss of quality while maintaining
Weak export parameters
The GIF section must be improved
Read More: 5 Best Free Music Download Websites Which Is 100% Legal
Conclusion
As the demand for image editing continues to soar, it's essential to explore alternatives to GIMP that align with your unique editing requirements. The top five alternatives mentioned in this article—Affinity Photo, Adobe Photoshop, Canva, Pixlr, and PhotoScape—each bring their own strengths and specialities to the table.
Whether you desire professional-grade editing capabilities, browser-based convenience, user-friendly features, or a balance between simplicity and functionality, these alternatives present viable options to consider in 2023.