Days after announcing the Serif and The Frame Lifestyle TVs, Samsung Electronics has today introduced a new feature to its smart TVs – the Remote Access. The feature will go live on Samsung Smart TVs that will be announced in 2019 and will provide enhanced wireless connectivity with PCs, tablets, and smartphones.
With Remote Access, users will be able to remotely control compatible programs and apps on their smartphones and PCs through a Samsung Smart TV. Customers will be able to connect additional input devices like a keyboard to control on-screen content on their Smart TV.
This means, users can remotely access a PC in their room through the TV in their living without a wired accessory and can this surf the web or play games on their TV using a connected keyboard and mouse. Remote Access allows users to directly control their devices connected to a TV with a keyboard and mouse in addition to simply displaying the content on a larger screen.
Remote Access can be used anywhere in the world which is possible due to VMware Horizon's Virtual Desktop solutions. Users will also be able to access web browser-based cloud office service through Remote Access, meaning the next line of Samsung Smart TVs will also allow you to access files and work on documents right off the TV's home screen.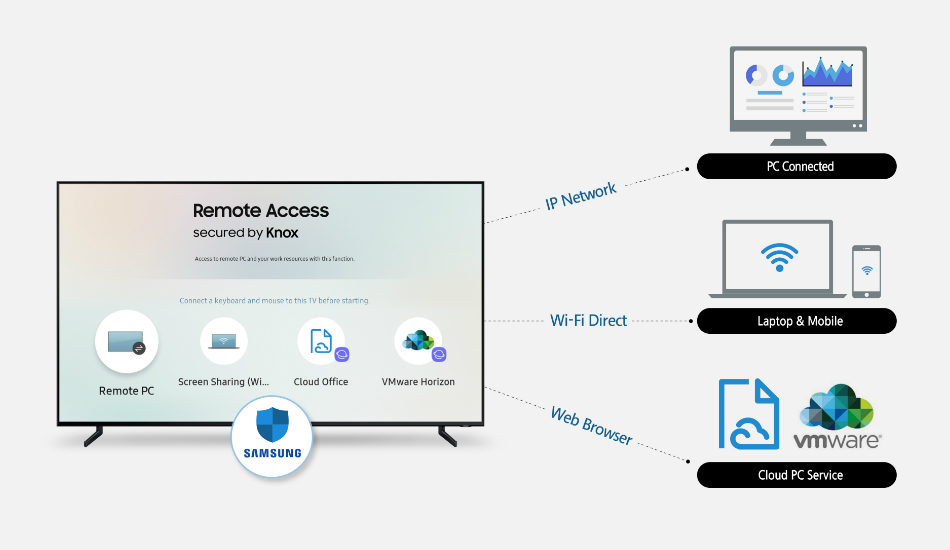 All of this has been coupled with Samsung's proprietary Knox security technology which will allow regular firmware updates for continuous protection when accessing the Remote Access feature.
Speaking about their latest announcement, Samsung Electronics Visual Display Business Executive VP, Hyogun Lee said "Samsung is committed to creating an intuitive and convenient user experience for consumers. With Remote Access, consumers will be able to easily access various programs, apps and cloud services installed on multiple connected devices directly through their TV screen. We will continue to collaborate with our partners to expand the compatibility of Remote Access and provide more services to our users".
VMware Senior VP and GM, Shankar Iyer also commented by saying "Samsung and VMware share a passion for helping workers to be as productive as possible. We continue to expand our partnership so that those working remotely will have a seamless experience as they access virtual desktops, applications, and online services from their favourite Samsung devices – including a Samsung Smart TV".
Samsung's Remote Access feature will go live on Samsung Smart TVs, starting 2019.