Just weeks after announcing 'The Frame' and Serif 2019 Lifestyle 4K QLED TVs, Samsung Electronics has today introduced the 2019 range of desktop monitors, offering specialisation across different ways of usage. The 2019 line of Samsung desktop monitors includes the 27-inch Space Monitor, 49-inch CRG9 ultra-wide Gaming monitor and 32-inch UR59C Curved monitor for content creators. All three monitors will be displayed during the Consumer Electronics Show (CES) 2019 event in Las Vegas.
27-inch and 32-inch 'Space' Monitor
Talking about the highlight of the announcement, Samsung's Space Monitor allows users to focus on what's on the screen and not what's around it. It offers a minimalist design with an integrated arm that clamps to the desk, thus unflattering the user's desk space. The monitor can be set up to feature adjacent to the wall or can be pulled up to the desk through easy ergonomic adjustment.
The Space Monitor comes in a 27-inch QHD version as well as a 32-inch 4K UHD screen variant. The monitor has a discreet cable management system which integrates power and HDMI cords through the arm for a clean, flexible look. The monitor can be easily tilted or extended from the wall and can be lowered to the desk surface using Samsung's Zero Height Adjustable Stand feature for ultimate versatility and viewing.
49-inch Ultra-Wide CRG9 Gaming Monitor
Samsung has also announced the world's first high-resolution super ultra-wide gaming monitor with the launch of the 49-inch CRG9 Gaming Monitor. The CRG9 offers a dual QHD display with a resolution of 5120×1440 pixels and 32:9 aspect ratio. It offers a 120Hz refresh rate with a fast 4ms response time and can display HDR10 content with a peak brightness of 1,000 nits, thus delivering detailed images in brightest and darkest scenes.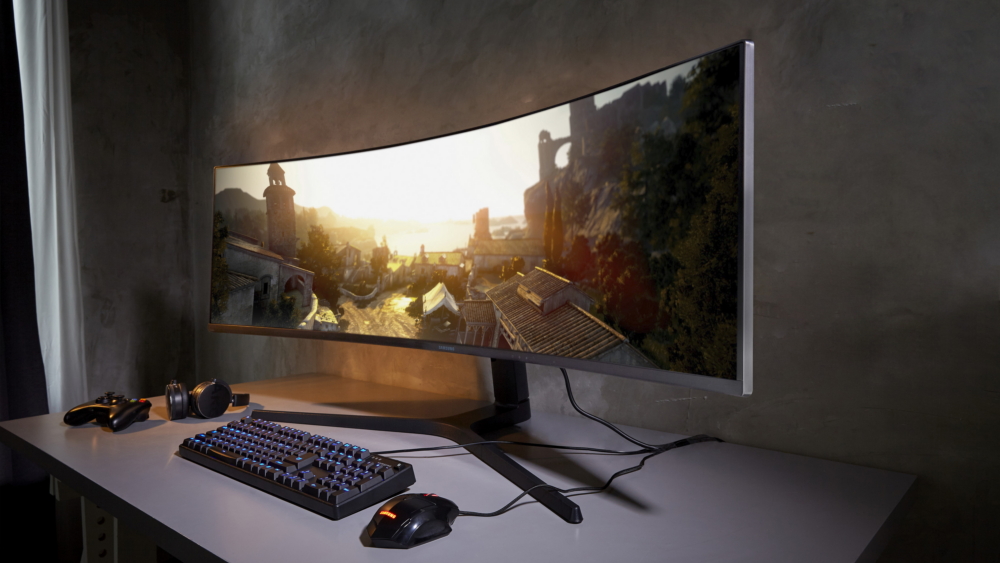 The CRG9 Gaming Monitor also features AMD Radeon FreeSync™ 2 HDR technology to reduce stutter, screen tearing and input latency. HDR10 delivers outstanding local dimming, and high-contrast HDR and with Samsung's Quantum dot technology, it delivers accurate colour reproduction and a 1,800mm screen curvature. The monitor comes with one HDMI port, two Display Ports, USB 3.0 and headphone connectivity options.
32-inch Curved UR59C 4K UHD Monitor for Content Creators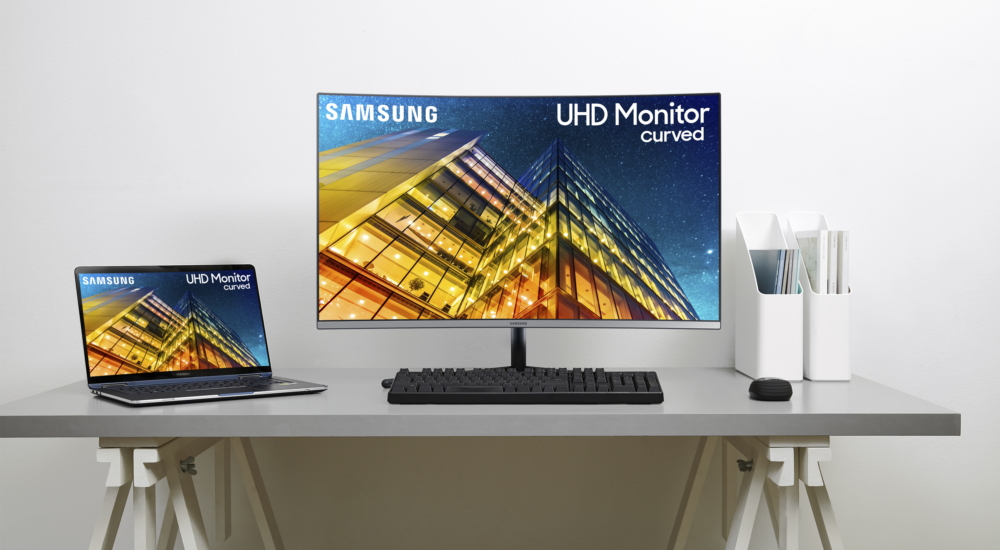 The Samsung Curved UR59C 4K UHD Monitor is a 32-inch UHD curved display with a resolution of 3840×2160 pixels and 2,500:1 contrast ratio. The 1500R curvature delivers a truly immersive experience thus reducing eye straining when creating content and art, watching videos or gaming for a longer period. The UR59C comes in a Dark Blue Gray colour with a super-slim design that offers a thickness of just 6.7mm and is housed inside a fabric-textured rear casing. The 32-inch screen is surrounded by no bezels of three sides and comes attached to a sturdy V-slim metal stand with a two-prong base that encases cables and reduces its footprint on a workspace.
Speaking about the latest launch of products, Samsung Visual Display Business Executive VP, Seog-gi Kim said "Samsung's latest monitor lineup is incredibly versatile, and demonstrates our commitment to continued innovation and leadership in the category. All of these monitors are part of our larger strategy this year, to keep giving you choices so you can get what you want— beautiful, hardworking devices that inspire you to do more".
Samsung's 49-inch Ultra-Wide CRG9 Gaming Monitor, 32-inch Curved UR59C 4K UHD Monitor and 'Space' Monitor will all be displayed at the Consumer Electronics Show (CES) 2019 event in Las Vegas during January 8-11, 2019.