A little over a month after unveiling its Watch W7 Hybrid smartwatch with Quartz movement, LG has announced the XBOOM WK9 AI ThinQ Smart Display to rival the likes of Amazon Echo Spot, Lenovo Smart Display and the Google Home Hub. The Xboom WK9 features a display with a front camera and Google Assistant compatibility and will be launched for an introductory price of $199 (approx. Rs 14,200).
Measuring in at 370 x 244 x 145mm, the WK9 features an 8-inch touchscreen LCD display with a resolution of 1200 x 800 pixels that are titled to make the screen easier to look and interact with when using on top a table. There's a 5MP front facing camera which allows users to utilise Google Duo for video calls.
The camera also comes with a physical privacy switch and the display features an ambient light sensor that adjusts the brightness of the screen according to a room's lighting conditions. There's also a mute button on top that shuts down the far-field microphones from hearing your conversations.
The smart display's most selling point comes through its two 20-watt speakers which are powered by Meridian's Bass and Space technology for a superior listening experience wherever a user is seated at across a room.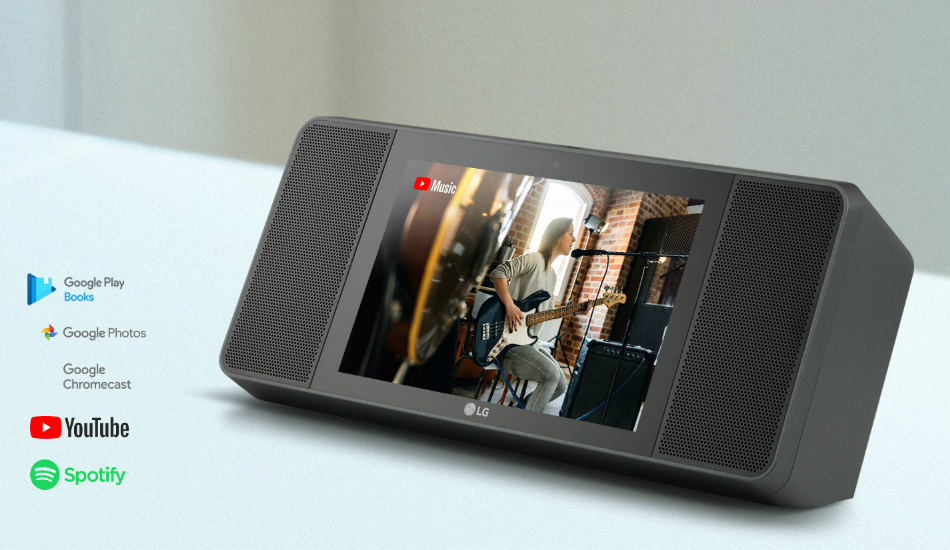 The XBOOM WK9 runs on Google's Android Things which is a stripped down version of the mobile Android OS, specifically built for IoT products. The interface is currently updated and managed directly by Google with fewer customisation options from the manufacturer. The device can be configured with the Google Home companion app on iOS or Android through WiFi network and a Google account.
Content-wise, the WK9 can play videos from YouTube, YouTube TV, HBO Now, CBS, the CW and Wiki. Audio services like Google Play Music, Spotify, YouTube Music, Pandora, TuneIn and Deezer are also accessible through the smart display. The Google Assistant on the WK9 will be able to carry out multiple tasks at once and set alarms, routines, timers, reminders, calendar events, perform calculations and currency conversions like the Google Assistant on smartphones and Home speakers.
The LG XBOOM WK9 AI ThinQ Smart Display will be launching for an introductory price of $199 (approx. Rs 14,200) but will later retail for $299 (approx. Rs 21,300).