Amazon has unveiled the Echo Spot, as its latest addition to its Echo lineup which includes the Echo, Echo Dot, and Echo Plus. Not only is the Echo Spot a smart speaker that's enabled with Amazon's own Alexa assistant, the device sports a circular 2.5-inch display that will let you check the time, weather, set an alarm, play music, add items to your shopping list and even switch on the lights in your room. Amazon has priced the Echo Spot in India at Rs 12,999 but it's offering a Rs 2,500 discount as part of the launch offer which effectively brings the price of the device to Rs 10,499.Amazon will soon sell its Echo range of smart speakers offline as well.
The Echo Spot comes packed with four microphones with enhanced noise cancellation, acoustic beam-forming technology, and second generation far-field mix technology. The smart speaker will be able to use the inbuilt camera for making video calls through Alexa-to-Alexa interface. Video calls will work between different Echo Spot devices as well as through the Alexa companion app that's available for both iOS and Android devices.
The device would also be able to plug into your speakers via a headphone jack or Bluetooth to play music. There's also a Drop-In feature which enables you to check up on your guests at home or to see what your loved ones are up to.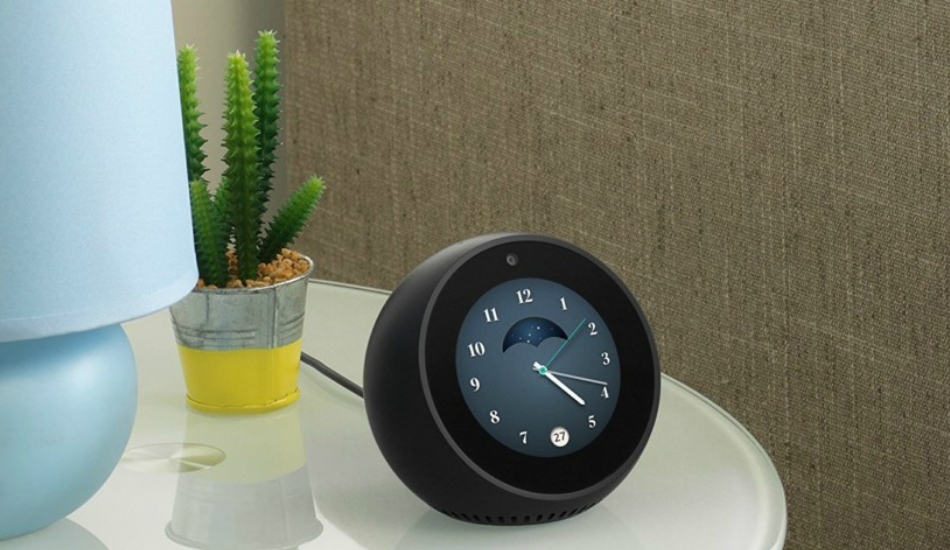 The Echo Spot also does everything a regular Echo smart speaker can and even more as users will be able to add items to their shopping list on Amazon through their voice and will be able to look at the product details, its price and user rating as its clearly visible through the circular display on the Echo Spot. You can also catch up on the latest news from several news providers and watch trailers of movies you might want to watch later on Amazon Prime, Daily Motion or Vimeo.
Amazon is also offering discounts on its other Echo product as part of the launch. The original Echo device can now be purchased for Rs 7,999 instead of Rs 9,999 and users can but two of the same for 14,999. The Echo Dot receives a huge discount as well with the current price set at Rs 3,999 instead of its original Rs 4,499 price tag. Buy two and you can bag it for Rs 7,499. The expensive Echo Plus device now comes with a free Hue bulb for Rs 14,999.