After months of resisting the Telecom Regulatory Authority of India's request to include a Do Not Disturb app on iPhones in India, Apple is finally giving up and is implementing anti-spam measures taken by the Government of India. TRAI's DND app will thus be available on all iPhones for download through the Apple App Store to help curb spam calls and texts.
The app which is named as TRAI DND – Do Not Disturb will allow Indian users to report and bar texts and unwanted calls from a given number. To put things into perspective, the Indian government first released the DND app on Google's Play Store back in 2016. Apple didn't allow the app to be made available for downloads until now stating privacy concerns.
Apple's concern was that users will need to give away access to TRAI to read call logs and messages. Also, a third party app to read call logs and text messages has never been in question on iPhones as Apple generally doesn't give out such permissions. Threatened by the Indian telecom regulator's upcoming ban on their devices in India, Apple has now been forced to host the DND app on its App Store.
In order to use the functionality, users will need to download and install the TRAI DND app from the App Store and for that, they'll need an iPhone or iPad to be upgraded to Apple's latest iOS 12.1 interface. Users will then need to register for availing the service through an SMS/Call Reporting framework which appears to have been introduced by Apple for this to work. After completing the registration process, users will then need to enable the app as an extension when reporting an incanted call or SMS.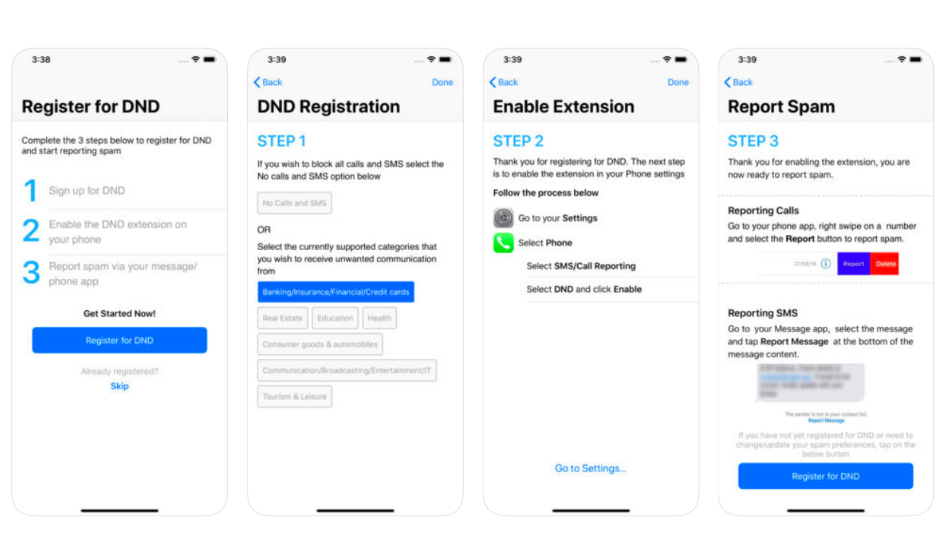 After selecting spam calls and messages, the DND app will auto-generate complaint texts to the operator for processing the number. It's not clear whether Apple agreed to settle on giving TRAI access to all call logs and texts or if TRAI settled on the things Apple agreed upon to avoid a ban.
The TRAIN DND app will be available free-of-cost on the Apple App Store and will be compatible on devices running iOS 12.1 or later.