Following the launch of the Google Nest Hub smart display in India for Rs 9,999, Lenovo has now announced two new smart home products in the country – the Lenovo Smart Display and Lenovo Smart Clock. Both smart home device feature Google Assistant, touch control and Chromecast support. The Lenovo Smart Display will be available for a price of Rs 14,999 while the Lenovo Smart Clock can be purchased at Rs 5,999.
Lenovo Smart Display
The Lenovo Smart Display was first announced in July 2018 and comes powered by an octa-core Snapdragon 624 chipset based on Qualcomm's Home Hub Platform. The device features a 10.1-inch IPS LCD Full HD display with a resolution of 1920 x 1200 pixels and an 86-degree rotating view.
As for the internals, the Smart Display comes with 2GB RAM and 4GB of onboard storage with support for Wi-Fi 802.11 ac networks and Bluetooth BLE. There's a 2 x 2 Dual array microphone setup while for audio output, the Lenovo device offers dual 10W Full Range Speaker and two Passive Tweeters. There's a 5-megapixel front camera that supports 720p video calling through Google Duo which can be physically hidden with a shutter for privacy.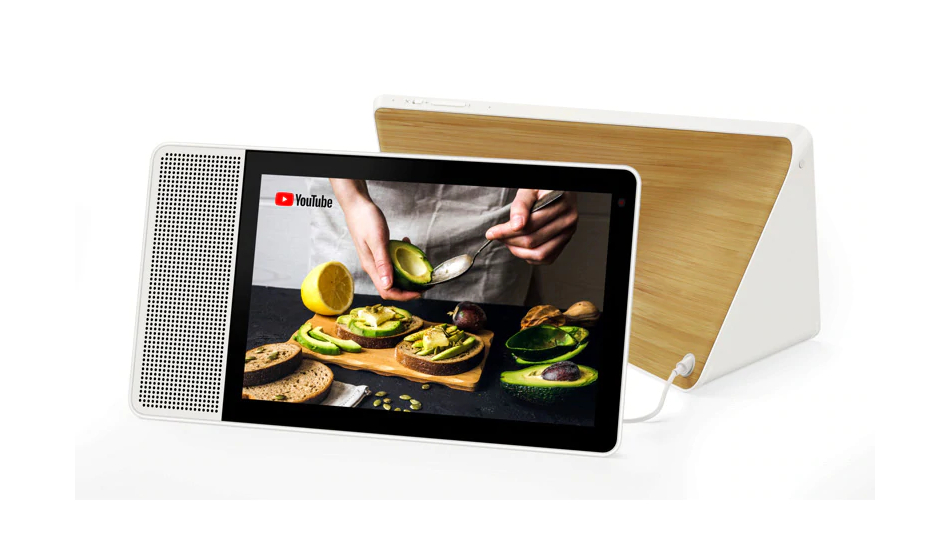 The Smart Display is based on Google Assistant and allows users to ask questions, listen to music, set timers, control smart home appliances or simply gain knowledge for fun. With the "Hey Google, good morning" command, users will be greeted with all the information that might be needed to start the day including traffic congestion, reminders, weather forecast and top news.
The Lenovo Smart Display weighs in at 1.2 kgs and measures 173.87 x 136.02 x 311.37 mm. It's available in Bamboo colour and features a microphone mute button, a camera shutter and volume up and down for external controls.
Lenovo Smart Clock
The Smart Clock from Lenovo was launched globally earlier this year at CES 2019. It comes with a 4-inch IPS HD touchscreen display that has a resolution of 480 x 800 pixels. The device is powered by a Mediatek 8167S processor clocked at 1.5ghz and is coupled with 1GB of RAM and 8GB of onboard storage.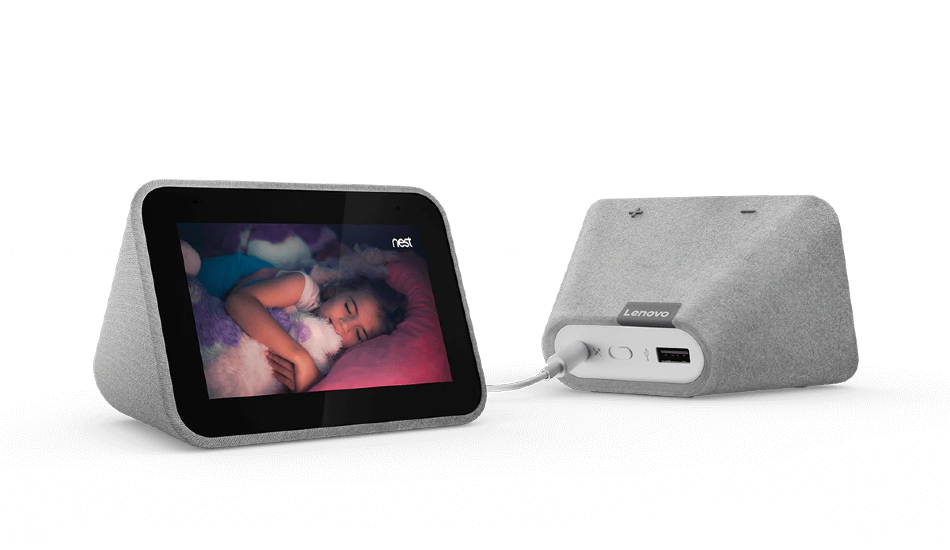 Connectivity options are offered through 2.4G/5G Dual Band WiFi and Bluetooth 5.0. The Smart Clock features a 1.5-inch 3W Speaker with two Passive Radiators and a peak audio output of 6W. The speakers are tuned with Dolby's background noise reduction technology for enhanced radio listening and the smart clock will also play music, audiobooks, podcasts and radio across multiple devices in several rooms.
The Lenovo Smart Clock also works with Chromecast, so users can stream TV shows and music on their TV or speakers with just their voice. Lenovo has included Google Assistant's gentle wake-up routine which sets the user's. Light to brighten and alarm volume to increase 30 minutes before the scheduled wake time. Upon waking up, the Smart Clock will trigger the user's morning routine by announcing today's weather, reminders and the daily commute to work.
The Smart Clock is available in Soft Touch Cloth Grey colour, weighs 328 grams and measures 79.8 x 79.2 x 113.88mm.
Lenovo Smart Display and Smart Clock will be available for asking prices of Rs 14,999 and Rs 5,999 respectively on Flipkart from early September. The devices will be up for registrations from August 28.