Hathway has started offering 200Mbps, 150Mbps and 125Mbps Fiber Broadband plans to rival FTTH plans of that of BSNL and Reliance Jio. Having been recently funded by Reliance Jio itself, Hathway has come up with a slew of attractive plans for its Fiber Broadband users in India, some of which are offering speeds of higher than 100Mbps while others offer unlimited data consumption.
Hathway 200Mbps, 150Mbps Fiber Broadband plans in Kolkata
Hathway has started providing 200Mbps and 150Mbps Fiber Broadband plans to its users in Kolkata in addition to its 100Mbps, 80Mbps, 25Mbps and 10Mbps plans. The company is offering the highest data speed with the Turbo 200 Fiber Broadband plan which brings 1000GB of monthly data at 200Mbps speed, post which the speed will drop down to 5Mbps.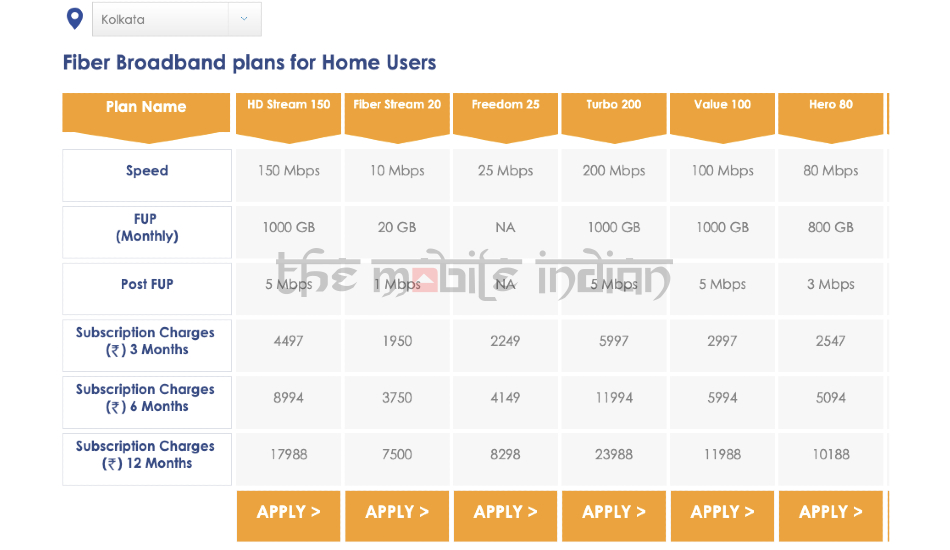 The Value 100, HD Stream 150 and Value RTL 100 plans also come with 1000GB data capping but with speeds of 150 Mbps, 100 Mbps and 100 Mbps respectively. All available Fiber Broadband plans in Kolkata can only be available with a minimum subscription of 3 months and users can also avail the 6-month and 12-month payment options.
Hathway high-speed unlimited Fiber Broadband plans in Hyderabad
High-speed Fiber broadband is also available in Hyderabad where Hathway is offering the Thunder Fiber plan with its highest data speed of 125 Mbps. The Thunder plan can be availed for a monthly subscription of Rs 649. Hathway is also offering the Freedom, RAPID, Lightening, HERO and Super plans with speeds of 100 Mbps, 80 Mbps, 75 Mbps, 50 Mbps and 25 Mbps respectively.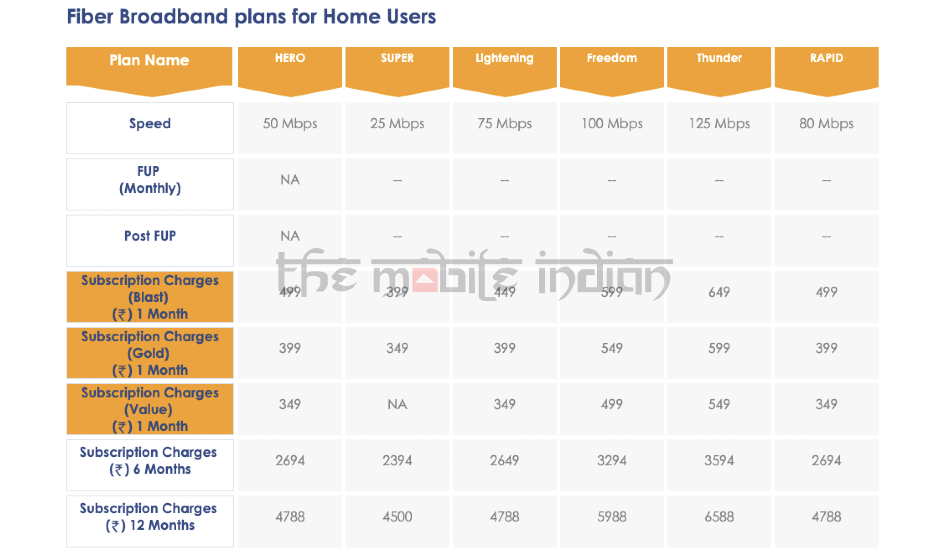 What's interesting is to note that all Fiber Broadband plans in Hyderabad come with no FUP whatsoever, meaning users will be able to use any amount of data at the highest speed possible with no extra charge.
Prior to this, Hathway started offering free Play Box Android TV device with its broadband plans last month. The Hathway Play Box was launched in October last year as an Android TV-powered set-top box that comes loaded with Google Play Services, dedicated Netflix, YouTube and Google Play buttons, built-in chromecast support and Google Assistant.