Last month, Google updated its Maps application with recommendations for auto-rickshaws under its public transport mode for users in Delhi. The Mountain View giant has now added a "Messages" section inside the app for enabling users to connect to businesses listed on Google Maps who have their own page.
The feature will be different to other messaging apps on smartphones as it further tries to improve the navigational features of the mapping app. The new 'Messages' section is already available to some users from the side menu which can be swiped from the left of the screen when opening the Google Maps app. The Messages section can be seen sandwiched between 'Your Contributions' and 'Location Sharing' inside the Hamburger menu.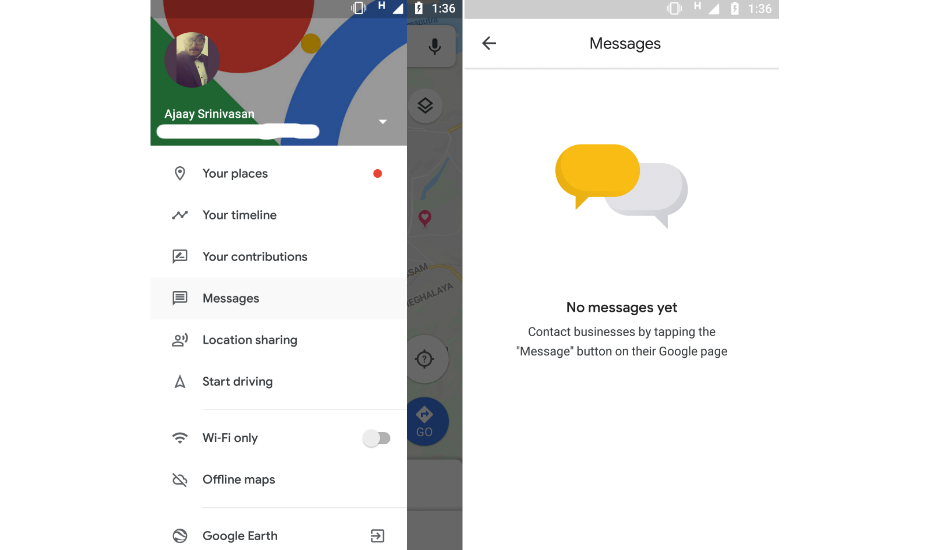 Opening Messages will list the messages you might have sent and received from various businesses in your locality, thus allowing you to contact them regarding future visits, items in the menu or the services they might provide. The feature can come in handy for users who are searching for a product at a local outlet which isn't available online. Businesses will have to use the feature to earn more rating for their Google Page and also boost their visibility and growth locally.
Messages on Google Maps is currently available to select users of the app. While it might be helpful in connecting to local retailers and restaurants, the Messages section will not essentially be a place to interact with your friends and family as Google has other avenues to do so.
Google also recently announced Shopping Homepage in India – a made-to-browse destination for shoppers to search across multiple product categories, and browse products from thousands of retailers. Shopping Homepage is available as 'Shopping Tab' in Google Search and Style Search in Google Lens.