Days after launching its Shopping Homepage on Lens and Search, Google has now announced that it's updating the Google Maps application on Android with a new feature. The latest update will thus recommend auto-rickshaws for commuters of public transport in Delhi.
Google has been displaying several options for commuters who're looking to get from one point to another within the city. The public transport mode features suggestions that economical users can try out to reach their destination conveniently. With the latest addition, auto-rickshaws now make their way onto the "public transport" and "cab" sections of the Google Maps with estimated route plan and fares as release by the Delhi Traffic Police.
The new feature can be found when searching for a direction to go from one place to the other inside Google Maps. Users can now select an auto-rickshaw as their mode of transportation under "public transport" or "cabs" mode to get a rough idea about the fare that they'll be charged with and the estimated route they'll be going through to get to their destination.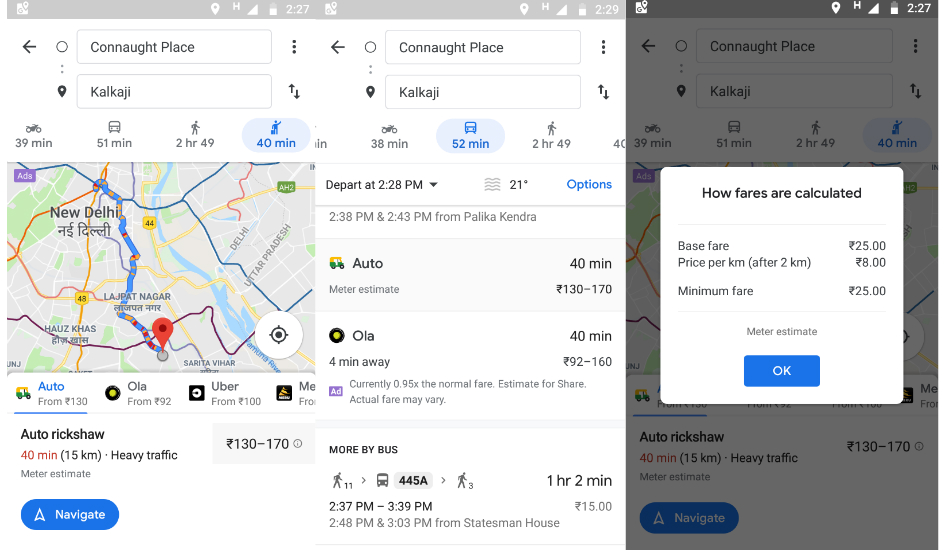 The feature is currently available for users in Delhi who use the latest version v10.6 of Google Maps on an Android phone. We're yet to know when a similar feature would land on Google Maps on iOS devices. It also remains to be seen whether Google will roll out a similar feature to users across other cities in India and if so, what's the extent of it.