At the Computex 2019 event in Taipei, MediaTek announced the first smartphone system-on-chip that will be powered by ARM's latest Cortex-A77 CPU and Mali-G77 GPU. The chipset will also be the first in the world to come with an on-die 5G modem which will be done through its own M70 5G modem that was announced in February this year.
MediaTek hasn't yet given a name to the 5G-enabled SoC but the company has spilt some beans about what the upcoming chipset will pack. The new MediaTek 5G SoC will be built on TSMC's latest 7nm+ process node which kicked off mass manufacturing a couple of days ago.
The chipset will be the first in the world to employ ARM's Cortex-A77 core and Mali-G77 GPU which was announced earlier this week. The latest Cortex core will be able to offer up to 20 percent faster instructions per clock with the same efficiency and 35 times faster machine learning performance than the Cortex-A55. The Mail-G77 GPU architecture will also be able to give 1.4 times more performance, 30 percent additional energy efficiency and will be 60 percent faster when running machine learning inference and neural net workloads locally on the device.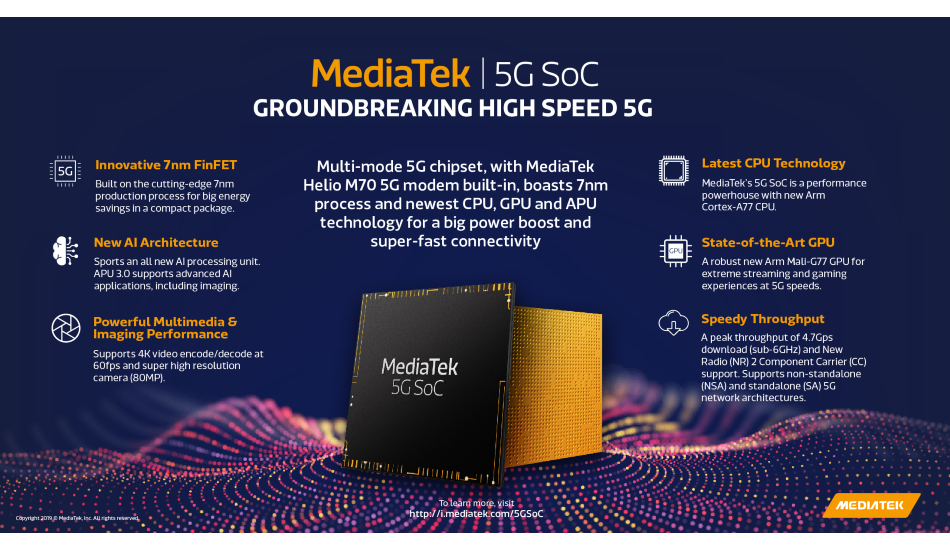 The highlight of the MediaTek announcement comes from the fact that there will the company's M70 5G modem which will be embedded right on to the unnamed SoC, as was previously suspected. Currently, all 5G based chipsets have been implemented with off-die 5G modems including Qualcomm's X50. The M70 5G modem will thus be the first on-die modem to be embedded onto a processor and is slated to give a throughput of 4.7Gbps on sub-6GHz networks and 2.5 Gbps speed when uploading.
Speaking on the latest launch, MediaTek President Joe Chen said "Everything about this chip is designed for the first wave of flagship 5G devices. The leading-edge technology in this chipset makes it the most powerful 5G SoC announced to date and puts MediaTek at the forefront of 5G SoC design. MediaTek will power rollouts of 5G premium level devices".
Chen added "The industry, OEMs and consumers have high expectations for 5G. We are confident devices powered by MediaTek's 5G chipset, with its impressive architecture, leading imaging features, powerful AI and ultra-fast 5G speeds will deliver incredible experiences".
Full specifications of the MediaTek 5G SoC is expected to be introduced in the coming months with commercial devices by Q1 of 2020.