Cambridge-based chip designer ARM has announced the launch of their newest CPU and GPU chip designs which will power the next generation of premium phones. The company has announced the Cortex-A77 CPU, the Mali-G77 GPU alongside an improved machine learning processor.
To start things off, the Cortex-A77 CPU design is a refinement of the 7-nanometer Cortex-A76 which was announced last year. The latest Cortex core will be able to offer up to 20 percent faster instructions per clock with the same efficiency and 35 times faster machine learning performance than the Cortex-A55.
ARM says the performance through the Cortex-A77 chip design will be four times that of the Cortex-A15 that was present in 2013. The company has also claimed that the new CPU design can also be employed in applications based on machine learning, augmented reality and virtual reality.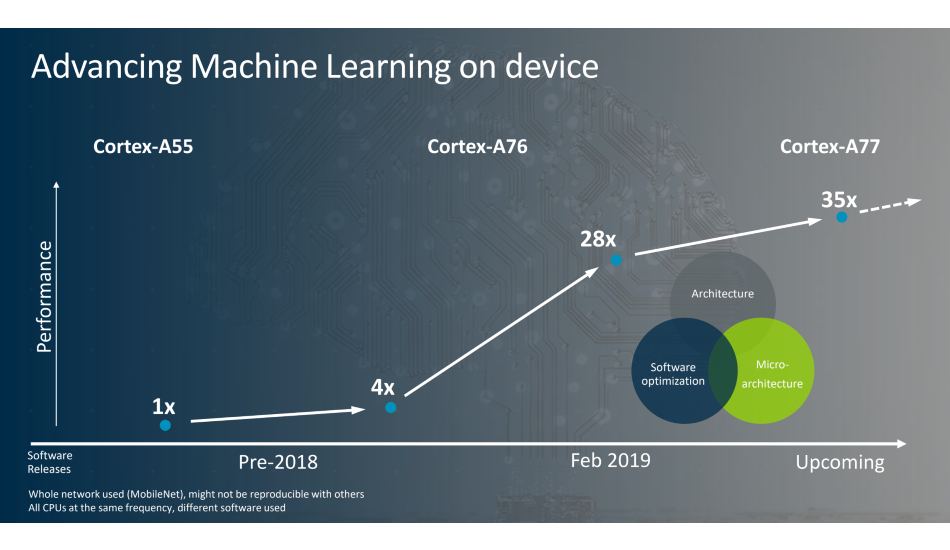 Moving on, the Mail-G77 GPU architecture will be based on ARM's Valhall GPU design which the company says will be able to give 1.4 times more performance than the Mail-G76. The new GPU design will also offer 30 percent additional energy efficiency and will be 60 percent faster when running machine learning inference and neural net workloads for advanced on-device intelligence.
ARM is also betting big on its Project Trillium machine-learning compute platform and has revealed that it has managed to increase the energy efficiency by over twice and scaled performance up to 8 cores and 32 trillion operations per second (TOP/s).
ARM designs its CPU and GPU chips and licenses them to Qualcomm, MediaTek and Samsung who combine its components to make their own system-on-chips (SoC). Apple also gets licenses from ARM but only for the chip instruction set which is a set of codes that is used to utilise a chip. Among the clients under the chip designer was Huawei who has lost the rights to use new ARM designs owing to the US executive order that banned it from doing business with any US-based company.
It'll be a while till we'll see the first phones being powered by chipsets based on the latest ARM Cortex-A77 CPU and Mali-G77 GPU but we might just see actual chipsets with these designs sometime later this year.