Weeks after announcing 'The Frame' and Serif 2019 Lifestyle 4K QLED TVs, Samsung Electronics has introduced a new 75-inch Micro LED TV and a 219-inch 'The Wall' TV with its modular Micro LED display technology. The new line of Samsung TVs with MIcroLED displays will be showcased during the CES 2019 event in Las Vegas. 
The new MicroLED and 'The Wall' TVs come with Micro LED technology that is made up of individual modules of self-emissive Micro LEDs and feature millions of inorganic red, green and blue microscopic LED chips. These LED chips emit their own light to produce brilliant colours on the screen, thus offering an unparalleled picture quality, versatility and design. 
Samsung says the 75-inch Micro LED TV is a miniature version of the 146-inch The Wall TV which was introduced by the company around the same last year. It has managed to do so in such a small profile due to Samsung's advancements in the ultra-fine pitch semiconductor packaging process. Since Micro LED incorporates a modular nature, the display technology used on the screen offers flexibility in screen size, which can thus be positioned on any room across various sizes.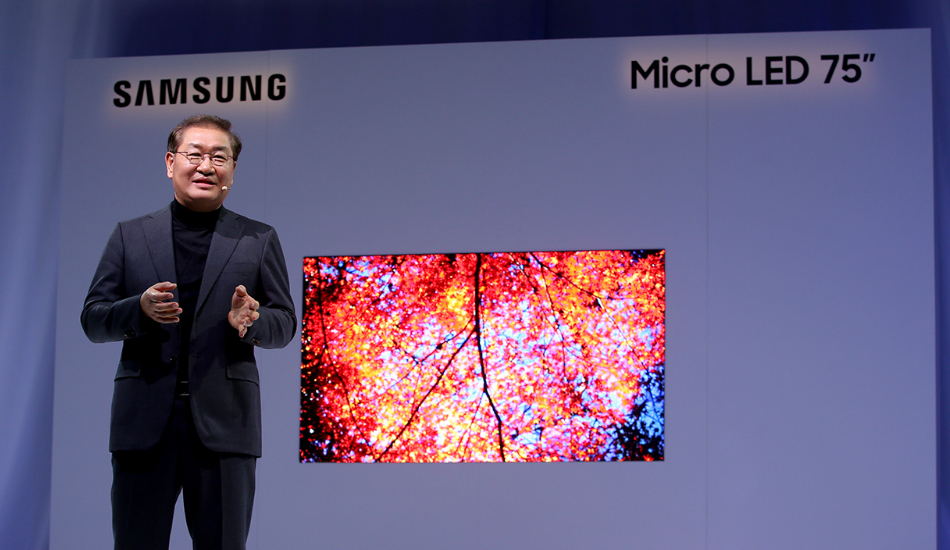 The Micro LED technology also optimises the content irrespective of the size or shape of the screen and can thus scale to increase the resolution without affecting the pixel density. The display thus offers support for standard 16:9 content as well as 21:9 widescreen films while also allowing content with unconventional aspect ratios like 32:9 or 1:1. 
The 75-inch Micro LED TV also renders no bezels all around the screen simply because there are no gaps in between the modules. Additionally, the TVs come with Samsung's new Ambient mode which adjusts colours on-screen to fit the ambient brightness of the room that it blends in well with lighting and mood of the room and user. 
Speaking about their latest product, Samsung Electronics Visual Display Business President, Jonghee Han said "For decades, Samsung has to lead the way in next-generation display innovation. Our Micro LED technology is at the forefront of the next screen revolution with intelligent, customizable displays that excel in every performance category. Samsung Micro LED has no boundaries, only endless possibilities". 
The new 75-inch MicroLED TV and a 219-inch 'The Wall' TV with its modular Micro LED display is currently on display at CES 2019 in Las Vegas.