Arzoo has launched its new brand, "NU," in the Indian home appliances market. The brand's first offerings include Smart TVs, air conditioners, and washing machines. NU has set an ambitious target of capturing more market share than LG and Samsung in the white goods space in the next two years.
Khushnud Khan, CEO of NU, "In the next two years, we plan to take on the dominance of LG and Samsung in AC, TV, and washing machine space. We plan to have a combined market of 20 percent in the three categories."
He also stated that all three product series launched by NU will be made in India by Dixon and Amber, with after-sales services taken care of internally by GoCare. When asked about the service charges, Khan mentioned that the charges would be transparent and cheaper than other brands but didn't elaborate on teh specifics.
Contrary to popular belief, NU is not launching affordable products but premium ones priced lower than market leaders, such as Samsung and LG. Additionally, NU will be charging a fee for AC installation, which will be affordable and transparent. Interestingly most of the leading AC players provide installation of new AC for Free.
Khan Said further said their products would be available on both online ecom platforms and offline shops, along with attractive finance options.
More News:
LG debuts 6-in-1 convertible DualCool Inverter ACs in India, also begins local manufacturing of compressors
LG India starts local manufacturing of Side by Side Refrigerators, Itel launches new Linux Smart TVs
NU Smart TVs Pricing and Specifications
NU has launched four Smart TV models in India, with screen sizes ranging from 32 to 65 inches. The 32-inch model is priced at Rs 11,990, while the 43-inch and 55-inch models are priced at Rs 19,990 and Rs 31,990, respectively. The top-of-the-line 65-inch model costs Rs 51,990.
All four NU Smart TV models have the same features, except for the screen size and resolution. The 32-inch model has an HD resolution of 1366 x 768 pixels, while the 43-inch model comes in both Full HD and 4K resolution. The 55-inch and 65-inch models both support 4K resolution of 3840 x 2160 pixels. In addition, all models support HDR10 content and are powered by an ARM quad-core processor.
All models have 3 HDMI and 2 USB ports, Dual-band Wi-Fi, Bluetooth, and Apple Airplay support for connectivity. They also have two speakers of 10W each at the bottom, along with Dolby audio support.
NU Air Conditioners Pricing and Specifications
NU's Air Conditioners come in three variants: a 1-ton 3-star variant priced at Rs 27,990, a 1.5-ton 3-star variant priced at Rs 30,990, and a 1.5-ton 5-star variant priced at Rs 34,990.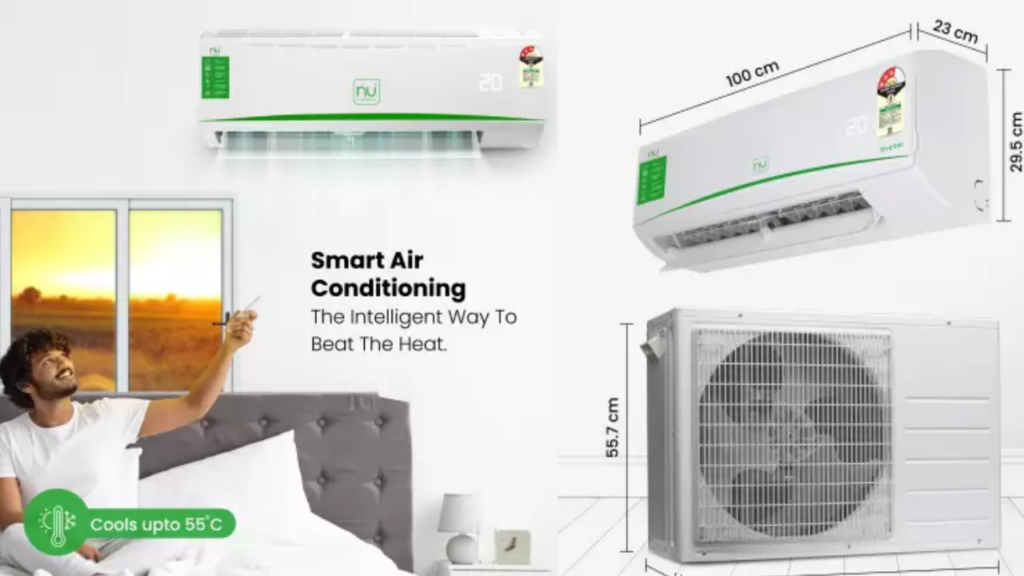 NU has launched its 4-in-1 convertible inverter split ACs in India, which feature ambient cooling, instant turbo cool blue fin technology, and R32 eco-friendly refrigerant. The company claims these ACs can cool the room even when the temperature is 55 degrees and can operate in silent mode with as low noise as 40 decibels. NU is also offering a 1-year comprehensive and 10-year compressor warranty.
More News:
Samsung launches AI-Enabled EcoBubble Washing Machines in India
White Westinghouse launches fully automatic washing machines in India
NU Washing Machine Pricing
NU has also launched a range of washing machines in two categories: fully automatic top-load washing machines and semi-automatic top-load washing machines. The fully automatic models are priced between Rs 12,999 to Rs 16,999, while the semi-automatic models are priced between Rs 8,499 to Rs 10,999.