A month after seeding the watchOS 5.1.1, Apple has started rolling out a new update to the Apple Watch line-up. The update comes in the form of watchOS 5.1.2 and brings with it the much-awaited electrocardiogram feature on the latest Watch Series 4 devices along with a bunch of other fixes and additions.
With watchOS 5.1.2, all Apple Watch Series 4 units will now feature an ECG app that users can utilise to check their electrocardiogram right off their wrist. The ECG feature will make use of the built-in electrodes that will take readings from the Digital Crown as well as the back crystal. The Apple Watch will also detect irregular heart rate and warn you about the same by reading your heart rate continuously in the background.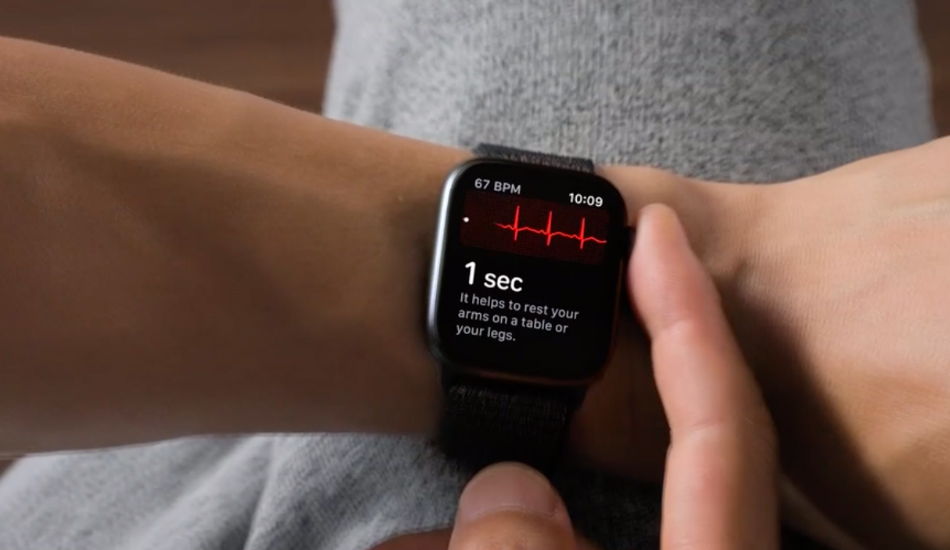 In order to take an ECG recording during abnormal heart rate scenarios, users will need to open up the ECG app on their Apple Watch and hold their finger on the Digital Crown for 30 seconds which then completes the circuit. After the measurement, the Watch will then notify you whether your heart rhythm is AFib, sinus rhythm or inconclusive. These recordings are further saved and stored in the user's iPhone inside the Health app where users can share PDFs of the measurements to their doctors.
While the Apple Watch Series 4 can make use of all the features, the older generation Apple Watch devices will get irregular rhythm notification feature with the help of the integrated optical heart sensor. The optical sensor, though not as accurate will check a user's heart rhythm occasionally, about five times every 65 minutes.
The watchOS 5.1.2 is currently rolling out to all Apple Watch devices started today.