Alongside the introductions of the 2018 editions of the Mac mini, MacBook Air and iPad Pro, Apple also released updates to all its operating systems. The new arrivals include the iOS 12.1, macOS 10.14.1, watchOS 5.1 and tvOS 12.1 which collectively add Group FaceTime, more emojis and other features within the Apple ecosystem.
macOS 10.14.1
Apple is pushing the macOS 10.14.1 update on all of its Mac computers adding support for Group FaceTime audio and video allowing up to 32 participants on call with end-to-end encryption. Group FaceTime can be initiated anytime during a group conversation or any time during an active call. macOS 10.14.1 also adds more than 70 emojis with different hair, faces and emotional expressions, sports and food.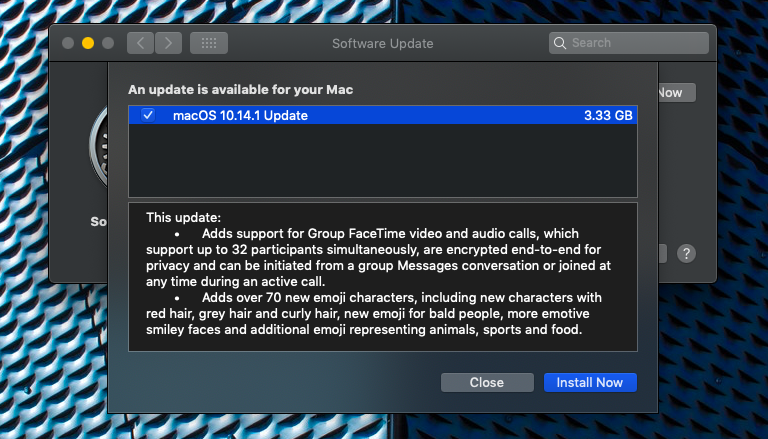 Weighing in at 3.33GB, the latest update to macOS can be accessed by heading over to System Preferences > Software Update at which time Apple will automatically prompt you if there's a new update to be installed.
iOS 12.1
Coming to Apple's mobile operating system, the iOS 12.1 brings with it dual SIM support for all the 2018 iPhones, new emojis, camera fixes and the much anticipated Group FaceTime. With Group FaceTime, one can add up to 32 people in a group with an option to choose to join using audio or video from iPhone, iPad and Mac.
The feature comes loaded with automatic detection of active speakers, which will display the most prominent speakers on the call while highlighting the current speaker by bringing them to the forefront. There's a ringless notification through which FaceTime displays notifications to join a call without being disruptive. The Group FaceTime is integrated into Messages app and once the call is started, it will show active call in conversation list and inside the conversations.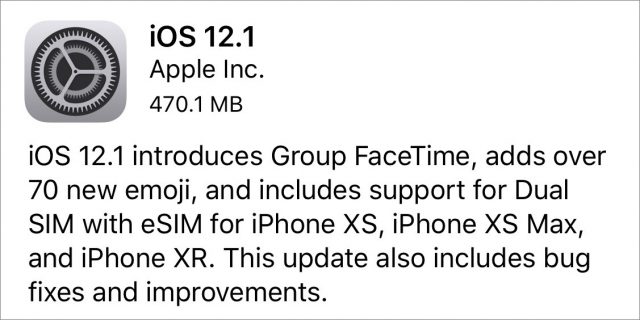 Weighing in at 470MB, the new iOS 12.1 also brings a host of new emojis. The brand has added 70 new emojis to iPhone and iPad with the latest update. This includes new characters with red hair, grey hair and curly hair. Then there will be a new emoji for bald people, more emotive smiley faces and additional emoji representing animals, sports and food.
Users will now be able to adjust the depth of field in real-time preview in addition to post-capture, which allows taking better photos with background blur. Apple has also claimed to fix the excessive skin smoothening on the new iPhones which were earlier cause due to a bug inside the Smart HDR processing. iPhone XR, XS and XS Max users will now be able to use Dual SIM functionality with support for eSIM on all the phones.
watchOS 5.1
The latest update to the Apple's wearable devices comes in the form of watchOS 5.1 and weighs in at 133MB. Apple has fixed the issue where the Watch Series 4 automatically dials up emergency services after non-movement for a minute after a fall. The update now plays a message informing the receiver about detecting fall and sharing the location information.
watchOS 5.1 also fixes the installation of the Walkie-Talkie app and instances of unshared invites on the app. While Apple claims to have fixed a total of 14 issue with the system, some users have now reported that the latest watchOS update has bricked their devices. Apple has even pulled out the update from its servers as we still await acknowledgement of the issue from Apple's side.
tvOS 12.1
Apple is also providing a tiny update to its fourth-generation Apple TV and Apple TV 4K units with the tvOS 12.1 which brings in a bunch of stability improvements and general performance enhancements. The update can be accessed by heading over to Settings > System > Software Updates on the tvOS device.