Xiaomi has confirmed that it will be announcing a new Mi Charge Turbo technology at an event on September 9 in China.
The news comes from Xiaomi's official Weibo account which teased that the Mi Charge Turbo charging solution will be introduced on September 9. An interesting thing to note is that the teaser stressed on the terms "wireless" and "5G".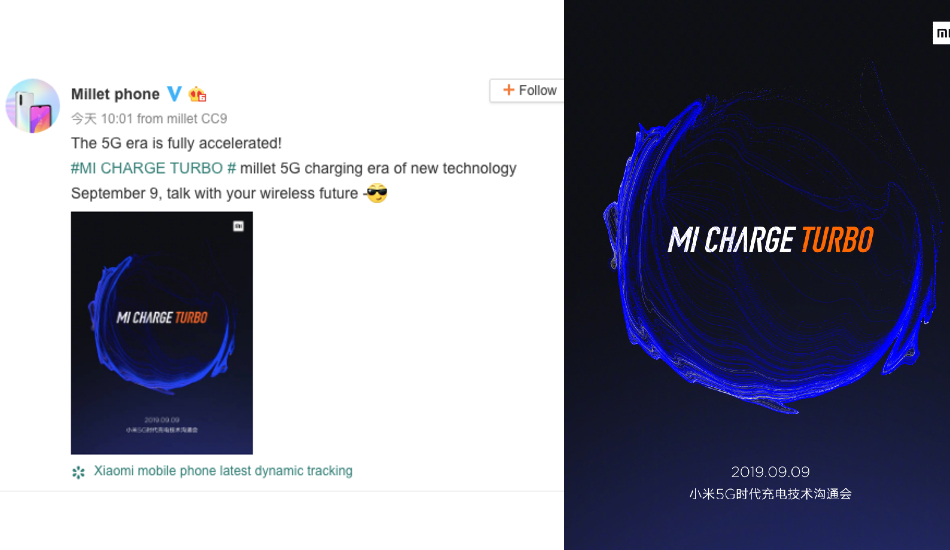 With a focus on wireless, we could new the upcoming charging technology to be faster than Xiaomi's current 20-watt wireless charger that ships with the Mi 9 smartphone. As for wired charging, Xiaomi smartphone currently supports 27W fast charging which is possible through the Mi 27W SonicCharge Superfast charger that was unveiled in India back in July.
It's also worthy to mention that the company demonstrated its 100W Super Charge Turbo fast charging technology at the start of this year. However, it's doubtful if Xiaomi will release a 100W charging solution before a 40W charger.
Since the poster teases that the charging solution will power the next generation of 5G smartphones, there's a possibility that this Mi Charge Turbo technology will debut with the Mi Mix 4 smartphone which is expected to come with 5G support and will arrive later this month on September 24 alongside the launch of MIUI 11.
Besides that, Xiaomi has also scheduled an event in India on September 17 and is likely to introduce new Mi Smart LED TVs and more Mi smart home products.