WhatsApp is now allowing users to use the multi-device feature which lets users sign in to their accounts from a phone apart from your primary device. His functionality was earlier limited to PC and tablets but is now available for smartphones as well. One can now seamlessly pickup chats from another device after leaving them on the primary one, according to the company. Apart from that, WhatsApp is also rolling out a new feature called chat lock, to some beta testers.
WhatsApp multi-device linking expands to phones
WhatsApp described the feature as 'One WhatsApp, Multiple Phones' in its blog post announcing the feature. "we're improving our multi-device offering further by introducing the ability to use the same WhatsApp account on multiple phones", the company added. This feature has been a highly requested one by the users and has been a part of multiple other competitor apps of WhatsApp, especially Telegram.
WhatsApp explains that each linked phone connects to WhatsApp independently, "ensuring that your personal messages, media, and calls are end-to-end encrypted". Furthermore, if your primary device is inactive for a long period, WhatsApp will automatically log you out of all companion devices.
Now you can switch between phones without signing out and pick up your chats where you left off. WhatsApp also says that if you're a small business owner, additional employees are now able to respond to customers directly from their phones under the same WhatsApp Business account.
While WhatsApp didn't mention if there's cross-platform support for the feature, meaning if it works for those who have one Android smartphone and one iOS device. However, the illustration used by WhatsApp to showcase the feature shows one Android device and one iPhone on the other, which should ideally imply that it will work in scenario given above.
This update has started rolling out to users globally and will be available to everyone in the coming weeks. Furthermore, instead of always scanning the QR code, WhatsApp will also be rolling out the ability to enter your phone number on WhatsApp Web to receive a one-time code, which you can use on your phone to enable device linking. This feature will come to more companion devices in the future.
Read More: WhatsApp introduces three new security features: Know details
How link a secondary phone to WhatsApp?
Here's a quick step-by-step guide on how to link a secondary phone to WhatsApp:
Open WhatsApp on the second phone which you want to use alongside your primary WhatsApp device.
Now, choose your language and tap next. Now tap on 'Agree and continue'.
Once you have reached the screen where you enter your phone number, tap on the three dots at the top and click on 'Link an existing account'.
Now open WhatsApp on your primary device, tap on three dots at the top and then click on 'Link a device'.
Follow the instructions on screen to verify your identity.
Now, once primary phone's camera will be activated, scan the QR code displayed on the secondary device and you will be logged in.
WhatsApp Chat lock feature rolling out to some beta testers
A report from WABetaInfo suggests that WhatsApp is rolling out the chat lock feature to some 'lucky' beta testers on WhatsApp beta for Android 2.23.9.14. As the name of the feature suggests, the feature will allow users to lock certain chats with their fingerprint or pin code or face ID depending on what locking method their device uses.
Once you open the chat, WhatsApp will ask you to verify yourself via the biometric method you have chosen. When enabled, a new section called "Locked chats" will appear within your chat list (above Archived chats) and you can open this section by unlocking it with your fingerprint.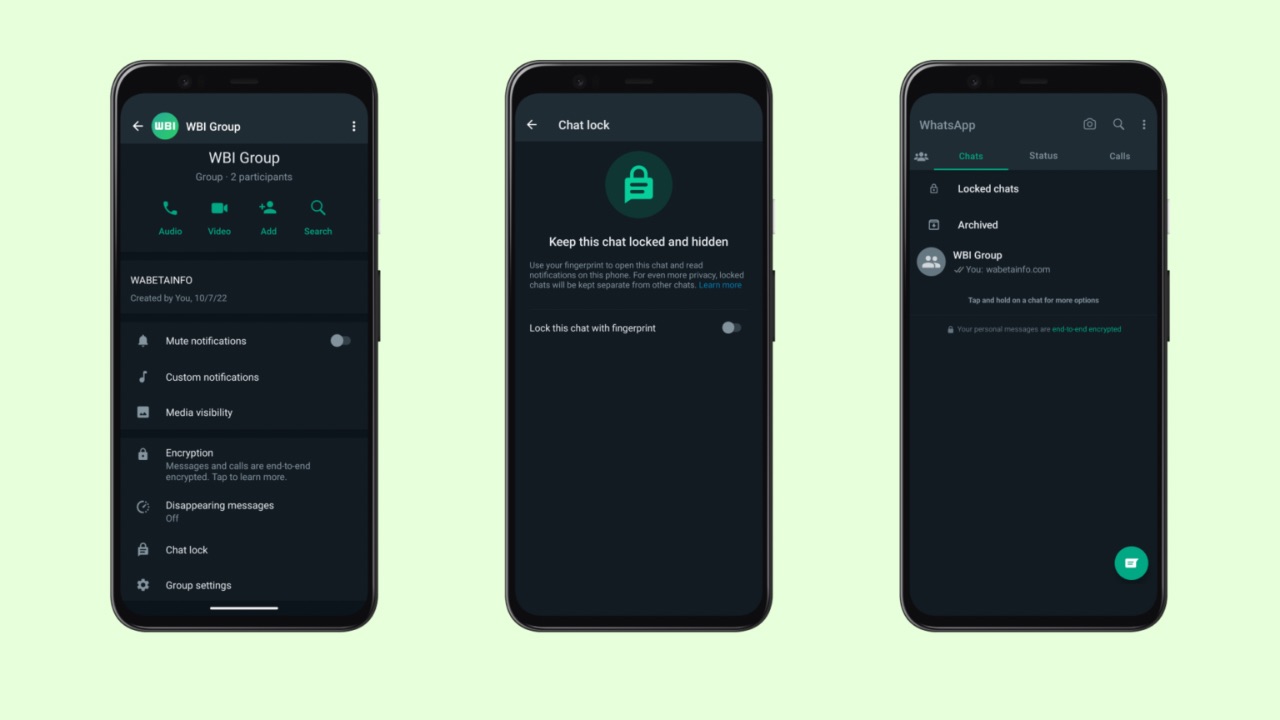 As an additional layer of privacy, this feature also ensures that media files such as photos and videos sent in a locked chat are not automatically saved to the device's gallery. WABetaInfo says that to protect your privacy, a locked chat cannot be opened without a fingerprint or passcode.
In addition, if someone tries to access your phone and fails to provide the necessary authentication, they will be prompted to clear the chat to open it, said the report. "The feature to lock chats is available for some lucky beta testers and it is rolling out to even more people over the coming weeks", the report added.