French-based television manufacturer, Thomson has today expanded its Smart TV lineup in India with the launch of its 55-inch and 50-inch 4K Smart TVs after witnessing a surge in its demand from all over the country. The new Thomson Smart TVs from Thomson will be available exclusively through Flipkart for a starting price of Rs 33,999.
Thomson's new 50 and 55 inches screen sizes, comes pre-loaded with a new MyWall UI which will offer a new bundle of applications that will give you access to a larger content library and live TV. The home screen now greets the user with trending Bollywood videos and music with a dedicated section reserved for cricket lovers.
The TVs are made from Samsung panels with an aspect ratio of 16:9 and a resolution of 3840 x 2160 pixels. The Thomson TVs are powered by a CA53 Dual Core 1.4GHz with Mali-T720 for graphics with 1GB of RAM and 8GB of flash storage. Moreover, the MyWall interface of the devices run over Android 5.1.1 with applications like Netflix, youtube, Gmail, Facebook, Hotstar, Flipkart, VLC, Youtube, Gmail, Facebook and Spotify all preloaded onto the units.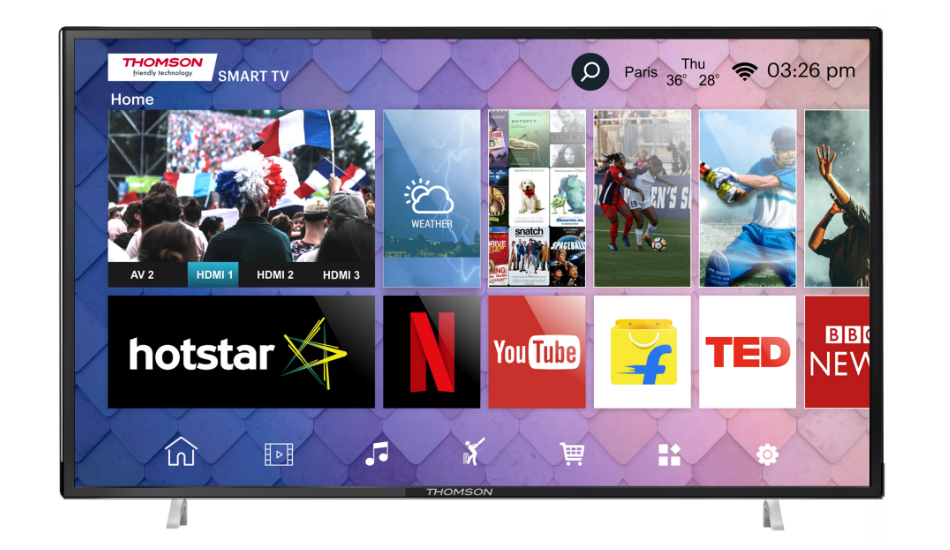 Thomson has included a bunch of picture modes on both sets of TVs consisting of Standard, User, Lightness, Soft, Vivid, Natural, Sports modes. There's a 20-watt speaker with equaliser and bass treble controls. Connectivity options include an RF input, AV in, 3 HDMI ports, 2 USB ports, a PC in, an ethernet port and an SD card slot.
Commenting on their new launch, SPPL CEO, Avneet Singh Marwah said "We are constantly striving to give something new to our customers. Innovating great product that matches with current trends and is at par with the global market, in this fast-paced segment, has been our top most priority! We are excited about the encouraging response the brand has been constantly receiving from all over India, ever since its launch early this year. Its continuous endeavour to live up to the promise of innovative technology at an affordable price."
Flipkart's Head of TV & Large Appliances, Sandeep Karwa said "Thomson TVs have witnessed a great demand and have emerged to be one of the best selling brands in a very short time of entering the Indian market, receiving a great feedback from customers, across segments. We are sure, this exclusive range too is sure to delight customers as the 4K UHD smart TVs offer an immersive viewing experience, backed by customized content suited to the tastes of Indian viewers and best in class audio-visual experience, making it a compelling package of smart technology. Backed by Flipkart's consumer-friendly financing options, we are confident, these TVs would be a best seller on Flipkart, this festive season."
Thomson's 55-inch and 50-inch UHD Smart TVs are available for a starting price of Rs 33,999 in India exclusively through Flipkart where it'll start selling on September 13 at 12 PM as part of the festive season.