Snapchat has unveiled its newest developer platform which it calls the Snap Kit, allowing other apps to integrate Snapchat features like Bitmoji, stickers and camera effects. The latest APIs will allow apps to use Snap as an authentication tool that app developers can integrate to allow logging into their apps, a lot like using Facebook, Google or Twitter accounts to sign to various websites and apps.
Snap Kit's USP is privacy which it has extensively come out and claimed will go to create lengths to ensure people feel safe and data secure. Once successful, the platform could help Snapchat stand on its own own feet as its Bitmoji and AR lenses reach a larger audience, which it will be able to do if it could push developers into believing that they're being benefitted with integrating the same, while still securing a user's data.
Snap has devised four different software packages for third-party developers to use – Login Kit, Bitmoji Kit, Story Kit and Creative Kit. While the Login Kit will allow developers to use Snapchat as an authentication tool for logging in to their site and app, the Story Kit will allow these apps to integrate elements of a Story on their websites. The Creative Kit when employed will bring users back to Snapchat when using third-party apps. However, developers can use the Bitmoji Kit instead if they wish to offer Snapchat effects and stickers on their own apps.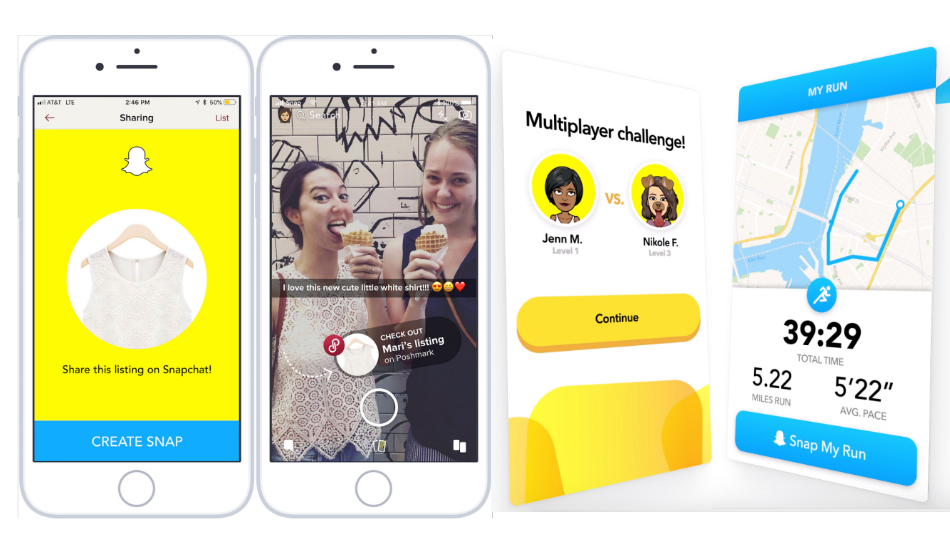 Snapchat has partnered with Tinder during the launch for porting bitmojis to Tinder chats. In addition to that, apps like SoundHound, Pandora, Giphy, Patreon, and Postmates are also included in the list of launch partners.
Snap says, for the security and privacy of a Snapchat user, all third-party apps will be approved access and reviewed by a human instead of being automated. When using the Login Kit, the company issues that the third party app will only take up a user's display name and Bitmoji avatar (on request) to their partner app. No information regarding the age, gender or location of a person or their friends will be collected or shared by these apps, which is clearly one way of rubbing it on Facebook's face. Snap has also confirmed that Snap Kit will automatically disconnect your account from an app if you haven't logged in even once for a period of 90 days.
With Facebook failing to make an impression, it's Snapchat's turn to gather all the help it can get to match up against its direct competition Instagram who're looking to host an hour-long 4K video hub with in-app payment servicesand shopping features.