As a move to make shopping a cornerstone for its social platform, Instagram has now expanded its shopping features to its Stories section. The feature which it started testing since 2016 with a limited batch of 20 partners is now going full-fledged as the Facebook-owned company will now look to add shoppable stickers to its Stories which a user can tap to know more details about.
The new feature will allow businesses or stores to tag each of the products they mention on their story with an additional link to the item's page. Instagram says that with over 300 million customers using its Stories section, finding products from the brand they love will be easier instead of search for a product according to a picture. Not only will the new feature let users find the item of their liking, they'll now be able to buy them directly from the link that's provided in the story.
Instagram acknowledges that it already has a large bunch of partners and businesses who are inclined to use its idea to promote their products. The feature will be coming to Adidas, Aritzia and Louis Vuitton with other brands set to follow up. The shoppable links will be marked with a 'shopping bag' sticker clicking which will lead a user to the product page of the item.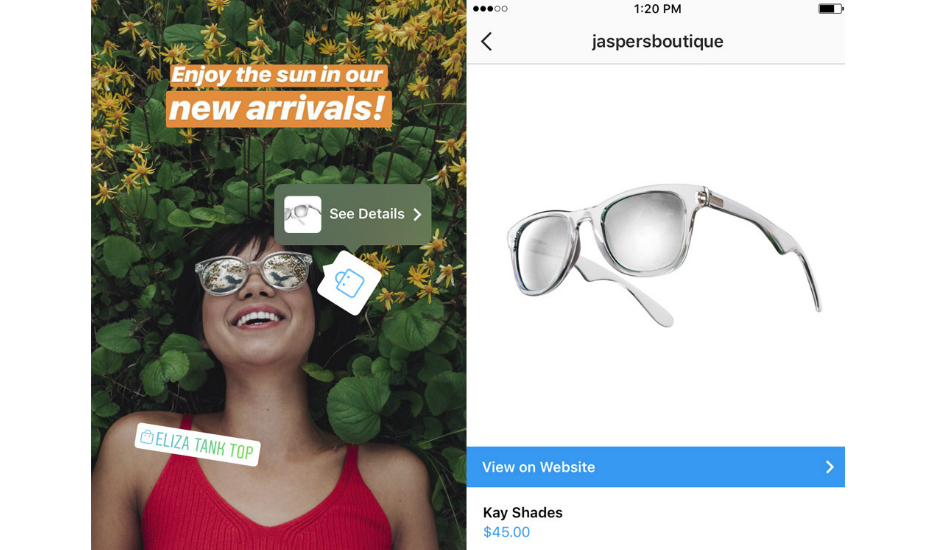 Instagram, through a blog post, said "Today we're beginning to expand shopping beyond Feed to Instagram Stories. On Instagram Stories, when you see a sticker with a shopping bag icon tap on it to see more details about that product. With 300M using Instagram Stories every day, people are increasingly finding new products from brands they love." It added "Brands have always been early adopters of stories, they create some of the most viewed and engaging content on the platform. Now, you can shop from select brands in Instagram Stories with more coming soon."
The news comes just a month after Instagram was speculated to be working on an in-app payment service which will further allow users to buy products from Instagram. The service was rumored to be followed up with the ability to reserve a set at a restaurant or book movie tickets from within the app.
Instagram is also reported to be working on a YouTube competitor that hosts hour-long shows and videos in 4K resolution which is expected to be announced on June 20. If made a reality, the popular photo-sharing app will be hosting short TV shows or events in contrast to the 60-second limit its videos are stuck with.