Reliance Jio has once again become the leading telecom operator to provide the highest download speed in India. According to the latest data released by TRAI's MySpeed app for the month of October, the Mukesh Ambani-led company has achieved a download speed of 21.9Mbps.
Vodafone comes at the second position with the top download speed of 8.7Mbps followed by Idea Cellular with 8.6Mbps and Bharti Airtel with 7.4Mbps. In terms of upload speed, Idea Cellular grabs the first position with a 6.4Mbps followed by Vodafone with 5.9Mbps, Reliance Jio with 4.1Mbps and Bharti Airtel with 3.5Mbps.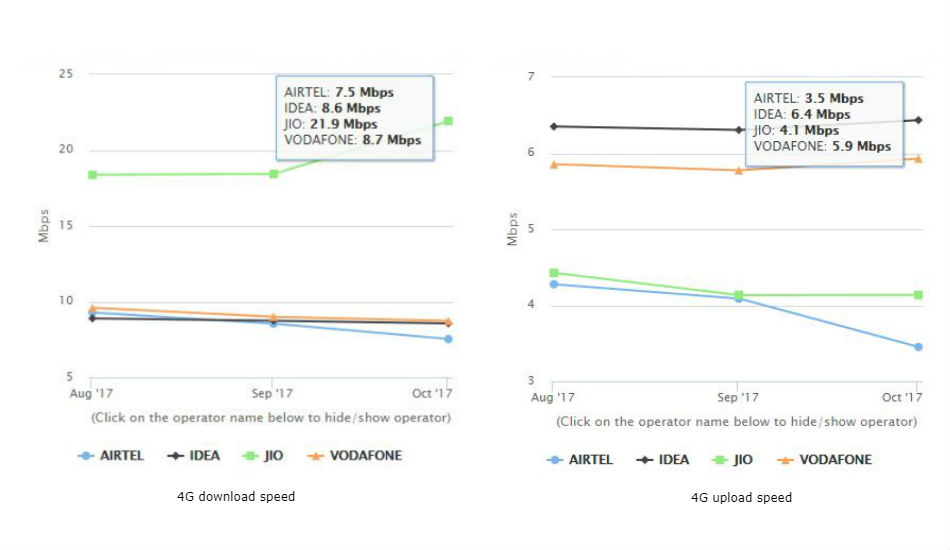 Interestingly, it seems that Bharti Airtel is not able to match the 4G download and upload speed with other telecom operators, despite boasting it to be the fastest network. The company was again at last position in the 4G speed chart for the month of September. The brand top download speed was 8.5Mbps, while the peak upload speed was 4.08Mbps.
Reliance Jio offered a download speed up to 18.433Mbps, which was much higher than other three telecom operators. Vodafone grabs the second position with 8.99Mbps, followed by Idea Cellular at 8.79MBps.
However, according to a report by OpenSignal titled "State of Mobile Networks: India (October, 2017)", Airtel has an average download speed of 9.15Mbps which is higher as compared to Reliance Jio's 5.81 Mbps. Idea Cellular and Vodafone have an average download speed of 7.4Mbps and 7.45Mbps respectively.
You might also like this:
The report further adds that Jio's 4G speed has seen an increase at a rapid pace after its free data promotions ended on March 31. On the other hand, Airtel, Idea and Vodafone have witnessed a drop in the LTE speed with Airtel measuring the biggest decline from 11.5Mbps to 9.1Mbps.