Reliance Jio has once beaten Bharti Airtel, Vodafone and Idea Cellular to top the 4G download speed chart in the month of September, according to the latest data from TRAI's MySpeed app. Interestingly, Idea Cellular has emerged as a winner in terms of providing highest upload speed.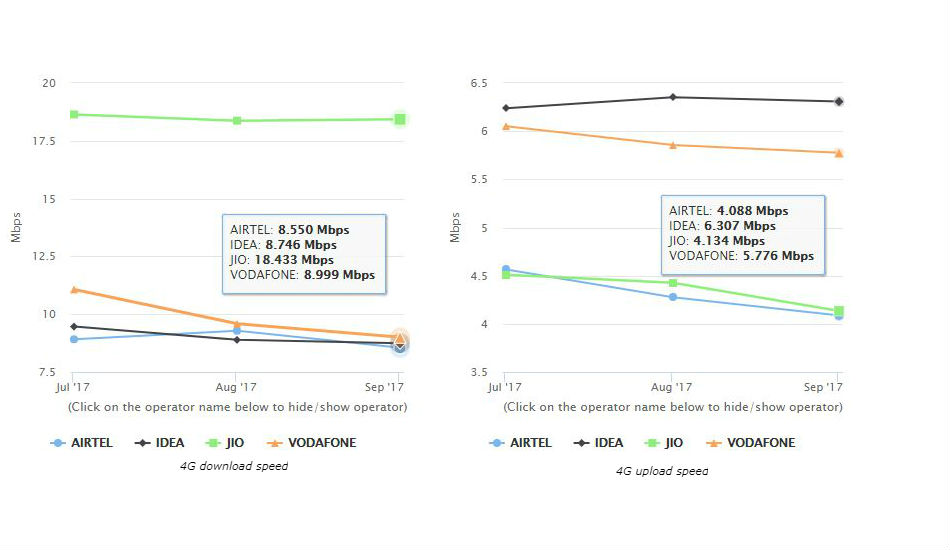 According to the data, Reliance Jio offers a download speed up to 18.433Mbps, which is much higher than other three telecom operators. Vodafone grabs the second position with 8.99Mbps, followed by Idea Cellular at 8.79MBps and Airtel at 9.1Mbps. Interestingly, OpenSignal recently announced that Airtel tops the 4G speed charts with a download speed to 915Mbps, followed by Vodafone's 7.45Mbps, Idea Cellular at 7.4Mbps and Reliance Jio at 5.81 Mbps.
Coming to the upload speed, Idea Cellular takes a lead with an upload speed of 6.307Mbps. Vodafone once again grabs the second position with 5.776Mbps upload speed, followed by Reliance Jio's 4.134Mbps and Airtel's 4.088Mbps. It seems that Bharti Airtel, which was once considered to provide the fastest download and upload speed, is now at the bottom position.
You might also like this:
Previously, according to OpenSignal, Reliance Jio tops the charts when it comes to 4G availability, while Airtel has been ranked at the bottom. The report says Jio users were able to connect to LTE network 95.6 percent of the time, while Airtel users were only able to find a 4G signal 57.2 percent of the time. "Even though Airtel is improving, its 4G availability results were still relatively poor, which is one of the key reasons it fell behind Jio in our overall speed tests," the report said.