Qualcomm seems to be in the final stages of the development of their Snapdragon 865 processor which will be the direct successor to the Snapdragon 855 which was launched in December 2018. The upcoming flagship smartphone SoC has now been spotted on benchmarking site Geekbench revealing a few details on what to expect from high-end smartphones of 2020.
A device named "Qualcomm Kona" has now appeared on Geekbench and it's believed to be the Qualcomm's prototype device powered by the upcoming Snapdragon 865 processor. The benchmarking site has listed the prototype's processor as "msmnile" which is the same as the codename given to last year's Snapdragon 855 before it was officially released.
The rumoured Snapdragon 865 chipset resisters a score of 4,149 points in single-core testing while in multi-core, the processor scores 12,915 points. As per the listing, the Qualcomm SoC has a base frequency of 1.8GHz, higher than the Snapdragon 855's base speed of 1.78GHz.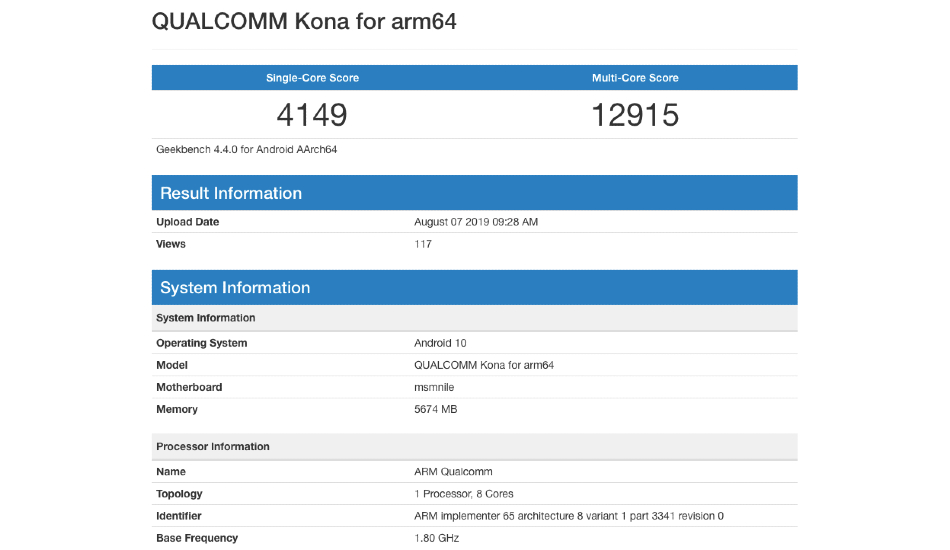 The prototype device runs on Android 10 operating system which will be none other than Android Q that will be launched in Q3 of this year.
Prior to this, Qualcomm picked Samsung Foundry as its mass production partner for the manufacturing of the Snapdragon 865. This meant that Samsung will fab the next-generation flagship Snapdragon processor through its EUV-based 7nm process.
Snapdragon 865 chipset is also expected to come in two different versions – one with 5G enabled and the other with 4G. This means there could be a Snapdragon 865 model that will not feature a 5G modem internally.
In markets where 5G deployment isn't expected anytime soon, like in India, we can expect OEMs to ship the next-generation flagship devices with the Snapdragon 865 without a 5G modem. This will also bring down the product cost of the phone and will, in turn, make flagship devices cheaper in the non-5G markets.
For countries where 5G cellular technologies have been set up or are in the process of setting up, the Snapdragon 865 with an integrated 5G modem will help save space inside the smartphone for a bigger battery or additional equipment.