Update 23/05/2023: The feature is now rolling out to everyone, WhatsApp has confirmed. It will be available globally in the coming weeks. All you need to do is long-press on a sent message and choose 'Edit' from the menu for up to fifteen minutes after.
Edited messages will display 'edited' alongside them, so those you're messaging are aware of the correction without showing edit history. As with all personal messages, media and calls, your messages and the edits you make are protected by end-to-end encryption.
Original Story Below.
WhatsApp has confirmed that it will be bringing a much requested feature to the app, where users will be able to edit a message they have already sent. The feature was spotted being in works almost a year ago and is now finally making its way to the public. Here are more details about the upcoming feature in WhatsApp.
WhatsApp posted a video on Twitter where an incorrect text is being shown inside a chat bubble and is then being edited with the correction. It clearly suggests that the edit feature will allow users to correct the messages once it has been sent, which is an ability that hasn't been available in the app.
The message edit feature has already been made available to some beta testers in the past few weeks. It has also been present in Telegram for a while now and users have been asking for the feature in WhatsApp since long back. Until now, users could only delete the message for everyone and then send the corrected message if they wanted to edit any part of the message.
As per the beta test of the feature, users will be allowed to edit the message till 15 minutes after the message has been sent. To edit an already sent message on WhatsApp, users will have to tap and hold on their message, then tap on the three-dots at the top right and click on Edit. WhatsApp will then show you your keyboard with the highlighted message so you can make the changes you want.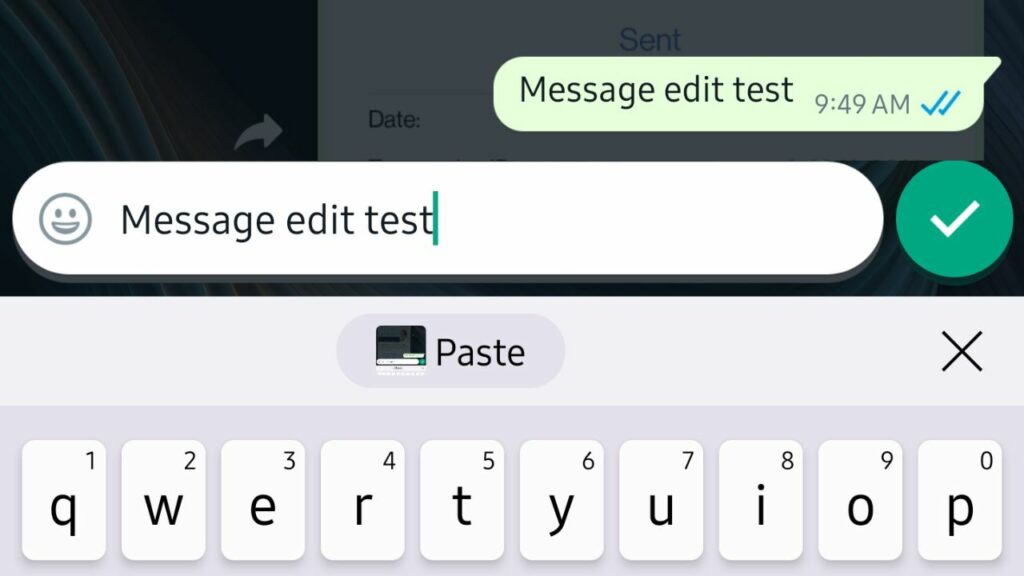 In related news to WhatsApp, it recently also released the ability to lock certain chats. The feature now allows you to lock and protect your most intimate conversations behind one more layer of security.