2018 has been a good year for flagship smartphones. It started with the launch of the Galaxy Note 9, followed up by the Apple's iPhone XS Max and then the Pixel 3 XL. To mark an end to a year of high-end smartphones with top-of-the-line camera sensors, Huawei has now launched the Mate 20 Pro in India for a price of Rs 69,990.
The Mate 20 Pro like any flagship comes with the best internals to establish itself as the top 4 picks in the smartphone game. The specs are headlined by Huawei's latest Kirin 980 which has been benchmarked to be as good any flagship chip. The phone looks premium in hand and the camera outdoes other smartphones in its segment by a huge margin. With that said, would the Mate 20 Pro live up to the flagship game which is dominated by the iPhone XS Max, Pixel 3 XL and Galaxy Note 9? Let's talk about that.
Display:
In the days when Apple released their first iPhone, no other smartphone in the market made screens as good as them. It's been a decade since the original iPhone and while Apple has established quite a reputation in the screen department, other manufacturers have followed up as well. The iPhone XS Max features a 6.5-inch OLED display with a resolution of 2688 x 1242 pixels, the largest of the four smartphones in the list.
However, companies like Huawei, Samsung and Google have stepped up their game and the rest of the three Android flagships feature a nearly large 6.3-6.4-inch large OLED screens on them. The Mate 20 Pro features the highest pixel-per-inch rating, followed closely by the Pixel 3 XL and Note 9. With the inclusion of a tear-drop notch, the Huawei device also scores the most points in screen real-estate with 87.9 percent of screen-to-body ratio, thus beating Apple in its own notch game.
Not to forget, that the screen on the Mate 20 Pro also features an in-display fingerprint sensor in addition to a 3D facial recognition array, which seals the deal for the Huawei device.
Winner: Huawei Mate 20 Pro, hands down.
Durability and Design:
As great a phone Google's Pixel 3 XL is, the notch atop the screen is no joke. However, the notch on the iPhone XS Max is also fairly large and if you're still not used to the idea of a screen cut out, the Mate 20 Pro or the Galaxy Note 9 is a reasonable choice for you. Since all four of these phones are made with a glass back, they share equal liability when it comes to surviving falls unscathed and more often than not, they won't.
The Pixel 3 XL with its dual tone matte glass finish, however, is grippy and Huawei seems to have implemented a similar unique glass texture on the Mate 20 Pro that it says is anti-slip and anti-fingerprint. The Mate 20 Pro also curves around the edges, taking inspiration from Samsung's Galaxy S9.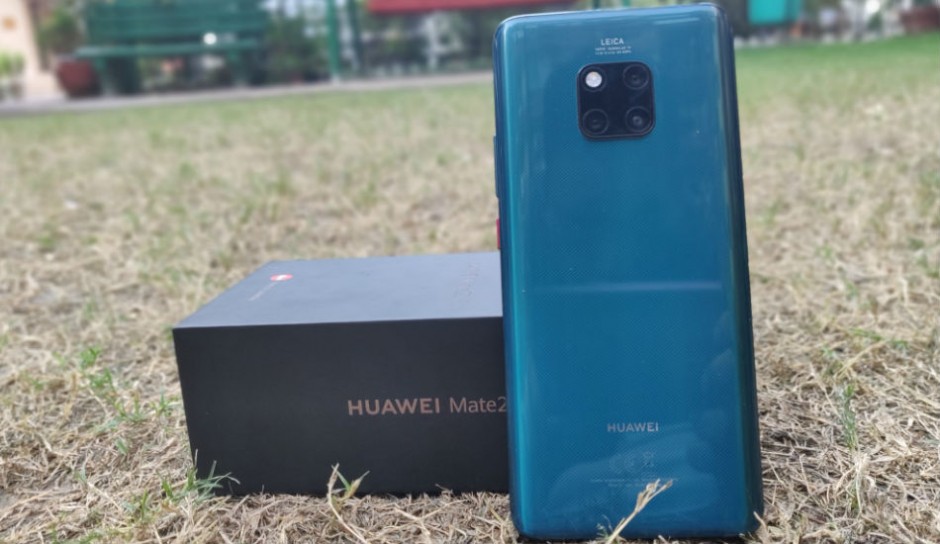 In contrast to the Mate 20 Pro's design, the Galaxy Note 9 is designed with fewer curves around the corners keeping the design language boxy. The iPhone XS Max, on the other hand, is a more substantial rendition to last year's iPhone X and features a stainless steel frame making it the most durable of the lot.
Winner: Mate 20 Pro / Pixel 3 XL both are grippy; iPhone XS Max more durable
Performance:
All four smartphones depend on different chipsets with different configurations to match with their respective firmware. Google and Samsung feature 10nm-processed chips in the form of Qualcomm's Snapdragon 845 or the Exynos 9 Series 9810 respectively. These 10nm chips are quite powerful for a flagship but stand no chance to the latest chipsets designed by Huawei and Apple.
The in-house processors manufactured by Huawei and Apple are the Kirin 980 and Bionic A12 which are both based on 7nm production processes, thus packing more power inside a smaller and slimmer form factor. While the Apple Bionic A12 chipset stands taller than any competition in the Android foray, the Kirin 980 does put quite a challenge to the iPhone chip. The Kirin 980 features a dedicated Neural Processing Unit and feels smooth and fast when running games and load-intensive apps. It has posted the highest benchmark ratings for any Android phones, only chasing Apple's A12 Bionic.
The Pixel phone isn't less fast either as it's devoid of any heavy customisations like a skin on top of Android and runs basic tasks smoothly. However, 4GB of RAM in 2018 feels a little sluggish when multitasking and this is where the Mate 20 Pro and Galaxy Note 9 score brownie points. Meanwhile, the iPhone XS Max features only 4GB RAM too but the RAM management in iOS 12 is top notch (pun intended!) and it still beats Google any day.
Winner: iPhone XS Max, followed by Mate 20 Pro for being the fastest Android phone
Battery:
The Mate 20 Pro has the heartiest battery of the lot with a 4200mAh power unit that lasts as much as two days between charges. The Huawei device comes with a 40-watt fast charging that charges the phone to up to 70 percent in under 30 minutes. The iPhone XS Max can be charged to 50 percent in as much time but only features a 3174mAh battery, which as it happens is the largest unit ever on an iPhone.
Following the Mate 20 Pro is Samsung's Galaxy Note 9 which features a 4,000mAh battery that is expected to last at least a day or two and can be charged through a Quick Charge 2.0 adapter. The Pixel 3 XL again is a letdown since it only features a 3430mAh power unit with 9V/2A 18W fast charging. All four devices, however, feature Qi wireless fast charging, with the Mate 20 Pro and Pixel 3 XL featuring faster 15-watt charging standards.
Winner: Huawei Mate 20 Pro
Camera:
While Apple has been known to offer one of the best cameras in the flagship range, it doesn't provide the best in the market anymore after Huawei and Google's latest innovation. Nevertheless, the dual 12MP+12MP cameras at the back of the iPhone XS Max take high-quality shots with good daytime-lighting and low light pictures on a regular basis. Additionally, the software-optimised bokeh and background blur mode looks best in the XS Max and so is the Smart HDR mode.
Looking at the numbers, the Mate 20 Pro will appear to be the winner on paper with its triple camera setup at the back. It comprises of a 40-megapixel lens with a f/1.8 aperture along with 20-megapixel ultra-wide angle with f/2.2 aperture and an 8-megapixel 3X telephoto lens with f/2.4 aperture. The Mate 20 Pro can click some stunning pictures out of the box and with AI on, the images will look pleasant to the eye. Additionally, for the experimental being in you, there's versatility to look forward to as the Mate 20 Pro gets you three options: regular, ultra-wide and telephoto.
All that, however, doesn't win it for the Huawei Mate 20 Pro as the Pixel 3 XL with its software tricks beats every other smartphone to bring out the best out of its single camera lens at the back. While all four phones click excellent pictures, the Pixel phone delivers the best results with the minutest tweaking and not to forget, it has got the easiest camera app of the lot. Day-to-day point and shoot are best in the Pixel 3 XL since Google will often get the best results across different scenarios.
Not to forget, the Galaxy Note 9 also packs in one of the industry's best cameras with a Dual 12MP camera, both equipping the optical image stabilisation. The lenses give an impression of a 26mm equivalent wide lens with a dual aperture of f/1.5-f/2.4 and also a 52mm equivalent telephoto lens with an aperture of f/2.4. Both the Pixel 3 XL and Mate 20 Pro also feature Night mode for low light photography, which enhances pictures in dim lit conditions several folds through HDR technology.
Winner: Pixel 3 XL (followed by Mate 20 Pro) for photography, Mate 20 Pro for videography
Software:
This is where the Pixel 3 XL and the iPhone XS Max will win by a long margin as these two phones are made by companies which develop the two major software of the smartphone market. Android 9 Pie works the best on a Google device as it features Google's Duplex feature by default while the company also provides security updates on a regular basis. iOS 12 on the iPhone XS Max is as sleek and if you're someone who's been brought up in that specific ecosystem, it's probably suited if you stick to Apple's interface.
The Mate 20 Pro's biggest setback would be a heavy skin on top of the Android OS. But one thing to note is that it comes with the latest Android 9 Pie interface out of the box with added gestures and customisable menus to experiment with. The Note 9 is still expecting an update to Android 9 Pie which will run alongside Samsung's One UI which is yet to make an impression on us.
Winner: Pixel 3 XL, iPhone XS Max
Bonus features:
While these features might have been already talked about, it's best suited if we feature the add-ons separately. First up, the latest device which is the Huawei Mate 20 Pro features an in-display fingerprint scanner which is responsive on most occasion. For additional security, Huawei is also offering 3D facial recognition as well which can be used even with the fingerprint scanner configured.
The Pixel 3 XL comes with Google Assistant-powered features like Call-screen which allows users to be saved from spam calls by enabling the Assistant to do the talking. The feature is currently live in the US and we can expect to come to India in the future.
Note 9 is a good device that packs in support for the new S-Pen as well as the DeX mode. The latter enables the device to be used as a full-fledged desktop when plugged into a TV or a monitor.
Winner: Mate 20 Pro for featuring the most useful bonus element
Verdict:
The Mate 20 Pro has been designed to impress as it packs the best of high-end hardware in addition to an impressive camera, an OLED screen with the largest screen real-estate, wireless charging and a massive battery, all housed inside a premium textured glass that feels good on the hand. It's also the best price-to-value package, coming in at an asking price of Rs 69,990, cheaper than the Pixels and iPhones of the market.
Huawei Mate 20 Pro
Apple iPhone XS Max
Google Pixel 3 XL
Samsung Galaxy Note 9
Processor
Kirin 980
A12 Bionic
Snapdragon 845
Exynos 9 Series 9810
Display
6.39-inch QHD+, 1440 x 3120 pixels
6.5-inch AMOLED, 1242 x 2688 pixels,
6.3-inch QHD+, 1440 x 2960 pixels
6.4-inch QHD+, 1440 x 2960 pixels
Memory
256 GB, 8 GB RAM or 128 GB, 6 GB RAM
64/256/512 GB, 4 GB RAM
64/128 GB, 4 GB RAM
512 GB, 8 GB RAM or 128 GB, 6 GB RAM
Camera
Rear: 40MP (f/1.8, 1/1.7″)
20MP (f/2.2, 1/2.7″)
8MP, f/2.4, OIS; Front: 24 MP, f/2.0
Rear: 12MP (f/1.8, 1/2.55″, 1.4µm, OIS, PDAF)+12 MP (f/2.4); Front: 7 MP, f/2.2
Rear: 12.2 MP, f/1.8, 1/2.55″, 1.4µm; Front: 8MP (f/1.8, PDAF)
8MP, f/2.2
Rear: 12MP (f/1.5-2.4, dual pixel PDAF, OIS)+12MP (f/2.4); Front: MP, f/1.7
Battery
4200mAh
3174mAh
3430mAh
4000mAh
OS
Android 9.0 Pie, EMUI 9.0
iOS 12
Android 9.0 Pie
Android 8.1 Oreo, Experience UI (soon-to-be One UI)
Price
Rs 69,990
starts Rs 1,09,990
starts Rs 83,000
starts Rs 67,900
The iPhone XS Max could be an alternative if you wish to have most of what Huawei does while running iOS. Or you can switch to the Pixel 3 XL if a camera and simple software are what you look forward to in a smartphone. The Note 9, huh, is an alternative, if you're really going to use Samsung's bonus features like DeX or the inclusion of an S-Pen.