Jio has comeup with a surprise and has slashed the price of its starter pack for JioPhone users. Now the pack, which was earlier priced at Rs 153, is available for Rs 49.
The new plans will be available to customers starting from January 26. The updated plan will offer 1GB data per data for 28 days along with the benefits of the unlimited Local/STD as well as roaming voice calling. It is worth noting that the plan is only updated for the JioPhone users, for other smartphoneusers the price of the plan remains the same.
Other than this, Jio will also be introducing theaffordable data add-ons at Rs 11, Rs 21, Rs 51 and Rs 101. The companyhas not shared any details about the amount of data that will be provided.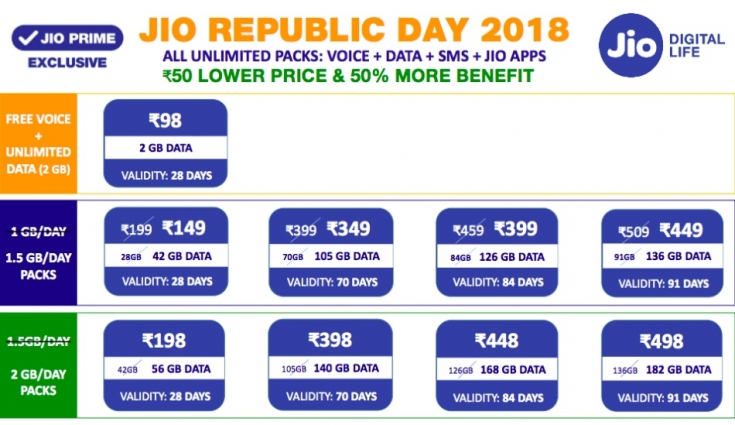 For non-JioPhone users, the company has slashed the price of Rs 199, which is now available at a price of Rs 149 and increased the data from 1GB/day to 1.5GB/day. With this offer, users will be entitled to 1.5GB of 4G data per day with a validity of 28 days, making a grand total of 42 GB of 4G data.
Similarly, the company has slashed the price of its most popular of Rs 399 plan and it is now available at Rs 349 for the validity of 70 days. While the Rs 459 and Rs 499 is now available for Rs 399 and Rs 449 respectively. The plans offer 126GB of 4G data for former and 136GB later, with a daily FUP limit of 1.5GB data per day.
You Might Also Like