While its fans await the launch of its next flagships which have started going live on pre-order, OnePlus has found itself amidst what appears to be a potential privacy breach if the company doesn't contain the issue at the moment.
Yesterday we reported that the OnePlus 6, 6T, 5 and 5T device were receiving OxygenOS Open beta with new UI, overheating warning and an intelligent cleanup option inside the File Manager. But little did many know that with the last feature, OnePlus was packing in bloatware, that also shares some data through to Chinese company Tencent, which hasn't had a good name on the privacy front.
The intelligent cleanup feature sits neatly inside the updated File Manager app on the OnePlus devices. On initial glance, it's a cleaner tool like any other cleaner like Google's own Files Go app. It offers file sorting on the basis of size, usage and other factors so that unnecessary files can be deleted with ease.
However, things aren't nearly what it looks like from the outside as OnePlus forum member Lavin Amarnani revealed that the app now had an updated privacy policy. The privacy statement on the app stated that, for being able to sort these files for cleaning, users will have to allow the phone to send data to a server in Singapore and this server was owned by Tencent.
Among the permissions given to the app, Lavin found that in addition to collecting the device's Android version, hardware model, region and language, the File Manager app now also used the application cashing data and usage data. Besides that, the app also has its own toggle for permissions and doesn't bode well with Android's system permissions.
The feature itself isn't fully illustrative as the Files Go app by Google and allow users to save space by cleaning large files and unusually rarely used apps. For users with less experience, this could hinder their usage as the app will delete files or app data that may have been necessary to the user.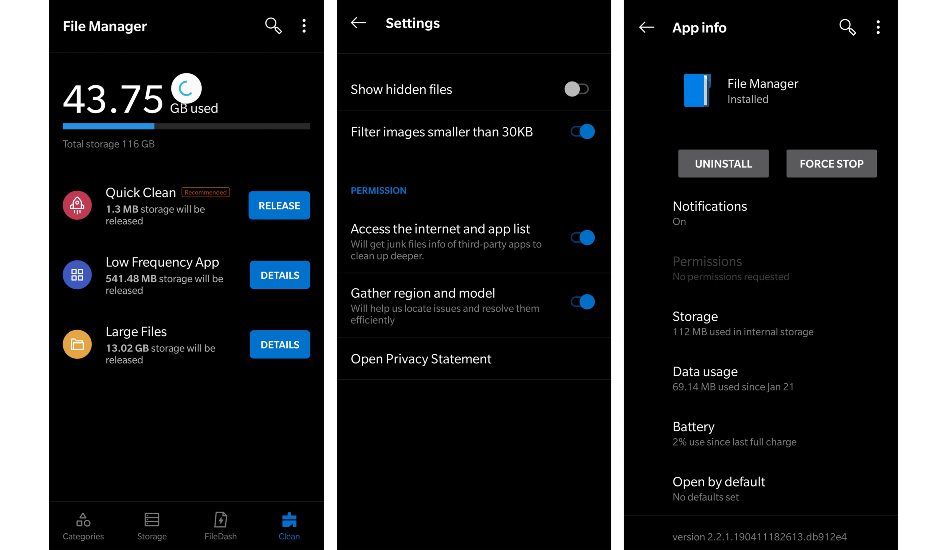 With half baked features and the involvement of Tencent, the new intelligent cleanup appears to many that something's fishy. The feature just brings down the use case of the OnePlus File manager and has tainted the app to an extent that it might pass for bloatware, something OnePlus has been strictly against.
What's even more surprising is the involvement of Tencent, which is essentially what concerns most of the users. The owners of WeChat and other social media platforms in China have been known to censor content for users in China and the optics surrounding the latest incident doesn't do well for OnePlus.
Since the cleaner is not a dedicated app, those users who did use the File manager app won't be able to separately disable or deny permissions to the Tencent cleaner. Their only option is to remove the OnePlus File manager altogether to protect their privacy. The company doesn't list the app in the Play Store either, which doesn't give users any other option but to keep the native file manager that their phone ships with.
With its upcoming OnePlus 7 series smartphone arriving this month, is OnePlus going against its core aim of no bloatware?