Apple phone users in India will be able to access 5G from today with the release of iOS 16.2. The public beta update of 16.2 was made available a month before, and now it becomes available for everyone else. Apart from that, iOS 16.2 also brings features like Apple Music Sing, AirDrop sharing time limit and more.
The Beta update allowed Apple to collect feedback about network proficiency and fix bugs before the final software update to all users. The launch of 5G will give users access to not only faster download speeds but low Latency as well. Low-latency networks have been shown to have a significant impact on cloud gaming.
The Indian government had pushed Apple and other smartphone players to activate 5G services on their devices. The Cupertino-based tech giant had promised to release a 5G update by December.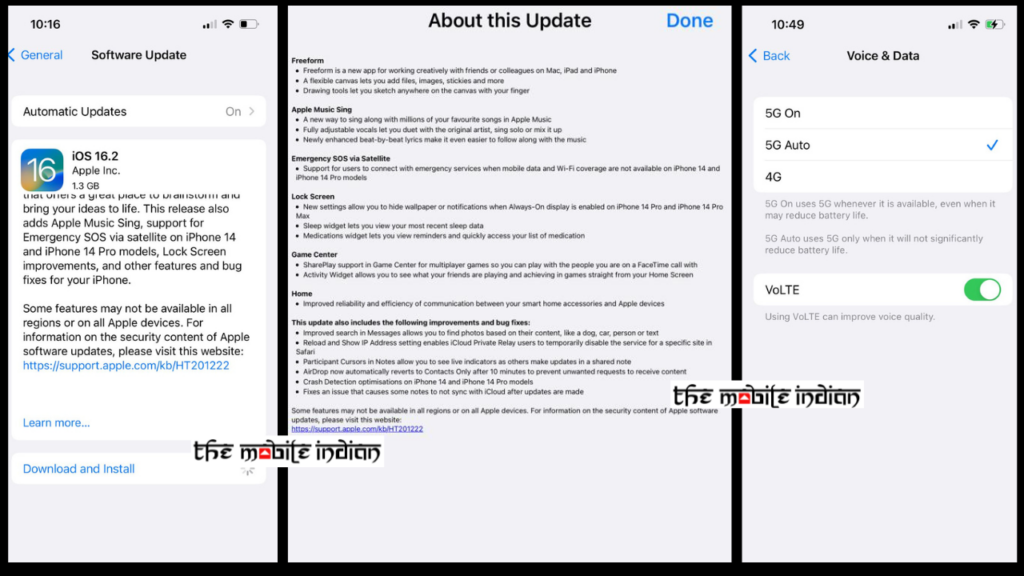 Related Stories:
Airtel 5G Plus Coverage: Comprehensive Report
Reliance Jio True 5G Coverage: Comprehensive Report
iPhone 5G support for Airtel & Jio
Apple's latest iOS 16.2 update has enabled 5G on Indian models of the iPhone. The iPhone models on which 5G is available include:
iPhone 12
iPhone 12 mini
iPhone 12 Pro
iPhone 12 Pro Max
iPhone 13
iPhone 13 mini
iPhone 13 Pro
iPhone 13 Pro Max
iPhone SE (2022)
iPhone 14
iPhone 14 Plus
iPhone 14 Pro
iPhone 14 Pro Max
How to enable 5G on iPhones in India?
To enable 5G on Apple iPhones in India, follow the steps mentioned below:
First, update to the latest version of iOS. Open the Settings app, tap General, then Software Update, download the update and install it.
While 5G should be automatically enabled once the update has finished, if it doesn't, you can manually enable it. Open the settings app and tap on Cellular > Cellular Data Options. If you are using two active SIMs, you can choose which one you want to use 5G on.
Now, leaving the setting on Auto mode will enable your iPhone to dynamically adjust your connection speed to help save battery power. In this mode, the iPhone switches to 4G LTE when you aren't doing anything that requires high-speed data. This is done to save battery life. Switching to 5G Always on in the Cellular Data Options will force your device to always use 5G when coverage is available. If you want the best battery life, you can tell your iPhone to use 4G LTE at all times.
Other features in iOS 16.2
Apart from 5G support, iOS 16.2 also brings other features such as Apple Music Sing. It is a new karaoke mode that allows users to sing along to their favourite songs as lyrics are displayed on screen that are in sync with the music.
Next, the Emergency SOS Via Satellite feature is now expanding to more supported regions. Apple also says that there have been various improvements made to the lock screen UI, such as the option to change how notifications are displayed and disable your homescreen wallpaper on the iPhone 14 Pro series' always-on display.
Further, a 10-minute window for sharing files via AirDrop with anyone is now being implemented. This window was earlier implemented in China a fee weeks back and is now coming to rest of the world. Apple says this is being done to prevent spam. In addition, you also get features such as multiplayer support over FaceTime for Game Centre games, and a game Activity widget that lets users see what friends are playing.
There's new Sleep and Medications widgets, the ability to find photos in Messages by describing their content in words, improved iCloud Private Relay controls; iCloud data syncing bug fix, improved crash detection on the iPhone 14 series, and lastly, other bug fixes and security updates.