GoPro has expanded its action camera portfolio with the launch of the GoPro Hero8 Black and GoPro Max. The successor to the GoPro HERO7 Black which launched last year will be available from October 20 in India for Rs 36,500. The GoPro Max will go on sale for Rs 47,000 from October 24.
GoPro Hero8 Black
The GoPro Hero8 Black comes with a 12MP camera, a frameless design and a GP1 chip for controls through voice commands. The camera will be able to record videos of 4K at 60fps/30fps, 2.7K at 120fps/60fps, 1440p at 120fps and 1080p at 240fps. There's a new HyperSmooth 2.0 mode for video stabilisation which will support every listed resolution and frame rate.
The device comes with four digital lenses -Narrow, distortion-free Linear, Wide and SuperView. The camera has a new TimeWarp 2.0, LiveBurst, live streaming at 1080p and Night Lapse modes which will work to up to 4K resolution. Connectivity options include USB Type-C, 3.5mm headphone jack, HDMI and microSD card slot.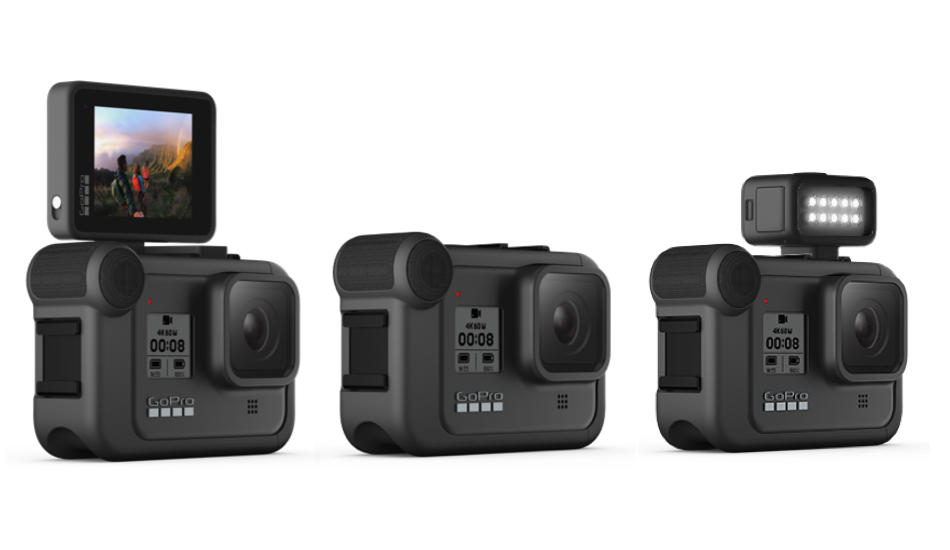 Hero8 Black comes with a 1220mAh battery and waterproof design to up 10m metres. There are three microphones on the device which offer wind noise reduction. The camera now comes with three new mods – Media Mod, Display Mod and Light Mod, the last of which can be purchased for $49.99 (approx. Rs 3,570). The other two mods are available for $79.99 (approx. Rs 5,700) each. All mods will be available former-order from December.
Media Mod brings a shotgun microphone with two cold shoe mounts for an external display and LED fill-light, HDMI, one more Type-C port and external 3.5mm microphone. Display Mod comes with a 1.9-inch screen with a front camera for vloggers and a foldable design. The Light Mod offers water resistance to up to 10 metres and a diffuser.
GoPro Max
The GoPro Max can be considered as the successor to the GoPro Fusion 360-degree action camera and comes with a 360-degree dual-lens camera. There's a 16.6MP 360 camera which outputs 16.6MP full-sphere images, 5.5MP flat images, panorama images at 6.2MP and 270 degrees. The device can be used to capture flat videos at 1440p resolution and 60 fps frame rate while delivering 5.6K resolution spherical videos at 30 fps.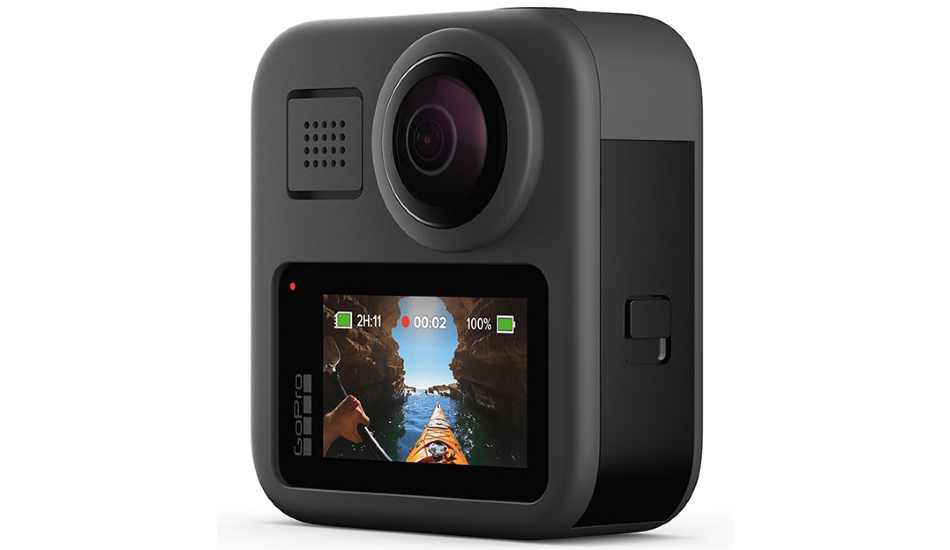 Weighing in at 154 grams, the GoPro Max offers a Waterproof design to up to 5 metres and measures 64W x 69H x 24 D mm. The device has a 1600mAh battery which can be easily removed from the main unit. The 360-degree camera comes with 6 microphone units for shotgun-style audio input and offers Max HyperSmooth for video stabilisation using a 180-degree capture as the buffer.
The GoPro Max can capture tradition Hero-style footage as well as 360-degree videos and uses Max SuperView mode on digital lenses. Additional features include Horizon Levelling, in-camera sticking, Max TimeWarp mode, live streaming at 1080p, GPS tracking and voice control.