In the aftermath of completing its enormous feat of providing 400 Indian railway stations with WiFi services, Google has now revealed that it plans to expand its 'Google Station' concept to areas beyond just railway stations. To get things in play, Google is reported to be in talks with major telecom and Internet service provides in the country and also state governments.
While acknowledging that Google Station has now been employed in Mexico and Indonesia as well, the search giant has authorised a report by Analysys Mason which expresses that installing Public WiFi services in India would register 40 million new users to the Internet by 2019. The report also asserts that this increase in Internet usage will benefit the GDP by close to $20 billion with $10 billion projected every year after 2019.
Published as 'Accelerating connectivity through public WiFi: Early lessons from the railway WiFi project', the report promises to fulfil the Indian Government's ambition to retain 5 million access point by the next two years, the double of which is projected by the year 2022.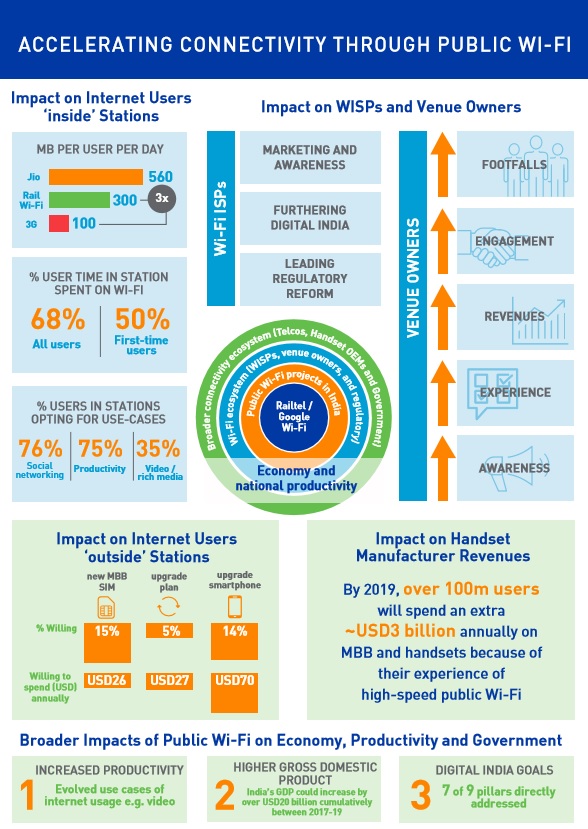 Google says that it sees a potential in bringing wider ecosystem of WiFi connectivity which will not only benefit users but also internet and telecom device provides, OEMs and venue owners. In addition to greeting 40 million new users, Google has also outlined the possibility of about 100 million people opting for a new phone that sees an expenditure of around $2 to $3 billion on handheld devices.
Commenting on the latest revealings, Google India's Director at Next Billion Users, K. Suri said "Our partnership with RailTel to bring high-speed connectivity to millions of Indians across 400 train station, today stands as a lighthouse project for the industry and underscores the importance of investing in public Wi-Fi as a crucial step in getting high quality internet to everyone in India. This is just the beginning of a journey that will change India's access story and the Analysys Mason Report outlines some very important insights that can enable ISPs and TSPs to think in this direction. Together we have a lot of work to do to improve access and connectivity in the country".