The search-engine giant, Google has introduced a new feature to its Maps application in India. Dubbed as the Motorcycle mode, with this option the two-wheeler drivers will be able to know the best suitable route and more accurate time to reach their destination.
Earlier, there are four type of travelling preferences in the application, including the Car, Public Transport, Walk and Cabs. And now with the new option, the motorcycle mode sits between the Car and Public Transport. The feature is currently introduced for India only, as there are a maximum number of Bike users in the country.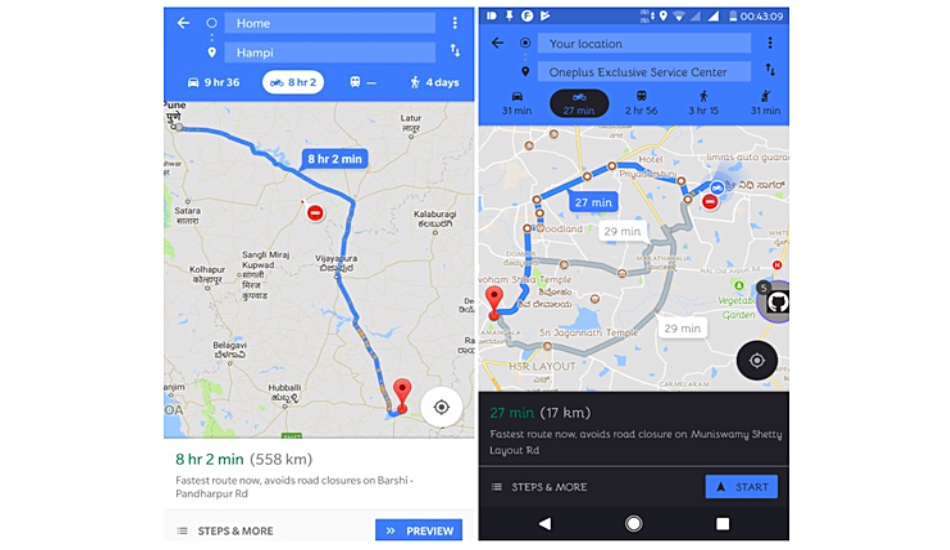 Image Courtisy: Android Police
Other than this, the feature will also alert users in caseof any roadblock or parking-related issues near the person's destination. Further, you can very well see in the image, the time taken from Pune to Hampi is 9 hours and 36 minutes. However, the same distance consumption by the Motorcycle Mode is only 8 hours 2 minutes.
You Might Also Like
Meanwhile,Google has also announced a new redesigned look for the application, as well as website making it much easier to find venues and locations around. The major highlight of the new makeover is that now Maps shows important information around us clearly indriving, navigation, transit and explore modes. The petrol pumps,train stations and so on will now appear more prominently during navigation.