A month after unveiling the Toughbook FZ-T1 and Toughbook FZ-L1 rugged Android devices in India, Panasonic has now announced a new line of TVs, cameras, turntables, audio products and smart home devices at the CES 2019 event in Las Vegas.
Panasonic GZ2000 Professional Edition 4K OLED TV
The Panasonic GZ2000 as the company says is the world's most Cinematic TV and is also the world's first OLED TV to support both HDR10+ and Dolby Vision HDR as well as HLG Photo. The TV is inbuilt with upward-firing speakers capable of delivering Dolby Atmos immersive audio.
The GZ2000's HDR OLED panel is powered by Panasonic's HCX PRO Intelligent Processor which rapidly analyses the colour, contrast and clarity of 4K video content and optimises them with the right brightness and contrast levels. The GZ2000 features Panasonic's new My Home Screen 4.0 with customised layouts and shortcuts to Live TV, connected devices and apps. The GZ2000 also works with Google Assistant and Amazon Alexa, allowing users to operate some key TV functions, just using their voice.
Technics SL-1500C Series Direct Drive Turntable
The Technics SL-1500C features a core-less direct drive motor, high-sensitivity tonearm and a high-quality Ortofon 2M Red phono cartridge. It uses a single rotor, core-less direct drive motor in which the stator has no core and eliminates the rotation irregularity called cogging. The SL-1500C has a built-in phono equaliser amp compatible with MM cartridges so it can be connected to an audio product that does not have phono input terminals.
Panasonic LUMIX S full-frame mirrorless SLR camera
Panasonic introduced its first full-frame L-Mount mirrorless camera at Photokina 2018 and announced the Lumix S1 and S1R mirrorless cameras. Both the cameras come with 35mm full-frame image sensor and image processing engine with support to up to 47-megapixel sensors.
At CES 2019, Panasonic has announced new features to its LUMIX S full-frame mirrorless cameras. The new features include an HLG Photo Mode that allows images to be shot with a wider dynamic range. There's a High-Resolution Mode that take eight consecutive images are automatically shot while shifting the sensor and stitch them into a single image with the help of the new Venus Engine.
Technics SL-G700 Grand Class Network / Super Audio CD Player
Technics today unveiled the new SL-G700 Network / Super Audio CD Player that covers most of the digital audio media available today, from traditional CD/SACD to the latest high res and popular streaming services, and plays them all back in the highest possible quality. The SL-G700 is equipped with a dedicated power supply unit for analogue audio output, resulting in high-fidelity sound reproduction.
The device comes with a high-grade D/A converter, dual mono construction D/A circuit, a Discrete AMP Module, Battery Driven Clock Generator and Digital Noise Isolation Architecture. The SL-G700 is equipped with a dedicated D/A circuit for headphones, which is independent of that for analogue output. The SL-G700 uses a four-section construction with partitions installed between the circuit blocks according to the signal level handled and circuit type.
Technics EAH-F70N and EAH-F50B Wireless Headphones
Technics has also unveiled two new wireless headphones, the EAH-F70N and EAH-F50B. Both models support LDAC/apt-X HD for wireless, high-res-equivalent sound reproduction and use a 40-mm dynamic driver with Composite
Performance Film (CPF) diaphragm and a precise air control structure. The headphones come with CPF lamination which provides high rigidity and internal damping for powerful bass and spatial ambience that delivers a concert-like sound experience.
The headphones support LDAC, Qualcomm and apt-X HD, and offer excellent response and high resolution even in a wireless configuration to reproduce accurate high-res-equivalent sound. Additionally, the EAH-F70N offers Hybrid active noise cancelling in three modes that can be changed according to the use case. The EAH-F70N also features a Wearing sensor and an Ambient sound enhancer, the latter letting users listen to background sounds, such as announcements made on a train or in an airport by simply touching the outside of the housing.
Panasonic HTX90N, HTX20B, HF410B, NJ310B Headphones
The HTX90N are Bluetooth over-the-ear headphones that are equipped with noise cancelling technology to block out a variety of everyday noise and come with sound-enhancing 40 mm drivers with neodymium magnets. It's built in with Voice Assistant Activation feature and a high capacity rechargeable battery that enables a full 24 hours of continuous wireless play even when noise cancelling is on.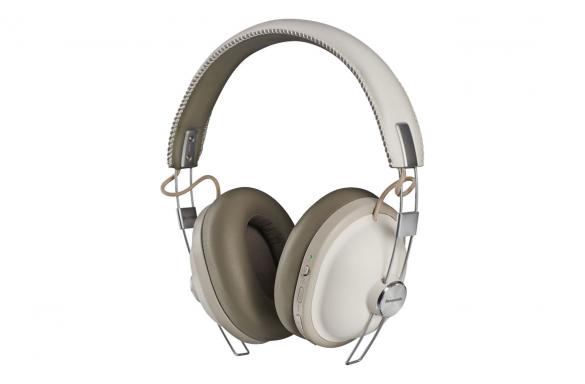 The HTX20B are in-ear wireless headphones redesigned from the HTX series over-ear headphones. Equipped with a 9-mm driver for clear sound and powerful, enhanced bass, the HTX20B Headphones also deliver a full 8 hours and 30 minutes of continuous playback on a full charge. Even if you need to charge in a hurry, the 15-minute Quick Charge function provides 80 minutes of playback.
The HF410B On-Ear Headphones enable wireless Bluetooth reproduction and feature 30-millimetre driver units with neodymium magnets. The headphones are equipped with a high-capacity rechargeable battery that enables a full 24 hours of continuous play and weighs in at 130 grams. The XBS combines a port design that optimises airflow and an acoustic tuning circuit to enhance low range reproduction for enjoying crisp, robust bass sound with reduced distortion.
The RP-NJ310B In-Ear Headphones offers a 9-mm driver for acoustic insulation and a double-hold shape that makes them easy to wear, fitting firmly into the ears to resist falling off. The NJ310B Headphones deliver a full six hours of continuous playback on a full charge. The Quick Charge function allows the user to charge the battery in 15 minutes for 70 minutes of playback. With the built-in Voice Assistant Activation function, listeners can enjoy hands-free operation right from their smartphones.