Following JioSaavn's and Gaana's steps to lower the subscription prices of streaming services, Apple has now cut down the prices of its Apple Music service in India. The revised price structure of the music streaming service comes as an effort to tackle competition from Spotify and YouTube Music which were announced last month.
Starting today, users can pick the Apple Music service for a monthly payment of Rs 99 to get the individual plan which was earlier available for Rs 120. The individual plan can now also be purchased for a whole year at Rs 999 instead of its earlier price of Rs 1,200 per year.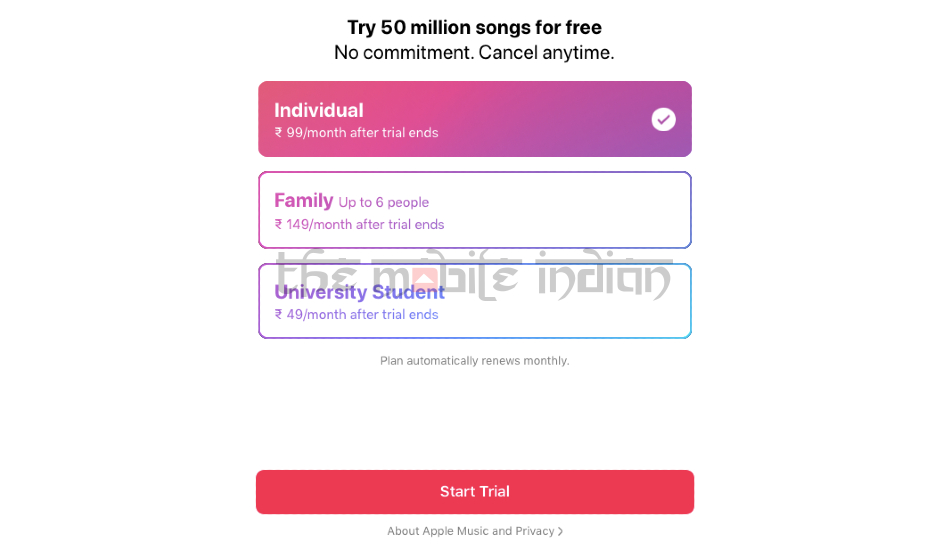 Apple is also offering a "University Student" plan which can be availed for as low as Rs 49 per month. The student plan was earlier available at Rs 60 a month.
Customers can also buy the "Family" plan which offers Apple Music usage for up to 6 people. The Family plan is currently available for a monthly payment of Rs 149 per month, in contrast to its previously pricing of Rs 190 per month.
In contrast to that, Spotify is offering a monthly subscription plan of Rs 119. Apart from this, there's a 3 months plan which is priced at Rs 389, while the 6 months plan is available for Rs 719. Lastly, there is a Spotify Premium Yearly subscription that is available at a price tag of Rs 1189. The company is also offering up to 50 percent discount for students. You can view the difference between Spotify Free and Spotify Premium subscriptions here.
While YouTube Music is available for free, YouTube Music Premium is chargeable Rs 99 per month and YouTube Premium can be purchased for Rs 129 per month.
JioSaavn has also slashed the prices of its music subscription lately. The service's annual plan is now available for as low as Rs 299 which comes down from its previous price of Rs 999 for a year. However, JioSaavn hasn't updated its monthly JioSaavn Pro offerings which are still priced at Rs 99 per month.
Similar to JioSaavn's decision to lower the prices, Gaana has also brought down the price of its subscription plans. Gaana Plus users can now avail the premium music streaming service at Rs 299 for a year. The same annual package can be bought by students in India for Rs 199. Gaana is also offering quarterly and monthly Gaana Plus subscriptions at Rs 199 and Rs 99 respectively.
We've also compiled a list of music streaming services that are available in India, their offerings and price listings.