After months of wait, Spotify launched its music streaming service in India yesterday to rival Apple Music, Amazon Prime Music, Gaana and JioSaavn.
As part of the launch, Spotify is offering users a month-long trial of its Premium subscription with ad-free high-quality audio streaming as well as an option to download songs and playlist for offline listening. All this is available for free for the starting 30 days.
Once the trial period is over, Spotify Premium can be accessed by paying Rs 13 for a day, Rs 39 for a week, Rs 119 for a month, Rs 389 for a quarter, Rs 719 for six months and finally, Rs 1189 for a year. For students, the same plans will be made available at a 50 percent discount.
But do you really need a Spotify premium account for your daily music dose and are the added services really worth the price you pay? Let's talk about that.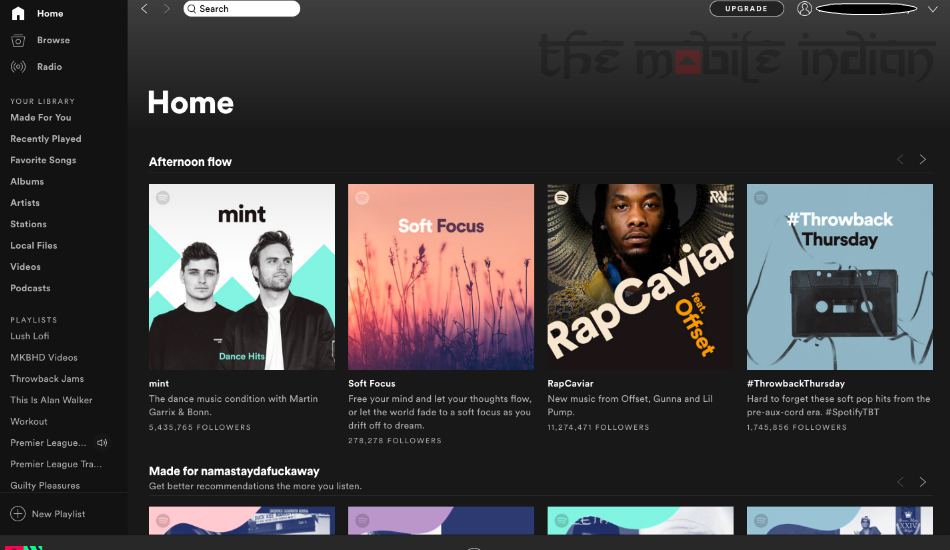 Audio:
There's more to Spotify Free and Premium than just its features. The major difference is as basic as it could be and it's the audio quality. While a premium subscription to Spotify will let you enjoy music at a bitrate of 320 kbps, Spotify Free will only allow users to listen to songs at 96 kbps when on mobile and 160 kbps when using on the desktop. While low bitrates were appreciable when data consumption was limited because of higher prices, it really doesn't make sense to use high bitrate audio when the internet speeds are soaring high and the rates are affordable as well.
Ads:
Advertisements are the basic means for generating revenue for anything sold online and Spotify is no different. For users wishing to not purchase Spotify's premium subscription, the app will display you adverts for every four or five songs you play or skip. This is however not the case in Spotify Premium as the app comes with no adverts and users can fully utilise the screen for seamless music listening.
Music library:
Spotify says it offers users unlimited access to over 35 million songs and that remains the same for all users of Spotify, be it Premium or Free. The only difference is that while Premium users will get to play even the latest releases, Free members will have to wait for at least two weeks after a new artist album is out to listen to it.
Playback: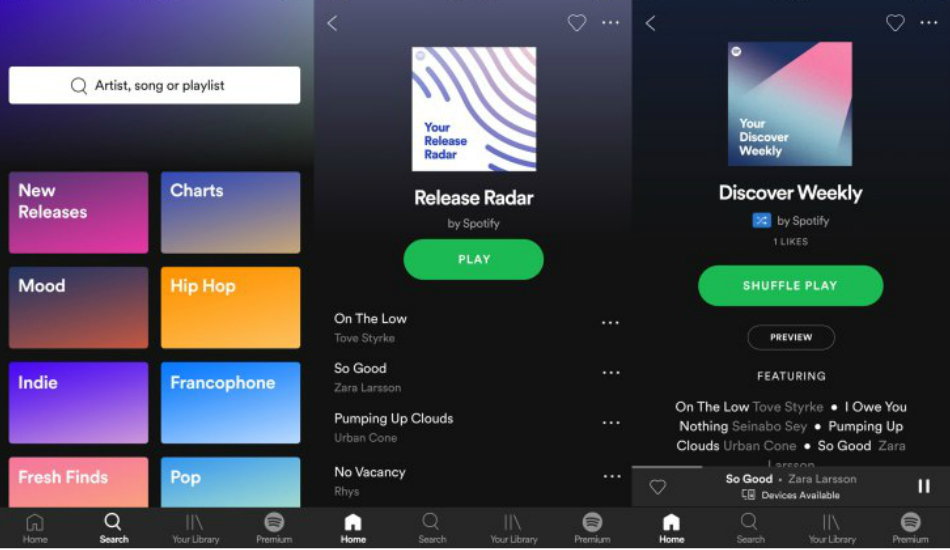 We discussed how Spotify Free will play ads every four or five songs. But there are some more strings attached to it. While both Spotify Free and Premium come with over 35 million songs and algorithm-based mixes, playlists and radio stations, Spotify Free doesn't give you the control to choose your tune and you'll be limited to 'shuffle play'. What this means is you'll have to wait for the song that you desired to be played next, comes. Prior to the India launch, Spotify only allowed skipping the 'Shuffle Play' for up to six songs in an hour. This meant Spotify Free on regions outside India only allows you to skip music on shuffle play to limited numbers. However, the feature isn't implemented in India yet. So users can skip tracks on Spotify Free as much as they want till it plays their desired music.
Spotify Premium, on the other hand, offers no strings like these and allows users to tap and play whoever track they want, when they want to. There's no need to for Shuffle Play but users can use it if they wish to mix and match. Apart from that, users can choose from any song or set of tracks, be it from an album, playlist, daily mixes or radio stations.
Downloads: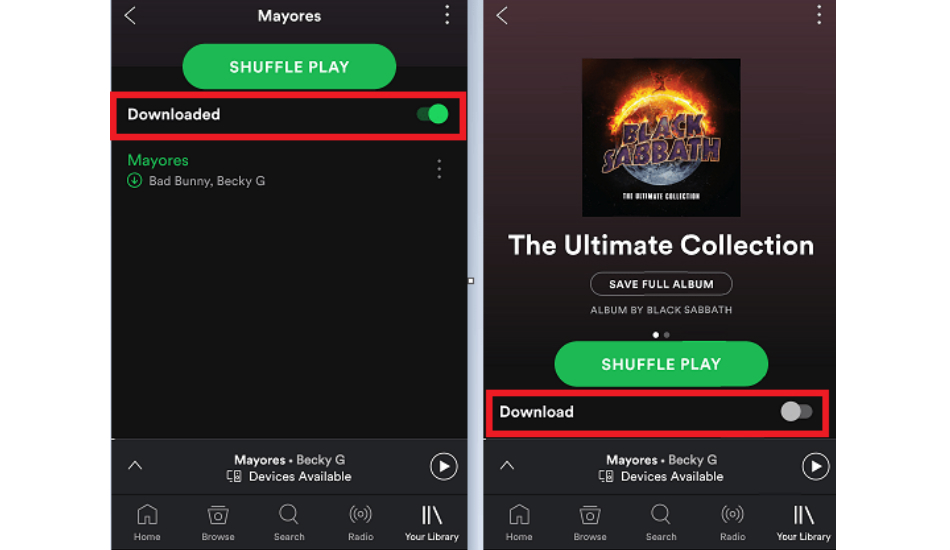 While Spotify Free offers the same vast library as Spotify Premium, it doesn't support offline listening. What this basically means is that Spotify Free doesn't offer track downloads as Spotify Premium does. Spotify Premium allows you to download up to 10,000 songs each across five devices with the ability to listen to tracks, albums, and podcasts without an internet connection when already saved. This feature can also save users data when on the go or when mobile networks aren't reliable.
Cross-platform experience:
Spotify's music streaming service can be accessed across smartphones (iOS and Android), desktops, Smart TVs, Microsoft Xbox, Sony PlayStation, Apple Carplay and Android Auto. All these platforms can be used to listen to Spotify but only Premium users can use the 'Spotify Connect' feature. Spotify Connect allows users to control Spotify on one device from other devices that you're listening to it from. For instance, if you've connected your headphones to your PC but want to change tracks or control the volume, you can do the same through your smartphone or vice versa, but only when you have a Spotify Premium account.
Conclusion: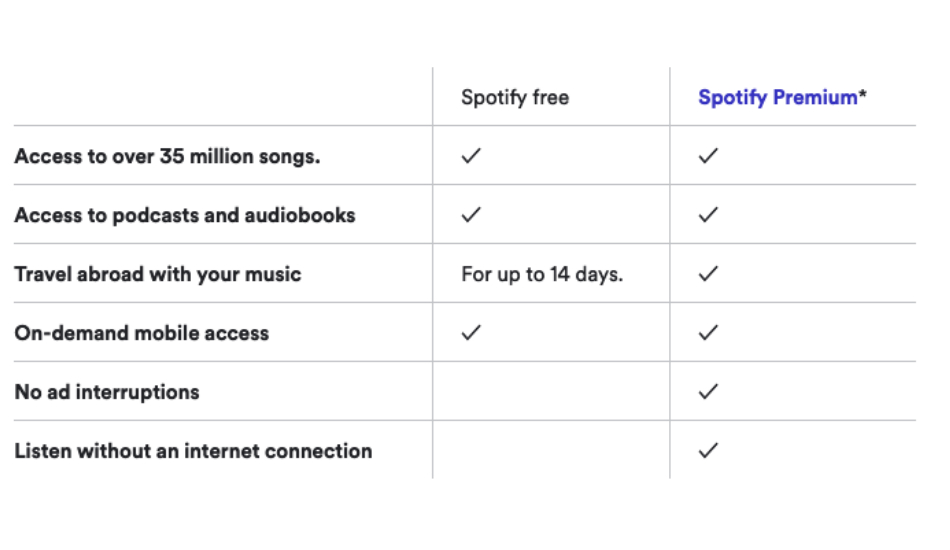 For a base price of Rs 119 per month, Spotify does pack in a wide variety of features, including high quality 320 kbps music, offline listening, ad-free playback, exclusive first-hand content upon release and the ability to play any track without Shuffle Play. All these features are worthy for the price that the Premium service is available for. But if you're not an audiophile and you're a casual music listener content with some basic music playback, Spotify Free isn't that bad of an option either. Both services offer you an equally vast amount of songs in its library and algorithm-based mixes and playlists according to your preferences and mood. It's still a welcome change over what Indian users were used to getting from other streaming platforms like Gaana, Apple Music, Prime Music and JioSaavn.