At its Brooklyn event today, Apple has finally unveiled the MacBook Air 2018 – the much-anticipated refresh to Apple's oldest portable computer. The latest MacBook Air brings with it an all-new Retina display and Touch ID for authentication along with a bunch of other features for a starting price of $1,199 (approx. Rs 88,200).
Apple has finally implemented a 13.3-inch edge-to-edge Retina display on the MacBook Air which the company claims is 50 percent narrower than the last model and a total of 4 million pixels on top. Weighing in at 1.34 kgs, the new Air offers two USB-C ports and a 3.5mm headphone jack.
In terms of authentication, the new MacBook Air will equip Touch ID powered by the T2 chip from last year's MacBook Pro. With a standard MacBook Air design, the machine is everything a MacBook Pro is without a Touch Bar.
The new MacBook Air is powered by an 8th Gen Intel dual-core CPU with integrated graphics, up to 16GB RAM and up to 1.5TB of SSD storage. The inbuilt USB-C slot will be able to power a 5K external monitor or an eGPU external graphics unit.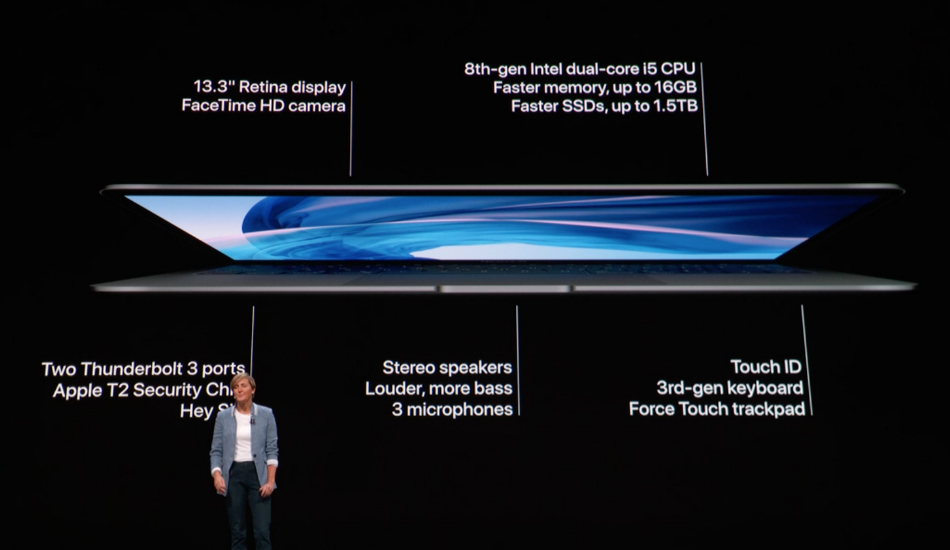 The new Air features a 20 percent larger Force touch trackpad, with a battery that lasts 13 hours on iTunes movie playback, and the 3rd-generation keyboard with the butterfly mechanism.
The base model of the MacBook Air 2018 comes with 8GB RAM, 128GB SSD and a 1.6GHz Core i5 processor and will be priced at $1.199 (approx. Rs 88,200).