Colgate, a brand well known for dental hygiene, has launched its new Smart Electronic Toothbrush E1 with the built-in Artificial Intelligence technology into the handle. The productis now available in market at a price tag of $99 (roughly Rs 6,300) and is exclusively selling on Apple Stores as well as on Apple's official website.
The toothbrush works with an iPhone, iPad or Apple Watch and it helps you to manage your dental health more effectively. It is claimed to feature a sonic vibrating technology to brush your teeth more accurately and effectively.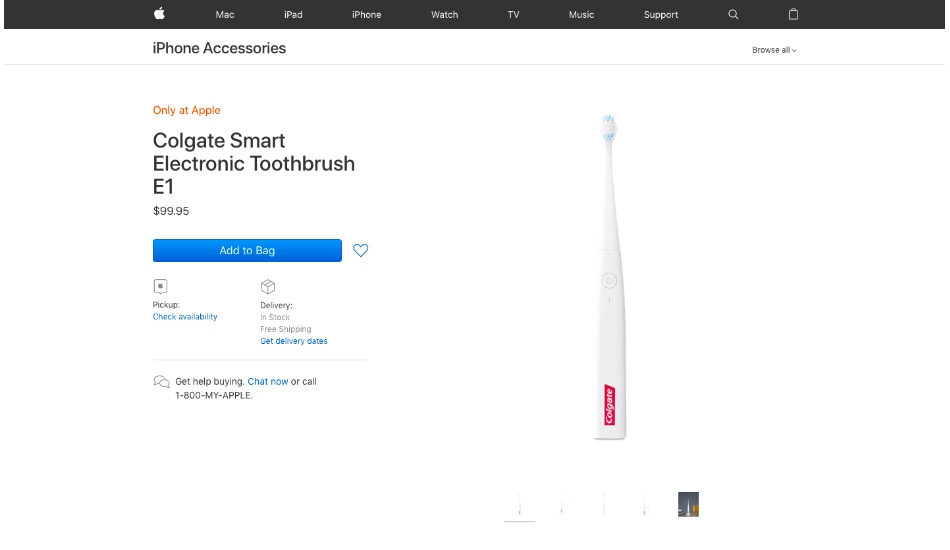 Further, the sensors on the E1 detects the exact position and orientation of the brush in real time across 16 brushing zones on the application. Similar to any other fitness band, the brush stores the brushing data in the handle, which is later automatically uploaded to the Colgate app via Bluetooth.
Later the AI develops a recommendations based on your individual brushing patterns and shares them with you via the app to improve. Users even get a variety of helpful tools in the app, including Coach, Check Up, and Dashboard. The coach guides the person while brushing to help them to adopt proper brushing habits.
You Might Also Like
The Check-Up tab provides a personalized mouth map, which shows the area where the user has brushed or missed. The company says that "the dashboard keeps track of your data, helping you understand even more ways to improve your dental health."
Additionally, the app comes with two free games that let kids play while brushing their teeth by turning the brush into a game controller. It is worth noting, one can easily change their brush head with the easy refill pack of three at $19 (Roughly Rs 1,212)