Ahead of an iOS 12.1 update, Apple has started seeding iOS 12.0.1 to iPhone XS and iPhone XS Max devices fixing several issues that popped up during the launch of its latest flagships. The iOS 12.0.1 update solves the weird charging issue that used to occur when the new iPhones were kept on charge while being connected to wires.
The update comes a week after several users of the iPhone XS and iPhone XS Max reported that their new iPhones wouldn't automatically start charging when they plug the lightning cable. In order to charge the devices under such circumstances, users were forced to tap on the screen or unplug and plug back again the Lightning cable to initiate charging.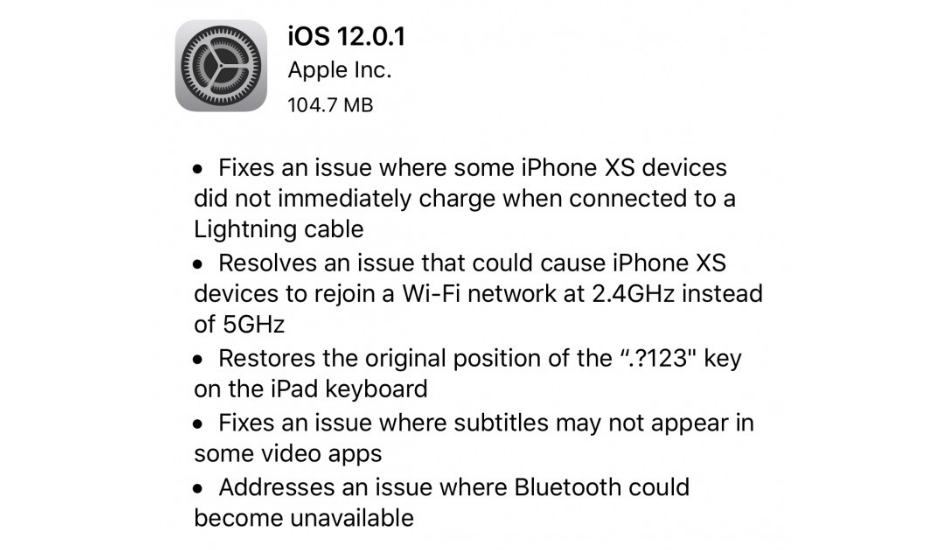 Weighing in at 104.7MB, the latest update solves this issue and also comes with a fix for the WiFi connectivity issue where certain iPhone XS and iPhone XS Max devices weren't able to connect to a 5GHz band but instead connected to 2.4Ghz bands by default.
Additionally, the iOS 12.0.1 update brings back the ".?123" key to its original position on the iPad keyboard. The key was previously swapped by the emoji/language key, which several users revealed their displeasure about. The latest update also resolves the issue regarding subtitles not being displayed in some video apps and also a Bluetooth unavailability issue.