Amazon has introduced the all-new reimagined Kindle Paperwhite, the successor to the 3rd generation Kindle Paperwhite which was announced three years ago. The new Kindle Paperwhite comes with a thinner and lighter design, sleek flush-front display, and waterproofing and will be available for pre-order starting today for a starting price of Rs 12,999.
Weighing in at 182 grams, the new Kindle Paperwhite comes with a familiar flush-front design and a back made of soft, easy-to-grip material with a thickness of 8.18mm. the e-book sports a 6-inch 300 ppi glare-free display which reads like a real paper under bright sunlight.
The new Paperwhite comes with twice the storage as the last generation Kindle Paperwhite and now features 8GB and 32GB of onboard storage which will be capable of storing thousands of titles. On top of that, the new Kindle device will come with three months of Kindle Unlimited for free on pre-orders with over 1 million titles to choose from. In completion of these three months, customers can subscribe to Kindle Unlimited plans starting at Rs. 150 per month.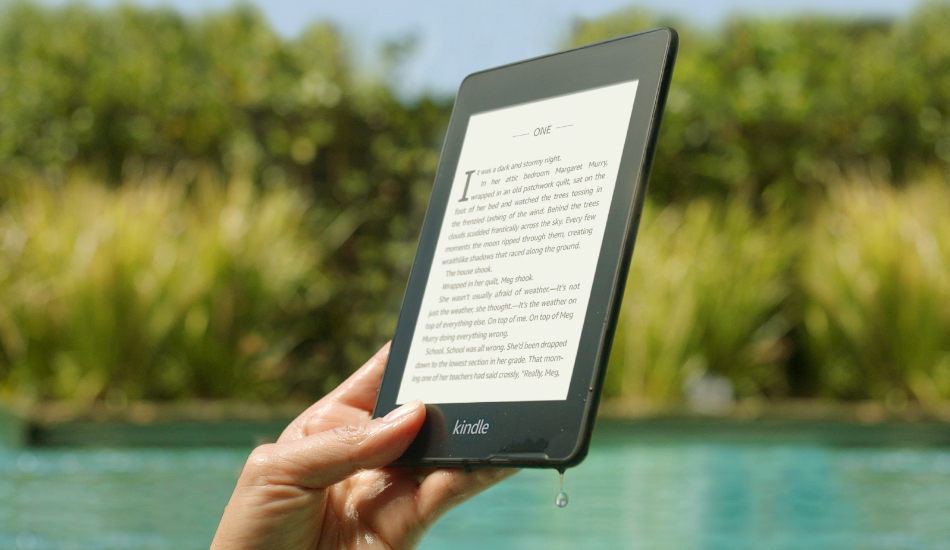 One major refresh in the fourth generation Kindle Paperwhite is its ability to withstand accidental splash in the rain, drops in the bathtub, hot tub, pool and beach. This is possible due to the IPX8 certification which protects the Kindle against immersion in up to two meters of fresh water for up to 60 minutes.
Amazon has also announced software features to the Kindle family by adding a new home experience which helps find a user's next read based on their reading history. The list will include books that are free to read from Kindle Unlimited and Prime Reading. Users will now also be able to save multiple reading settings, selecting the font, boldness level and orientation settings directly from the main menu. The latest update will be able as an OTA update to the Kindle Paperwhite devices released post-2013.
The new Kindle Paperwhite is currently available for pre-order for Rs 12,999 and Rs 17,999 for the 8GB WiFi model and 32GB WiFi + 4G model respectively. Pre-ordering the device will get you a 2-year extended warranty.