Bharti Airtel leads the charts in overall download speeds closing in on as much as 6 Mbps by the end of February 2018, as per the latest data released by OpenSignal. The report further highlights that Reliance Jio gives a close competition to Airtel which solely depends on its 4G-only network for its download speeds.
The overall download speeds in this report refer to the average 4G and 3G speeds on downloads and the availability of each network throughout the region through the course from May 2017 till February 2018. While the graph suggested that overall speeds for Airtel, Vodafone, and Idea were relatively similar to each other, these three networks also recorded a steady increase in the downloading speeds since September 2017. This could be possible due to the fact that since the second half of 2017, network providers have been in constant efforts to expand their LTE connectivity. The mere increase in connectivity thus boosted the average download speeds of these three networks and this might not necessarily mean that there was a significant increase in LTE speeds.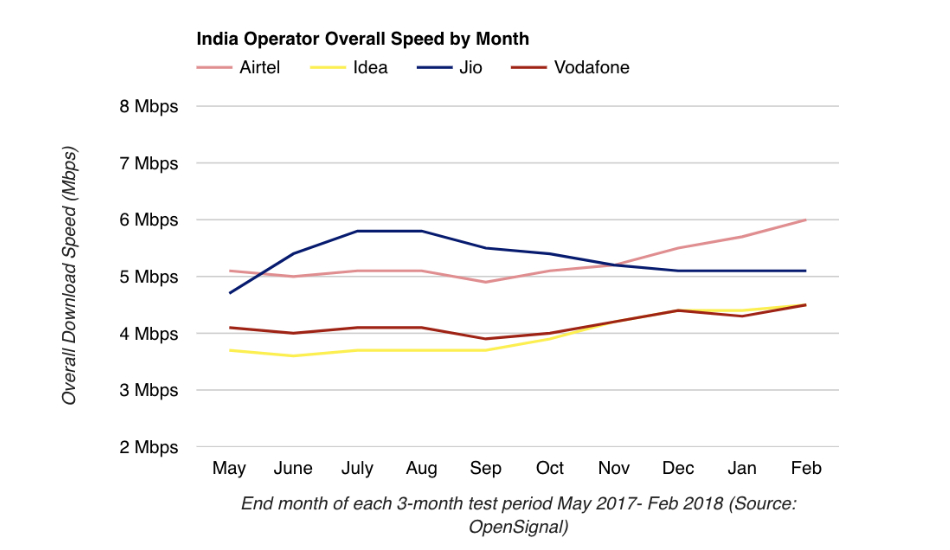 In terms of overall speeds, Airtel is followed closely by Reliance Jio which solely depends on its 4G-only network for its download speeds. While Jio enjoyed a huge spike in the overall download speeds in May-July 2017, the VoLTE-specific network started experiencing a gradual drop in the download speeds before settling for a little over 5 Mbps level in February 2018. While Jio suffered a little blow through its low 4G speeds, OpenSIgnal acknowledges that connectivity wasn't the question here since Jio users found LTE signals 96 percent of the time.
However, the most significant leap in the download speeds came from Idea and Airtel as both these operators gained as much as a whole Megabit per second of overall download speeds. As a result, Airtel overthrew Jio for the pole position in faster internet connections by the end of November with more speeds than Jio's peak speed in the same timeframe.
Though Vodafone started their journey with a lead over Idea by a fraction of a megabyte, the latter managed to match Vodafone's download speeds and has steadily maintained its position a little over 4 Mbps. While that still is still lower considering the jump Airtel made, Vodafone and Idea now no longer appear to be the chasers of the game and can easily topple Jio's overall download speeds if the Mukesh Ambani-led company doesn't solve its 4G bandwidth issues.