Bharti Airtel has announced the launch of its converged digital entertainment platform – Airtel Xstream, as expected earlier. Airtel Xstream will bring a wide entertainment catalogue including satellite TV channels, movies and shows in English, Hindi and multiple Indian languages and popular OTT apps for streaming purposes. Alongside the launch of Airtel Xstream, the company has also introduced the Airtel Xstream Stick and the Airtel Xstream Box for Rs 3,999 each.
Airtel Xstream and its connected devices will come with a unified user interface across all screens. The new range of Airtel Xstream connected devices will be able to make any TV a smart TV and will be available to users starting today.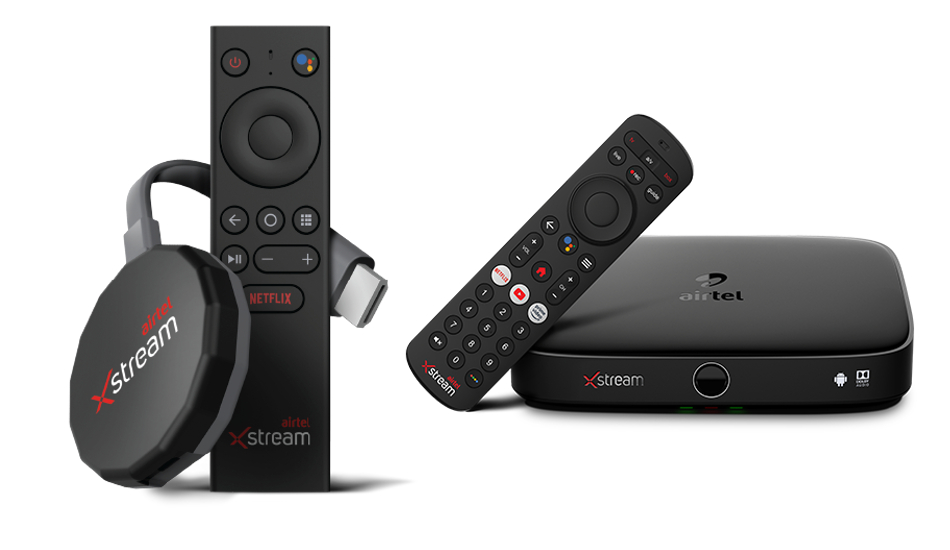 Airtel Xstream Stick can be purchased for Rs 3,999 on Flipkart (exclusively) as well as Airtel retail stores, Airtel website, Croma and Vijay Sales. The Airtel Xstream Box will be available on Flipkart, Amazon, Airtel retail stores, Airtel.in, Croma and Vijay Sales for Rs 3,999. All existing Airtel Digital TV customers can upgrade to Airtel Xstream Box for a special price of Rs 2,249.
Airtel Xstream will offer Live TV, video, music, news and sports through an internet-enabled smart stick, a streaming box or a smartphone. The service will thus enable users to access content across the screen of their choice – a TV, PC or a Smartphone.
As part of the launch, Airtel Thanks customers will enjoy exclusive benefits on Airtel Xstream with free access to premium content from Airtel's content catalogue and other services.
Airtel Xstream Stick
The Airtel Xstream Stick runs on Android 8 and can be plugged into any TV with an HDMI port. The device is powered by a 1.6 GHz processor with built-in Chromecast and access to Netflix, Amazon Prime Video and other Google Play store applications. The device is bundled with a stick remote which comes with Bluetooth 4.2 connectivity and a voice-enabled search feature.
The Xstream Stick comes with a single subscription plan, I.e., an annual plan for Rs 999. Airtel Thanks Platinum and Gold customers will get complimentary access to the plan while other customers get free access to the content for the first 30 days after which they'll need to pay Rs 999 for the annual plan. The plan offers to the platform with over 10,000 movies and shows from top OTT content partners like ZEE5, Hooq, Hoi Choi, Eros Now, HungamaPlay, ShemarooMe, Ultra and Curiosity Stream, in addition to over 6 million songs from Wynk Music's library.
Airtel Xstream Box
The Xstream Box comes running the more recent Android 9 Pie OS and combines both satellite TV and OTT content together through a single device. Along with the benefits offered to Xstream Stick users, Xstream Box will bring users the option to choose from 500 plus TV channels, Netflix, Amazon Prime Video, YouTube and Airtel Store.
The Airtel Xstream Box features WiFi and Bluetooth for connectivity and offers a built-in Chromecast option. There's a universal remote that features Google Assistant based voice search and dedicated keys for launching Netflix, Amazon Prime Video and YouTube. The Xstream Box comes with a complimentary one-year subscription (worth Rs 999) to all Airtel Xstream app content in addition to a one-month subscription to an HD DTH pack.
Airtel has also revealed that it has revamped its Airtel TV app and rebranded it to Airtel Xstream. The app will now have a new User Interface with sharper content discovery and recommendation engine. Airtel Xstream app will come with access to over 400 LIVE TV channels and 10,000 plus movies and shows and can also be accessed by logging onto Airtel Xstream website on the web.
Speaking about the launch, Bharti Airtel Chief Product Officer, Adarsh Nair said "Airtel is on an exciting mission to provide a broad array of digital services and platforms that can form the foundation for a rising India. As part of our digital entertainment play, our vision is to truly massify digital entertainment and make it accessible to more and more customers through innovative platforms. Today, we are announcing India's first converged entertainment platform Airtel Xstream that brings together your favourite content including Live TV, video, music, news, and sports across an OTT smart stick, internet-enabled set-top box and handheld devices. Digital India is transforming the way content is being consumed over internet-connected devices. Airtel Xstream will cater to the needs of a new generation of consumers who are looking for seamless and converged entertainment across multiple screens at home and on the go".