The Mobile Indian has been tapping the home appliance market for quite some time now and we are overwhelmed with your response. This week, we are targeting washing machines. Whether it's for an average household or you are living away from home with friends, laundry is one of the most important activities of your weekly if not the daily chores. While most of the people still prefer doing it manually, fully automatic washing machines do help saving both labor and time. Today, we bring to you the top 5 best washing machines available in India, at the moment. Let's get started.
Whirlpool 12 Kg Fully Automatic – Top Load: Rs 36,990
Starting off today's list with the one with maximum capacity, Whirlpool's 360 degree Ultimate Care 12.0 fully automatic washing machine is perfect if you have a pretty big family. Priced at Rs 36,990, there are a bunch of unique features in this product apart from the capacity. First, it comes with a 6th Sense technology which basically senses the load of your laundry and washes your clothes in a 360-degree tumble motion ensuring a thorough wash. This combined with the Care Move Technology makes sure the clothes aren't damaged even when washed thoroughly.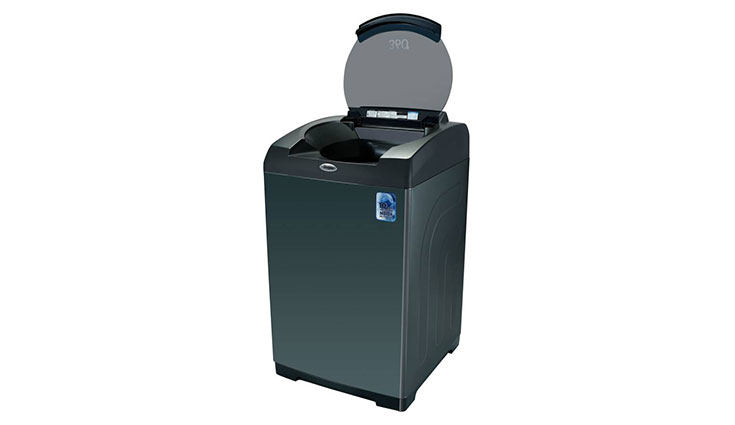 Coming to the USP i.e. the 360-degree tumble motion, the variator plate present inside washes clothes in multiple inside-out circles so that the clothes rub against each other. For those stubborn stains which won't go off easily, this machine can soak your dirty clothes in a solution of detergent and hot water to loosen tough dirt. Further, it can also rinse your delicate clothes with warm water which helps avoid any kind of wrinkles. That's not all. This machine intelligently dispense softener during the rinse cycle so your clothes come out of the wash looking clean, smelling fresh, and feeling soft. Lastly, the Power Dry feature gives you four customizable levels of drying your laundry.
Jumping into technical specifications, the maximum spin speed is 740 rpm. The outer body is made out of plastic while the tub is made out of steel. The machine measures 62 x 103.5 x 56 cm (width x height x depth) and weighs at 43 Kgs. There is a digital display at the top which displays crucial information like mode, speed etc. Whirlpool is offering 2 Years warranty on the main unit and 10 years on the Motor.
IFB 8.5 Kgs – Front Load: Rs 37,499
The Switzerland based firm IFB has been a claimed as a dark horse of home appliance market in India. No fancy advertisement but really promising products are what looks like IFB's main moto. The Executive Plus VX washing machine range is one of the best for the price with the 8.5 Kg model priced somewhere around Rs 37,000 mark.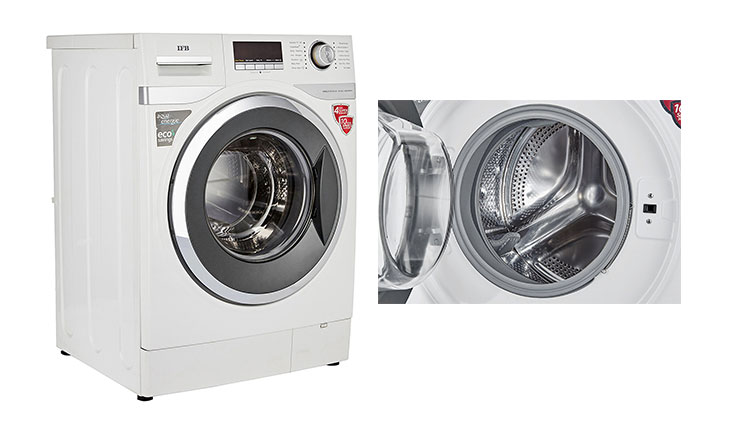 For the features it comes pre-loaded with, this front load washing machine can spin at the rate of 1400 rpm which IFB justifies as more speed equals to lower drying time. There is a special rustproof drum inside which keeps the clothes in healthy condition while not compromising on its own durability. Further, IFB has included about 100 wash programs for a variety of fabrics.
There is a digital display at the top as well and this particular model comes in white colour only. There is an in-built heater for further lowering drying time. The washing machine measures at 59.8 x 87.5 x 60.6 cm and weighs at 73 Kg. The power supply you would need to run this product is 2250 W. IFB is giving away 4 years of comprehensive warranty which covers all the parts of the washing machine.
LG 7 Kg Fully Automatic – Front Load: Rs 36,900
LG has had a stronghold in the home appliance market its 7 Kg front load washing machine (Model: FH0B8QDL22) is a prime example why the South Korean giant has been up there all this while. Priced at Rs 36,900 on Amazon India, this fully automatic washing machine is perfect for your daily chores of laundry.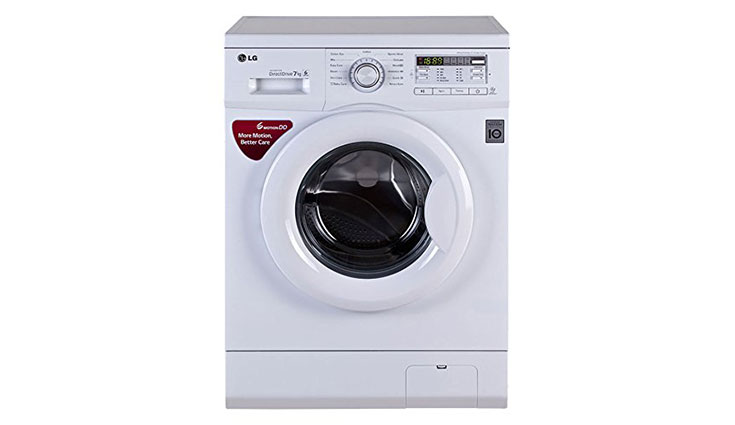 Naming few of the unique features it boasts, LG has included a 6 Motion DD technology inside which involves Scrubbing, Rolling, Stepping, Swing, Tumbling and Filtration making it a perfect fit for all kinds of washing needs. The Inverter Direct Drive Technology helps in dissipating least energy as the motor on this machine is directly attached to the drum. Then there is a smart diagnosis system which will tell you what's wrong with the product or if it's required for you to call the engineer. Some of the washing modes that come with this machine include Direct Drive, Fuzzy Logic, Baby Care, Quick 30 Program, Crease Care. More common features like comprehensive pre-wash and tub clean is there as well.
This LG washing machine measures 600 x 550 x 850 mm while the door diameter is about 300 mm which opens up to 170 degrees. LG is giving a 2 year warranty protection for the main unit while the motor comes with a 10 year protection.
Samsung 9 Kg Fully Automated – Top Load : Rs 33,700
Samsung has made its presence felt in this segment with some good products in the past and same can be said for this. The top loading washing machine has a dedicated sink with built-in water jet on the side, which can start and stop with the press of a button, to hand-wash some of your delicate clothes. The company says that it has Wobble technology that protects delicate fabrics from friction damage during spinning action. The device's lid can open and close smoothly and there is a tempered glass window, to view the washing without lifting it. Then there is Magic Filter that effectively gathers the lint, fluff and particles that come out of your clothes.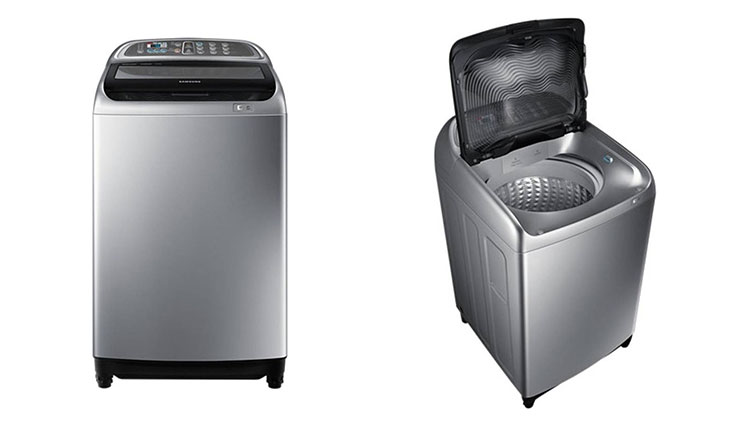 The washing machine comes with a Digital Inverter Technology ensuring optimal energy efficiency. Coming to the drum used in the machine, it comes with diamond-shaped ridges which according to the company, prevent fabric from becoming trapped and damaged. The washing machine is equipped with a rubbing board through which one can scrub the stained areas of clothes, like collars and cuffs, before starting a normal washing cycle. The Water-Fall technology, sprays concentrated water that ensures detergent is distributed evenly.
It has a maximum Spin Speed of 1000 rpm with a power consumption of 1700 W. The washing machine has a dimension (H X W X D) of 610 x 1,105 x 675 mm and weighs 45kgs. The warranty here is same as LG which is 2 years for the unit and 10 years for the motor.
Bosch 7 Kg Fully Automatic – Front Load: Rs 32,178
Perhaps not the most popular one but certainly one of the best when it comes to quality, Bosch has gradually made its mark in the home appliance industry. Picking up the 7 Kg model WAK24268IN out of a really promising lot, this washing machine is currently priced at Rs 32,178 on Amazon India which in itself is one of the reasons to buy this product.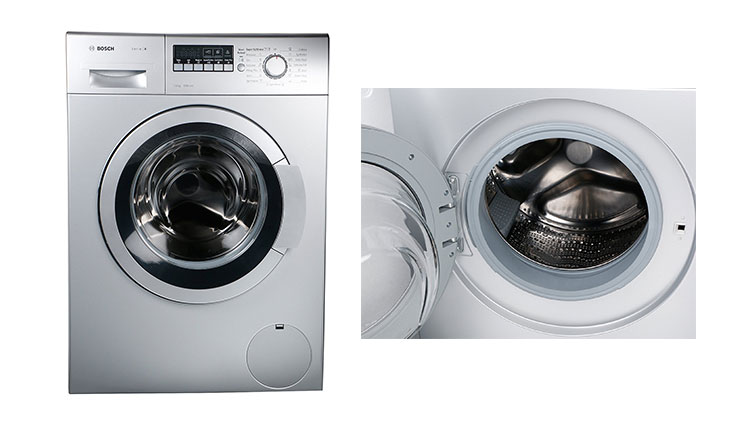 Starting the list of features with the AllergyPlus and ECARF certification which basically washes away the detergent residue left on your clothes with just one push of a button. The SpeedPerfect feature can be dead handy as it reduces the overall wash time by 65 percent without compromising on wash results. Further, there is a Super 15'/30' programme which can wash clothes up to 2 Kgs in just 15 to 30 minutes.The Vario Drum inside has asymmetric paddles which are not only gentle on clothes but ensures efficient distribution of water and detergent throughout the wash. The WaterPlus feature is nifty workaround to sent out extra water in certain areas that requires extra usage of water to ensure thorough rinsing of your clothes so that no detergent residue remains on them. Another interesting feature which is unique to this machine is the Reload function which basically allows you to open the door early in the cycle to add or remove the items easily.
The drum inside can spin at 1200 RPM and it comes in grey colour option. As its the case with other manufacturers, Bosch is giving 2 years warranty on the main unit while the motor comes with 10 years of protection.