Are you planning to buy a new washing machine but confused which washing machine suits your home requirements best? Well, there are a plethora of options available in the market right now which sometimes confuses us immensely ranging from front loading to top loading washing machines.
To ease of your confusion, here we have shortlisted the best of 5 washing machines which are available online right now. It is to be noted that we have chosen here only washing machines coming with a capacity ranging from 6 Kgs to 8.5 Kgs. We are sure after going through these machines, your confusion will clear and you will be able to make an informed decision.
IFB 8 kg Fully Automatic Front Load Washing Machine Silver (Senator Aqua SX) – Rs 32,190
The IFB Fully Automatic Front Load Washing Machine is available online for Rs 32,190 and has an 8 kg washing capacity, which is more than enough for a medium-sized family. The washing machine comes with a maximum Spin Speed of 1400 rpm. For the dimension, the appliance has a height of 87.5, width of 59.8 and depth of 60.6 cm, and it weighs 75kgs.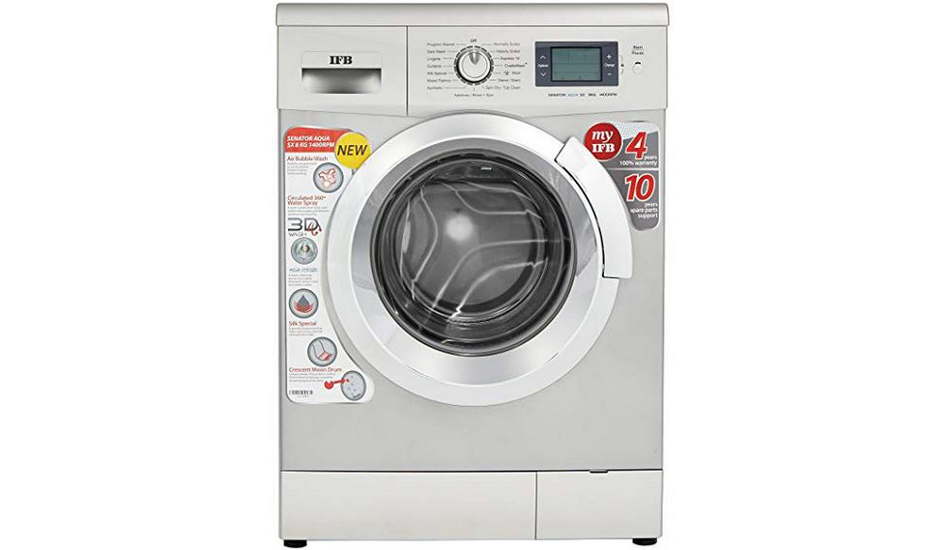 The sleek IFB Senator Aqua SX comes with an inner steel drum and a user-friendly LCD display. The LCD display lets you select and monitor wash programs with ease. It features crescent moon shaped pattern on the drum which gently washes your clothes without damaging them. Also, it has a Foam Control System which helps to clear excess foam, so that you get quality wash always.
The IFB Senator Aqua SX offers 100 wash programs to suit your varying washing needs. The Laundry Add feature lets you add missed out laundry even if the wash cycle has already started. It also comes with Aque Energie feature which reduces hard water to crystals without affecting the machine's performance. A maximum of 2200 watts of power its consumed by the washing machine to wash clothes efficiently.
For the Hygiene and Safety Programs, it has Tub Clean feature which helps you to get rid of bacteria or fungus in your washing machine. It also has protective rat mesh to keep it safe from rodent attacks. The Auto Imbalance System balances the load within the tub in case of uneven distribution. It has a 3D Wash System with nozzles circulate the water in the drum at 360° to ensure deep penetration of detergent into clothes for deep cleaning and deep penetration of water into clothes for a complete rinse.
LG 6 kg Fully Automatic Front Load Washing Machine White (FH0FANDNL02) – Rs 24,980
The LG Fully Automatic Front Load Washing Machine with 6 kg washing capacity is available online for Rs 24,980. It comes with a maximum Spin Speed of 1000 rpm and requires 790 Watts of power consumption. The washing machine has a dimension (H X W X D) of 850 height, 600 width and 440 mm depth with 60kgs weights.
The machine features 6 Motion Direct Drive Technology which helps in moving the wash drum in multiple directions enabling to wash clothes thoroughly. It also has an Inverter Control technology which aids in an efficient consumption of both water and electricity by generating less speed fluctuations.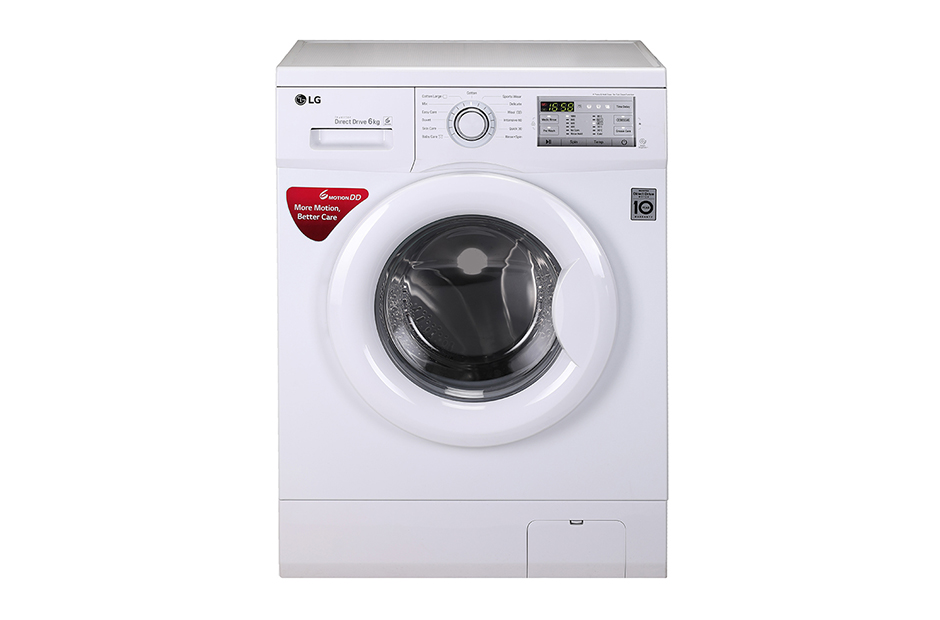 There is also Smart Diagnosis System in the washing machine which allows you to call to this diagnosis system. The LG Smart Diagnosis uses the latest technology to instantly troubleshoot your problems and answer your queries swiftly and conveniently. It gives you a report about the issues your washer could be facing.
This LG washing machine features a Baby Care function in which the clothes are washed at temperatures up to 95-degree Celsius. The high temperature helps in getting rid of enzymes and bacteria in the clothes. There's also no need to worry about detergent residue on your kid's clothes because each garment is thoroughly rinsed out. With this feature, the washer's gentle motor movement ensures a wash that's tough on stains and gentle on the fabrics.
Bosch 7 kg Fully Automatic Front Load Washing Machine Silver (WAK24168IN) – Rs 27,590
Bosch Fully Automatic front loading washing machine(WAK24168IN)with a 7 kg washing capacity is available online at Rs 27,590. It has a maximum Spin Speed of 1200 rpm with it consumes a power of 2150 W. For the dimensions, the washing machine has (H X W X D) of 85 x 62 x 60 cm and it weighs 78 kilograms.
This washing machine is equipped with the Active Water Plus technology, it features multiple load sensing levels and automatically adjusts the water level. The AntiVibration Design reduces vibrations and ensures stability in the washing machine so that your appliance doesn't shake while washing heavy loads.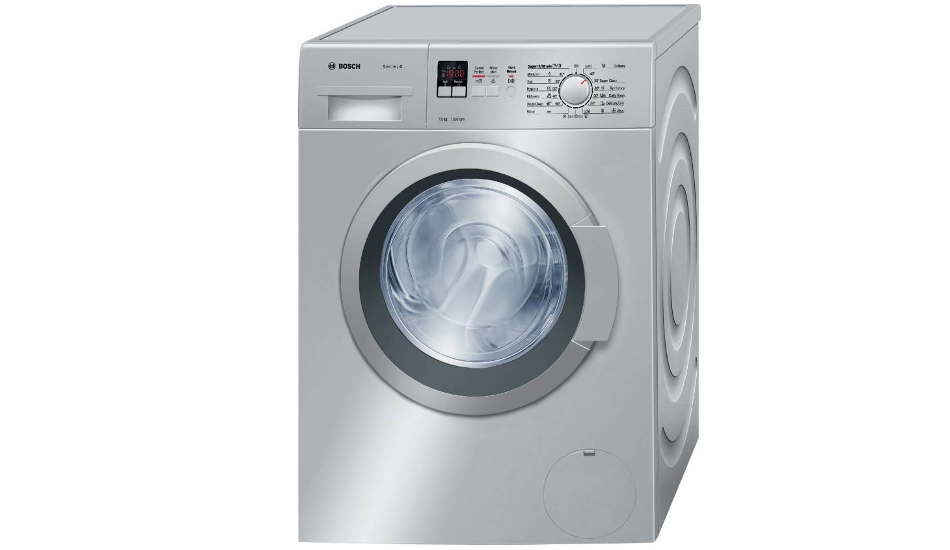 The vario drum in the washing machine cleans the clothes without damage. The Vario Drum features an advanced water flow system. This system efficiently distributes water and detergent throughout the load. The VoltCheck is specially designed to handle fluctuations and interruptions, this appliance automatically resumes the last wash cycle when the power is stable again. With the SpeedPerfect, you don't need to wait for hours for your clothes to get washed. This technology reduces wash time by up to 65%.
Drum Clean keeps the drum disinfected and it also eliminates lint/toxic residues for an improved washing result. The washing machine operates silently at a noise level that's as low as 49 dB (decibels) and also operates efficiently even at a water pressure as low as 0.3 bar.
It also features Reload Function in which you can add or remove the items easily even after the wash cycle starts. Ther is also Child lock in the appliance which locks all keys. Even if your kid accidentally presses any button, it will not alter the settings.
Whirlpool 6.5 kg Fully Automatic Top Load Washing Machine Grey (Whitemagic Premier 6.5 Grey 10 YMW) – Rs 14,290
WhirlpoolWhitemagic Premier 6.5 Grey 10 YMWwashing machine is available online at Rs 14,290 and has a 6.5 kg washing capacity. This can be ideal for a family of 3. It has a maximum Spin Speed of 740 rpm and consumes power 360W. The washing machine has a dimension (H X W X D) of 87 x 54 x 56 cm and it weighs 28kg.
This Whirlpool washing machine comes with interesting features. There is Smart Diagnostics in this washing machine which helps in monitoring voltage and water levels. During the wash cycle, the Smart Lint Filter removes any accumulated lint on your clothes. Then there is a Detergent Savings feature which determines the amount of detergent required depending upon the fabric load and type.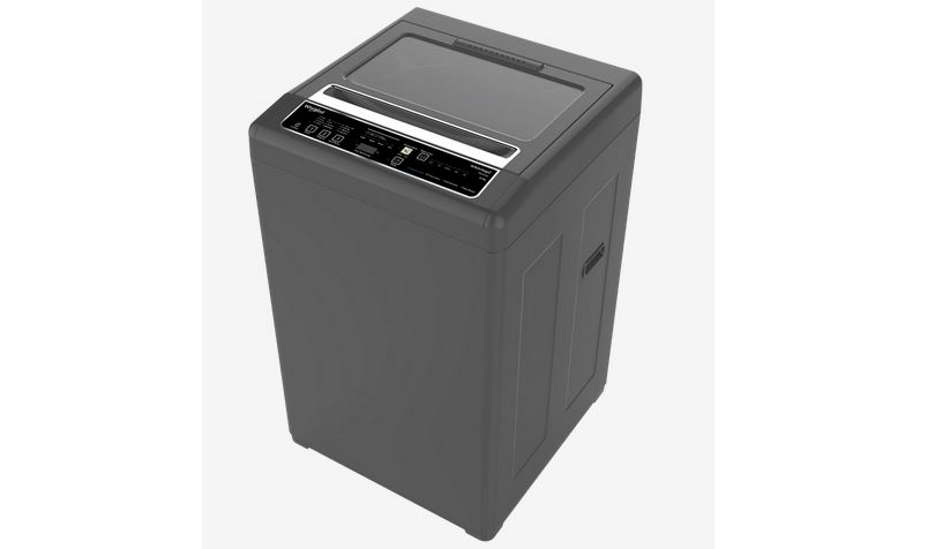 The appliance has Express Wash option. Selecting this option will give you up to 50% faster washing speed on all the wash programs. It has
3-spring-loaded Power Scrub Technology which helps in removing all those tough stains and dirt from your clothes, while also retaining their colour and quality.
The new spa wash system in the washing machine delivers the perfect wash and 40% less tangling with it's specially designed prime move and drum combination. It contains 50% lesser holes than an ordinary wash drum, giving a smoother wash and also reducing the amount of lint generated.
This Whirlpool washing machine features an intelligent hard water software that adapts the machine programs for washing in hard water, ensuring your clothes get up to 30% better cleaning and better detergent action.
There is also ZPF technology which helps in filling up the washing machine tub up to 50% faster even when the water pressure is as low as 0.017 MPa at your home. Then there is also Dynamix Technology to properly mix the detergent and prevents the buildup of detergent residue on your clothes.
Samsung 6.2 kg Fully Automatic Top Load Washing Machine Grey (WA62M4100HY/TL) – Rs 13,290
The Samsung Fully Automatic Top Load Washing Machine is available online for Rs 13,290 and has a 6.2 kg washing capacity. The washing machine comes with a dimension of 850(H) x 540 (W) x 560 (D) mm and it weighs 31kgs. It features maximum Spin Speed of 700 rpm and consumes 380 W of power.
This top loading washing machine from Samsung has powerful filtration with Magic Filter feature. The feature gathers the lint, fluff, and particles from the jeans, blankets and other clothes, and keeps your laundry clean while also protecting your drainage from getting clogged up.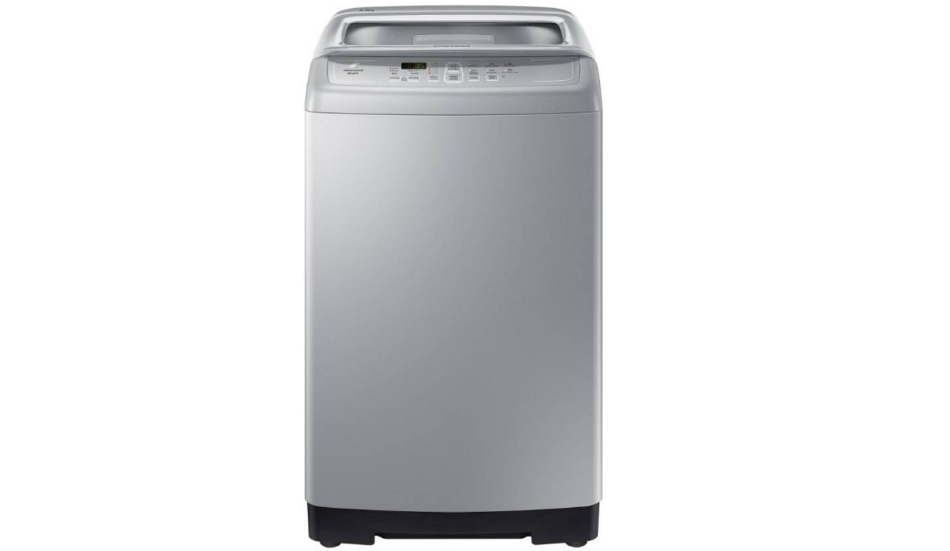 A stainless steel pulsator ensures a powerful washing performance and helps to keep the inside hygienically clean. Its 6 blades create a wide and intense shower of water that removes dirt effectively and rinses thoroughly. And it's very scratch resistant, which inhibits the growth of bacteria.
The top load of this washing machine remains fresh even without using harsh chemicals, thanks to its Eco Tub Clean technology. This technology also notifies you automatically when it needs cleaning.
The washing machine is equipped Diamond Drum. The Diamond Drum features a unique design with diamond-shaped ridges that's supremely gentle on your clothes. It's small water exit holes also help protect fabric by minimizing the cases where clothes are trapped and damaged.