With festive season on, it's probably the best time to replace your current not-so-aesthetically pleasing television sitting on a desk which craves for a new TV. However, whenever you enter a retail store you often find yourself bewildered with a tonne of options available at various price points. Today, we have gone a little low in budget and shortlisted some of the best options you can considerif you are looking to buy a TV under Rs 20,000. Although Rs 20,000 is not a lot of money for a decent television, there is a lot to offer in this segment as well. Let's break it down.
Vu 39-inch Full HD LED TV – Rs 19,998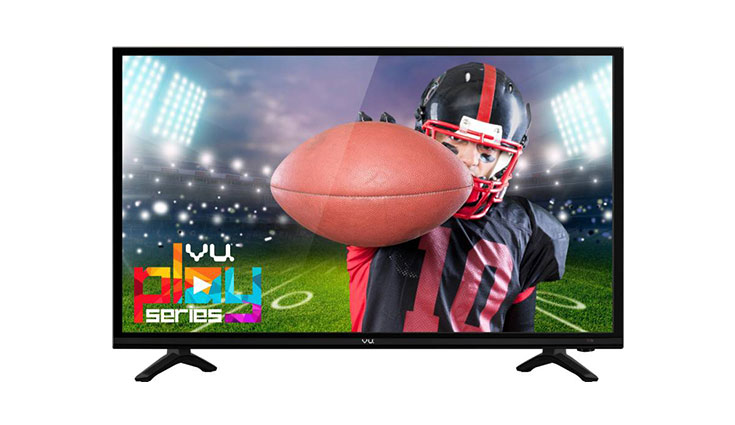 The Canadian giant Vu has made its point quite clear in India, they are going to offer what other companies at a price which is utterly difficult to refuse. The best bet which Vu offers under Rs 20,000 is its Full HD 39-inch LED TV – H40D321. And it's the only TV in the list that offers that kind of resolution and display size. Vu claims that it is an A+ Grade Panel coming in at brightness of 450 nits and viewing angle of 178 degrees. For the audio, we have 2 speakers capable of 17W RMS output coupled with Digital Noise Reduction to offer crystal clear audio. If we talk about connectivity, 2 USB ports, 2 HDMI ports, 1 headphone jack, 1 RGB port etc. Both the USB and HDMI ports are placed at the back.
Apart from this, Vu also offers additional features such as Moisture and Dust Resistant Components which not only check the durability but also keeps the TV healthy from Inside. There is also Parental Control Lock to limit certain content for your kids. This TV measures at 886 mm x 517 mm x 84 mm and weighs 6.5 Kgs without any accessory. Unlike before, Vu is offering only 1 year of domestic warranty. Inside the box, Vu is also giving away a wall mount bracket.
Micromax 32-inch HD Ready LED – Rs 14,998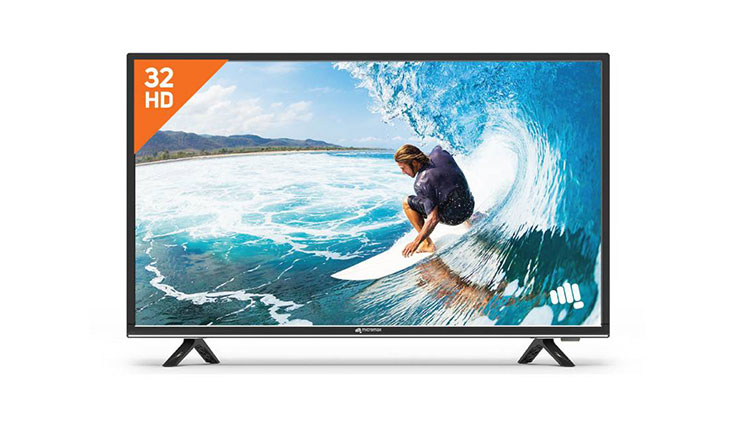 Probably the cheapest option in today's list is Micromax's 32-inch model L32FIPS117HD_I which strangely comes in a bunch of model names. While the smartphone industry is something where Micromax has to recover, things are quite opposite in the Television segment especially when we talk about budget TVs. This 32-inch LED TV comes with a 1366 x 768-pixel resolution display which supports 178-degree viewing angles and offers 60Hz refresh rate. There are 2 speakers in this model which are placed at the bottom embedded inside the machine capable of offering a 20W RMS output. For the connectivity, there are 2 USB ports, 1 HDMI port located on the side panel, 1 headphone jack, 1 PC Audio In port, VGA port etc.
Besides, this TV also supports plug and play wherein you can simply connect your flash drive or hard disk to this TV to stream Movies, Photos, Music etc. We do get a Wall Mount in this option as well and Micromax is giving 1 + 2 years of domestic manufacturer warranty as well.
Panasonic 32-inch HD Ready LED – Rs 16,998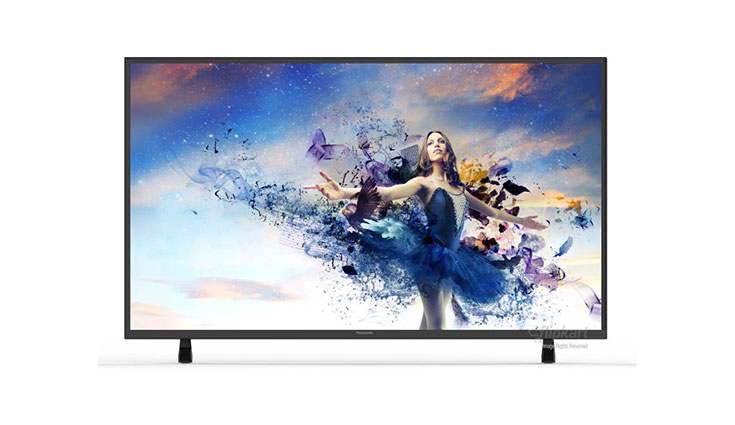 After Vu, Panasonic has also had one of the prime spells in the TV industry recently. Under 20k, we have Panasonic TH-32C350DX which is a 32-inch LED model coming in with a screen resolution of 1366 x 768 pixels. Plus, the display offers 176-degree viewing angle and 100 Hz refresh rate which you will not see in TVs priced this low. Coming to the audio, we get 2 speakers again which can throw a sound output of 16W RMS. Connectivity isn't the strong point here as this TV only has a single USB port which does support music streaming, an HDMI port and 1 RGB port.
This TV measures at 735 mm x 434.3 mm x 86.7 mm and weighs at 4.4 Kgs without any accessory. Inside the box, we get the usual stuff such as the Remote Control, User Manual, Power Cable and a Wall Mount. Panasonic will give you 1 year of protection for manufacture defects only.
Samsung 32-inch HD Ready LED – Rs 17,998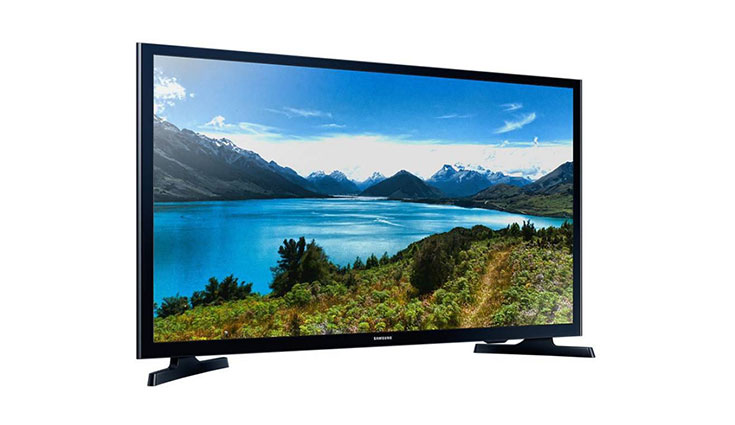 Be it a budget TV category or a premium flagship smartphone basket, you always get an option from Samsung. Under Rs 20,000, the South Korean giant offers a 32-inch HD Ready LED 32J4003 TV priced at Rs 17,998. We can expect the display quality to be at par or better than other options in this list offering a contrast ratio of 1000000:1 and 60 Hz refresh rate. Complementing this display are 2 speakers which are down firing coupled with bass reflex capable of an audio output of 10W RMS. Besides, we also get Dolby Digital Plus, DTS Studio Sound, and a dedicated Wall Mount Sound mode. Moreover, there is also Sports Mode, Game Mode, Indian Cinema Mode In terms of connectivity, there are 2 HDMI ports, 1 USB port, 1 composite input port, 1 headphone jack etc.
Aesthetically, this one edges out easily measuring at 745.4 mm x 442.2 mm x 69 mm and weighing just 3.73 Kgs. There is 1-year warranty for the whole product and a separate 1-year warranty for the display panel. However, unlike others, we don't get any wall mount inside the box.
Sony Bravia 29-inch HD Ready LED – Rs 18,998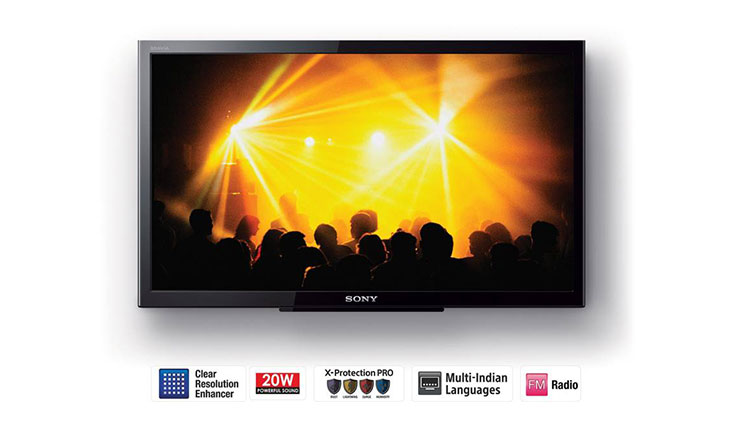 Although the smallest in size, Sony's KLV-29P423D is a solid buy if you don't want to compromise on quality. The 29-inch LED display panel on this one comes in at 1366 x 768-pixel resolution and supports 16:9 and 4:3 aspect ratio content. We get a tonne of add-on features in for this display such as 100 Hz refresh rate, X-protection PRO for Dust, Lighting, Surge and Humidity Proof, 24p True Cinema, Live Color Technology etc. Further, two full range open baffle down-firing speakers throw up an audio output of 20W RMS and also comes with Dolby Digital sound technology. For connectivity, there are 2 HDMI ports, 1 USB port, 1 headphone jack, 1 RGB port, 1 Audio In/Out etc. Apart from this, some additional features such as a Clock, Sleep Timer, Screen Lock, Parental Control, Photo Frame Mode etc. are there for the taking.
For the amount of space it will take up on your wall, this TV measures at 667 mm x 402 mm x 69 mm and weighs 4.83 Kgs. We get a table mount instead of a wall mount inside the box and for the warranty protection, Sony is giving away 1 year of domestic warranty which will cover all manufacturer defects.