If there is one home appliance which is absolutely necessary at your place unless you order food every day from outside, it has to be the refrigerator. The need for it further grows when the scorching heat refuses to cool down in summers. There are ample of options for a refrigerator in the market right now and the best way to buy is surely by visiting a local store. However, one needs to strictly narrow down the long list to avoid any kind of confusion. So if you are moving into a new house or your current refrigerator is an old daddy now, here are our top five refrigerators in India for around a price point of Rs 20,000.
Samsung 253 Litre RT28M3022S8 – Rs 19,440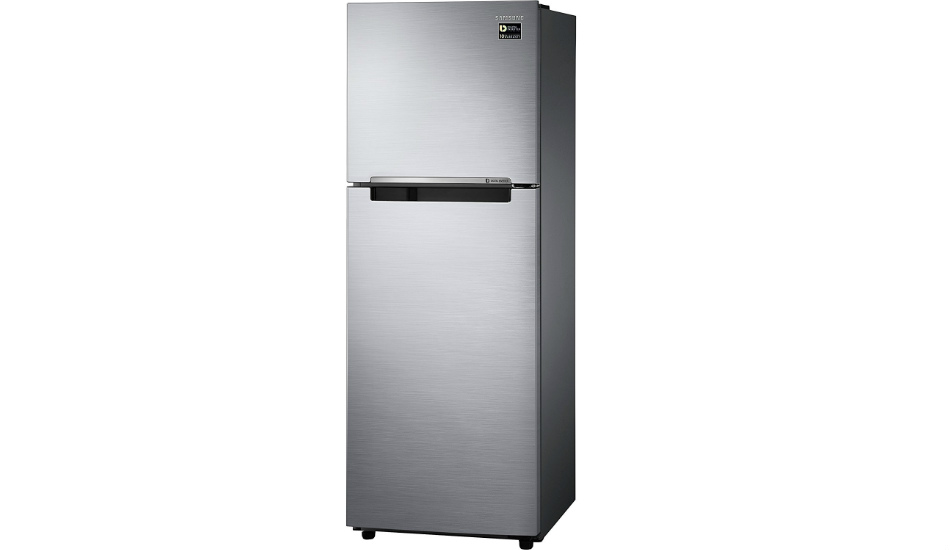 Samsung has been a strong competitor in the home appliance segment and its best refrigerator offering under Rs 20,000 comes in the name of Samsung RT28M3022S8. Coming in with a 253 L capacity, this double door refrigerator should be perfect for a small to mediumsizedfamily with enough space for everything. For a price of Rs 19,440, we get three toughened glass shelves (one easy slide shelf) in the main compartment along with a dedicated egg tray and a big bottle guard on the door. In the freezer compartment, Samsung has also included an ice maker through which dispensing ice is as simple as a twist of a toggle.
The refrigerator also boasts what is called a Moist Fresh Zone which helps it keep fruits and vegetables fresh by balancing the internal temperature. To add points aesthetically, this refrigerator comes with recessed handles and hidden hinges. In the power consumption department, this model should perform just fine as it comes with a 2-star energy rating which is decent for this price range.
Besides, this refrigerator comes with Digital Inverter Technology which will help it keep running during power cuts. In order to be sure about the space it will take up, this refrigerator is 1545 mm tall, 637 mm in length and 555 mm in width and weighs 52 kg. You also get a 1-year warranty for the whole machine while the compressor carries a 10-year warranty.
Whirlpool 245 L NEO FR258 – Rs 18,999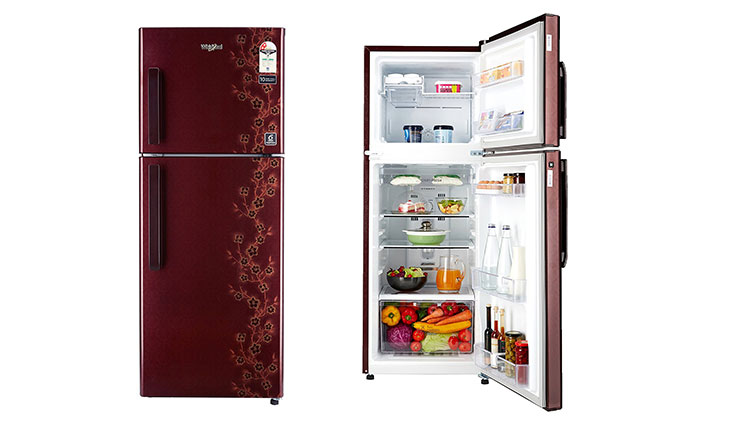 When we talk about refrigerators, Whirlpool is one of the most heard brands which pops up in our mind. The Michigan based firm has come a long way in the home appliance industry and still holds a strong hand in India. Priced at around Rs 18,999, Whirlpool's NEO FR258 range is a decent option. The refrigerator offers a capacity of 245 Litre and is powered by 6th Sense Deep Freeze Technology for faster freezing & cooling retention.
Talking about the space utilization, the refrigerator boasts 2 toughened glass shelves in the main compartment along with all the necessary shelves and trays on the side door. There is a dedicated fruit and vegetable basket which Whirlpool claims will keep the items fresh easily for 7 days. Other additional features include Chilling Gel, Dairy Fresh Chiller, Fresh Flow Air Tower and Active Deo.
Rated as 2 Star on energy capabilities, it should be decent on your electricity bill and further reduce the costs, it comes with a reciprocatory compressor which will help you save some bucks on maintenance. For the dimensions, it measures at 1495 mm x 662 mm x 560 mm and weighs 54 Kg. Also, the warranty for the whole refrigerator will last 1 year while Whirlpool will provide 10 years of warranty for the compressor.
Haier 247 L HRF-26745BS-R – Rs 18,999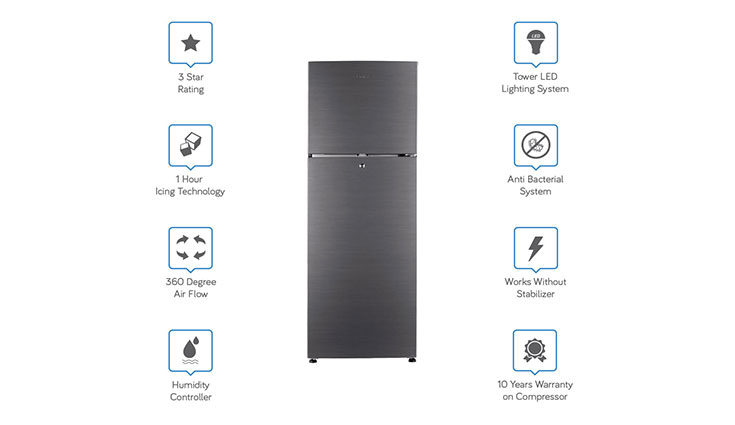 Another promising player without which the list would be incomplete is 'Haier'. The Chinese home appliance manufacturer has had a pretty impressive run in India and for a budget of Rs 20,000, Haier offers a 247 Litre HRF-2674BS-R refrigerator which is available for Rs 18,999 in the market. The highlighting feature in this model is its '1 Hour Icing Technology' which the company claims can bring down the freezer temperature to -5 degree in just 60 minutes. It also comes with a Coolpad to keep the items fresh and healthy in times of power cut.
There is a built-in stabilizer and this refrigerator will also keep the costs low as it comes with a 3 Star Energy Rating. In the main compartment, we get three toughened glass shelves along with three door bins on the side including a dedicated egg tray and a can rack.There is also a dedicated Ice Maker and a vegetable crisper along with filters that contain Vitamin C which Haier claims will help keep the vegetables and fruits healthy.
Apart from this, there is a deodorizer, a door lock and automatic humidity control. For space it will take up at your home or office, it measures at 1492 mm x 707 mm x 548 mm. We get a1-year warranty for the whole product while the compressor comes with a 9-year warranty out of the box.
Godrej 240L RT EON C 2.4 – Rs 18,999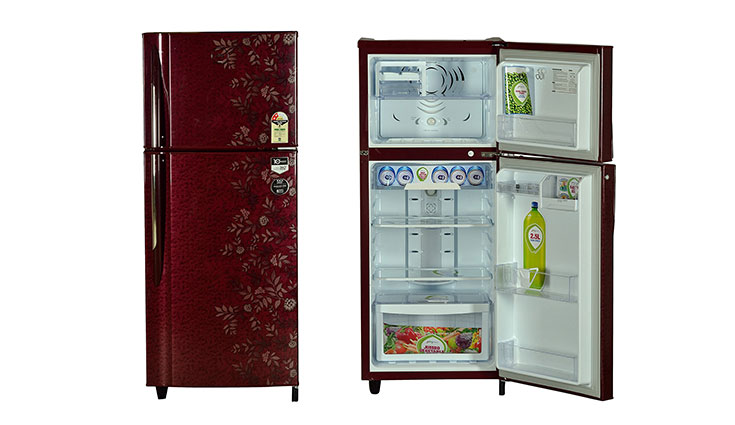 Next up in the list is Godrej's RT EON C 2.4 with 240 Litre capacity coming in at a price of Rs 18,999. If you are a loyal customer of Godrej, this refrigerator might be a good upgrade. Although the refrigerator is not as appealing aesthetically, it is still a decent bank for the buck.
Similar to other technologies, Godrej has included a Cool Shower Technology which technically ensures superior all-round cooling with the help of built-in air vents. There is an Anti-B technology to keep the bacteria away which can be a great problem when you keep a lot of stuff in your refrigerator.
On the inside, there are 2 shelves, a dedicated egg tray and a big bottle basket on the door. In the frost free freezer compartment, we get an ice tray along with polybag suspenders. Fluctuating voltages is not an issue as it can easily handle fluctuations ranging from 140 to 260 volts. Rated as 2 star for energy levels, it should also not harm your electricity bills. The refrigerator measures at 1437 mm x 706 mm x 597 mm and weighs at 48.75 kg. The machine comes with a 1-year warranty while the compressor boasts a 10-year warranty protection.
LG 253 L GL-B282SGSM – Rs 19,900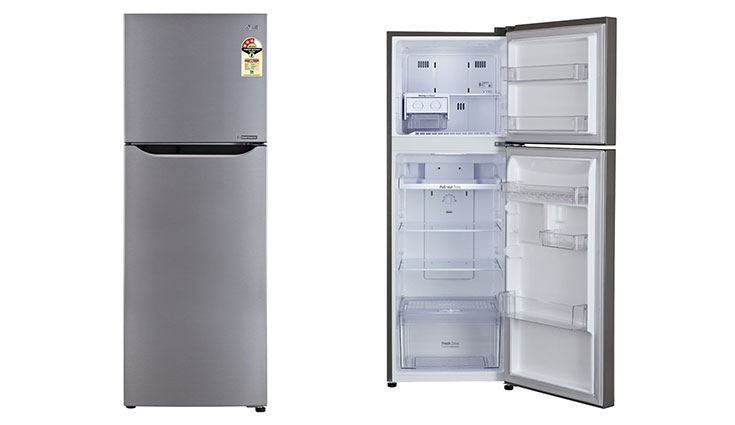 The last one in our list is LG's 253 L GL-B282SGSM which is a head to head competitor to its Samsung counterpart. Priced at Rs 19,900, this refrigerator score full marks in the design department. The handles are pocketed to the door and the high glossy finish on the outside helps it fit in any place at your home.
In the main refrigerator compartment, there are 2 shelves coupled with an egg tray and bottle basket on the door. The freezer compartment comes with a movable twist ice tray along with 2 baskets on the door as well. Additional features include an automatic humidity control, multi-air flow, door lock etc.
Since it's a 3-star machine on energy consumption, it should be better than most of the options in this list. Further, it can also handle voltage fluctuations from 135V to 290V and the smart inverter compressor should be a saviour at the time of power cuts. The refrigerator will require a space of about 1570 x 555 x 620 mm. As is the case with most of the refrigerators, the machine comes with a 1-year warranty while the compressor comes with a 10-year warranty.