In today's busy life one never knows when one would need medical attention. There are times when basic first aid or home remedies come in handy in addressing health issues.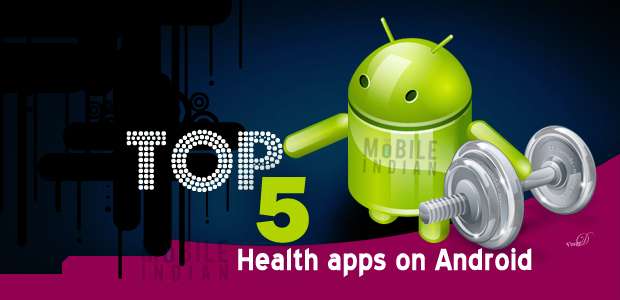 Some other times knowing the composition of a medicine is handy in finding the alternate medicine from a different brand and in case you have small children at home knowing the correct dose of medicine based on weight and age is important.
Here we present to you the top five free health apps on Android, which can be handy in dealing with medical situations. Do keep in mind that the content provided in these apps is meant for reference only and you must visit a qualified doctor whenever need arises.
Doctor At Home
Pros: User interface, Number of common ailments covered, Easy to understand language
Con: Is available in English language only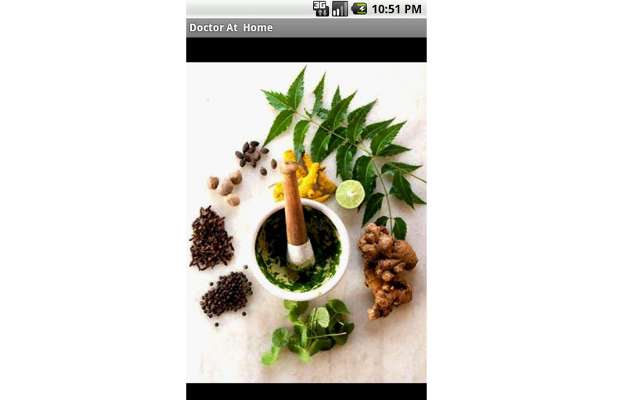 Home remedies, popularly called as dadima ke nuske in India, are very handy to treat minor diseases like cough, cold, fever etc using things available in every household like clove, lemon, honey, ginger and so on. Doctor At Home application has a list of such home remedies.
The app has a nice and easy to navigate layout. In the first screen on the app all the problems are labeled under eight categories – Eye care, Foot care, Hair care, Hand care, Lip care, Obesity, Skin care and General, which are depicted through big icons.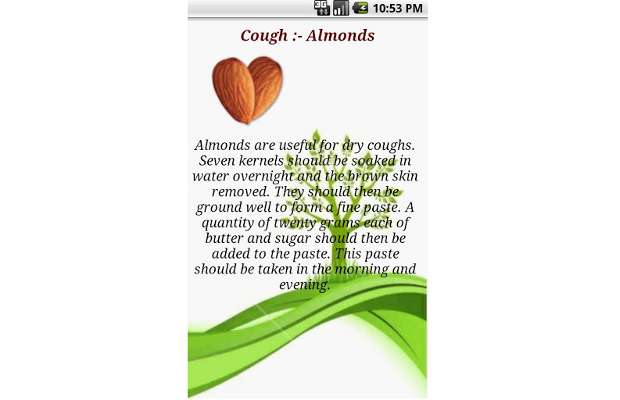 The above-mentioned categories are further divided into specific aliments. On clicking the ailments you will again get a list of items you can use for treatment. On selecting an item, you will see a picture of the item and procedure for making the medicine along with dosage to be consumed and at what time.
The app doesn't use word jargon while conveying information, thus it is easy to understand. Also, the use of pictures while conveying the procedure of making medicine is appreciable.
Overall, Doctor At Home is quite a handy app, which addresses almost all the common ailments and that too in a language that can be understood by everyone who knows English.
###PAGE###
First Aid
Pro: Informative, exhaustive list of emergency situations, videos
Con: Interface and layout can be better
It is a known fact that in case of a medical emergency, the lives of 60 per cent victims can be saved if first aid is administered on time. First Aid is one such app that can help you deal with such a situation.
First Aid app is divided into five segments – call, tips, myths, test and kit. In the Call feature, one can feed in the mobile or landline number of the person who would like to be intimated in case of an emergency. The features support dialing functionality as well.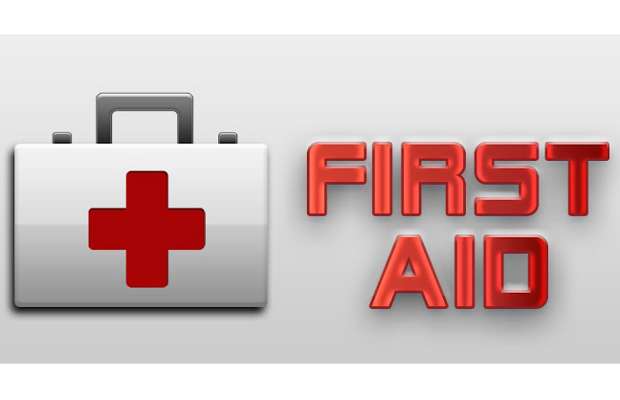 In the tips section one will find ten emergency situations, which anyone may encounter. The situations are related to heart attack and shocks, wounds and bleeding, bone, joint and muscles, head injuries and seizures, effect of heat and cold, poisoning, life saving procedures, breathing problems, other medical emergencies the and scene of an emergency.
The above-mentioned sections are further divided into specific situations. After clicking on the case scenario, the app will show information pertaining to recognizing the problem, symptoms to watch out for and treatment, along with a video. However, videos for all the cases are not available as of now. Thankfully, in some videos one will find sub titles and translation in sign language.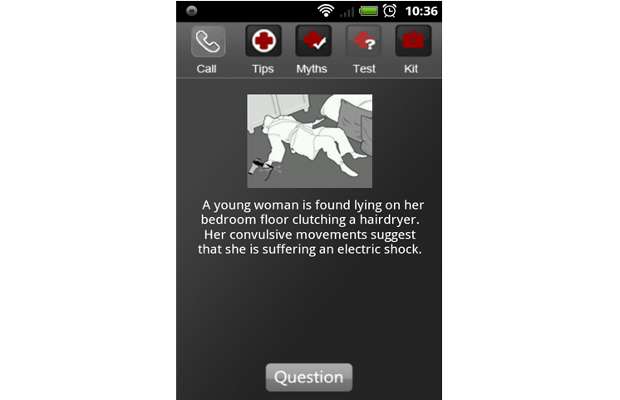 The myths section is basically a guide in question and answer format, where numerous emergency situations are listed as though someone is caught in a fire or someone has a heart attack. Upon clicking one of them the first step that needs to be followed in such a stressful situation will be displayed along with multiple options of handling the situation, of which you have to choose one. The next page will display whether the option is correct or not along with the reason behind it and after that it will display the step subsequent to that and follow the above mentioned process till the last step, until which first aid can be given.
Finally, in the last section you will find information pertaining to all the things you need to keep in the first aid kit.
Pros: Simple user interface; all the common items we eat are listed
Cons: List of items listed; for detailed information one is navigated to a web page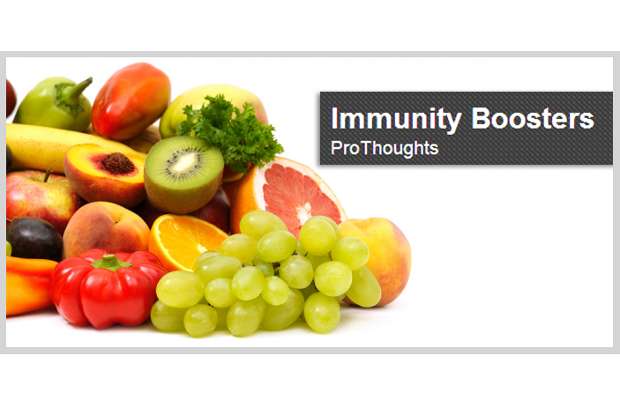 An efficient immune system is a must for a good and healthy life. It is the first line of defense by our bodies towards combating diseases and allergies. The persons with strong immunity were less prone to diseases.
Immunity Boosters is an app that provides useful information about how to strengthen your immune system through a healthy diet. In the app you will find 32 items like apple, wheat, potato and so on; the kind of nutrients they contain and what their properties are.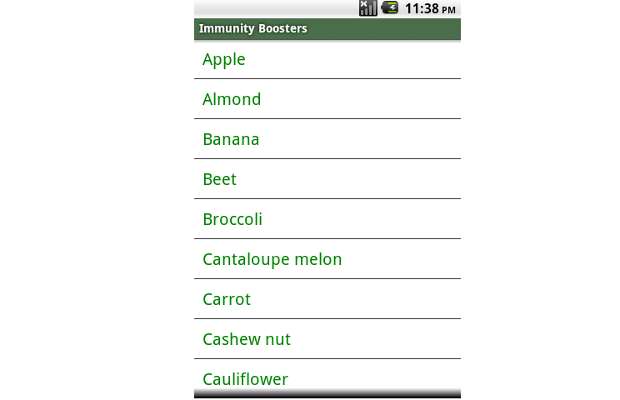 For example, spinach has Vitamin B, E, foliate, calcium, zinc, magnesium and fiber, and they help in combating cancer and heart ailments.
Apart from the 32 items that are listed in the app there are six more items, namely, first aid, immunity boosters, health tips, medication, skin care, and ask a doctor, which when clicked take you to a webpage where you will find a detailed write up on the said topics.
###PAGE###
PaedRx
Pros: Indian medicines listed, nice interface
Cons: One cannot ask a question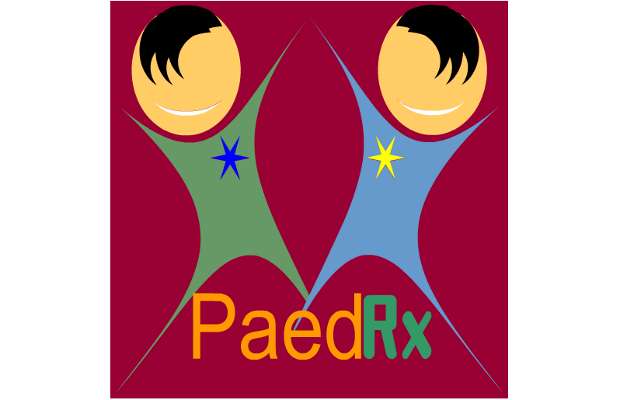 PaedRx is a drug dosage calculator for children based on age and weight of the child, and it is meant to be used by doctors, medical students, nurses and pharmacists to calculate and administer the right dose to children. More specifically, it is helpful for pediatricians.
This app has a very simple user interface and is divided into three parts to search the medicine, calculate the dosage and prescription, and to take the dosage along with details of the medicine and its alternatives.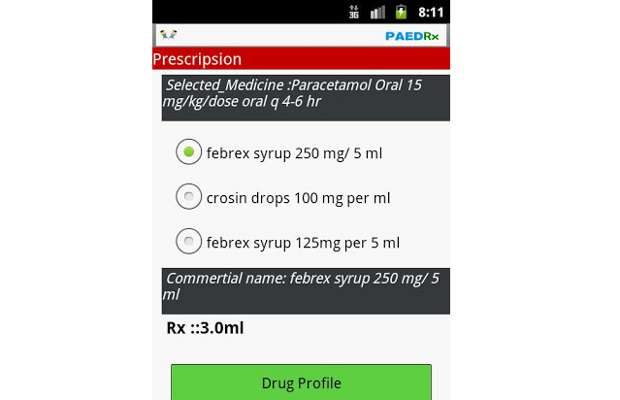 The best part about the search section is that it is intuitive and one doesn't have to write the complete name of the medicine, as after typing a few characters a drop list will appear, and one can choose the medicine from it.
Drugs Dictionary
Pro: Exhaustive data base, intuitive search box
Cons: Offline search is not possible
Drugs Dictionary is the app that provides information related to different drugs and information pertaining to it.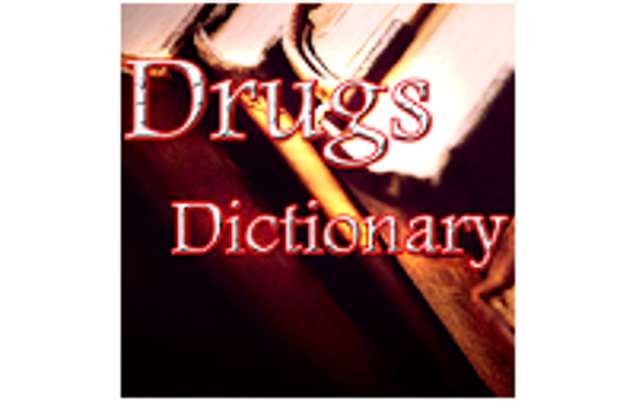 This app has an exhaustive list of drugs and even has an intuitive search box. Even a layman can use this app to understand the meaning of medicines and check what they are meant for but that doesn't mean that it will replace consultation with a doctor or a pharmacist. The application works only with an active internet connection, and then the information is current.