With high definition being the current fad for smart devices such as tablets and smartphones, more and more developers have started coming out with high definition, graphic intensive games for mobile devices. The days when gaming on mobile devices used to be boring and monotonous are long gone. Today we have many genres of games offering varied game play. So, be it action, puzzle or strategy, games are going for better visual appeal to lure more and more customers.


But while many HD games come at a premium price we have shortlisted a few that are available absolutely free of cost. These games sometimes get ad support just to make up for costs but often just make do with in app purchases as well.
So after the top 5 free HD games for Android (https://www.themobileindian.com/re-story.html?i=/news/8253_Top-5-free-HD-action-games-on-Android) here we have a selection of top 5 HD action games that any iOS user must have on his device if the hardware supports it. Plus, all these games are available absolutely free.
Have you ever wondered how it is to be the only one fighting behind enemy lines? Well, the game Frontline Commando puts you right in the middle of some intense war action where you are the sole commando left alive and now your only mission is to kill and take revenge from the ruthless dictator Khan. You must use your skills and outwit enemies who pour in from all directions and that too in large numbers.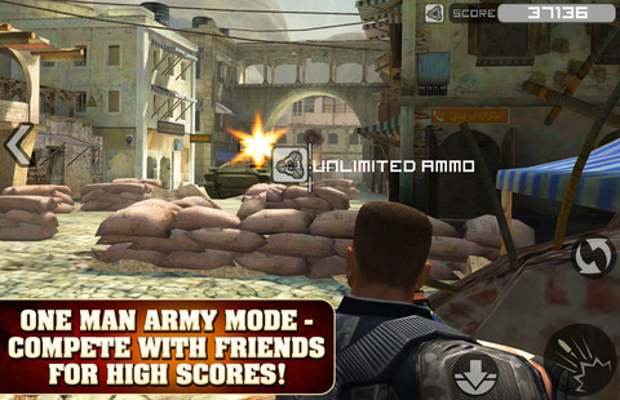 This is a classic third person action game you play as the commando and finish missions while killing enemies one way or another. The game has minimal movements and players mostly have to control the commando's action stances and move between places just to avoid attacks.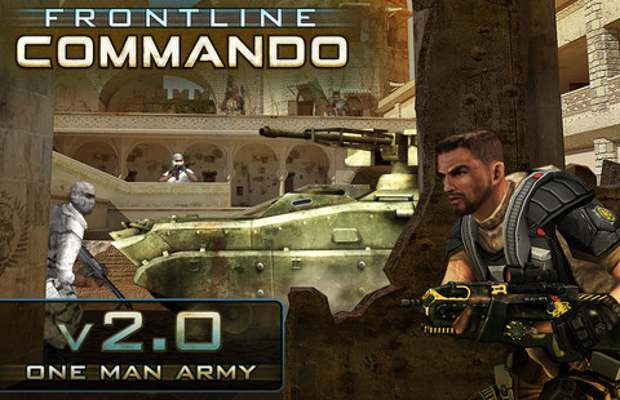 As the game progresses players get newer and more effective weapons but the enemies also keep evolving. Therefore the challenge also keeps growing as you progress. The game promises plenty of game time with numerous stages all filled with intense and nail biting action.
###PAGE###
Bomb Panic
Mole Hunt is one of those classic games that some love to play even today, but with time the game has lost its glory as it has become too simple for today's hardcore generation. Not to worry, though, as in Bomb Panic you will find this very game and with super charged action too. The game involves players having to whack at strike bombs before they can do any damage. But the game does not end here. It throws a variety of bombs and that too very rapidly, which should definitely make some gamers forget to blink amidst all the high speed action.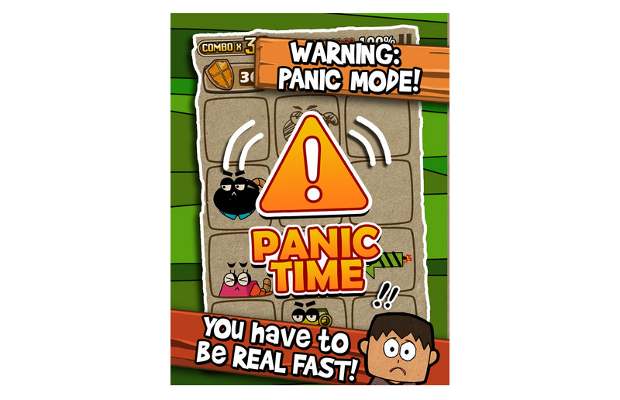 The game has 15 unique bombs all with their own set of skills. Yes, you read it right. For instance, you start with the simplest of bombs and then moving forward you encounter spike bombs which need to be carefully tackled when their spikes go down, or you are bound to lose a life. Well, there are 13 such deadly bombs and we will not spoil the fun just now.


In the 20 stages coupled with 15 different bombs the game promises some high action thumb cracking times for players. Although with the panic mode on players might just also break the device; who knows?
The sequel to Blood and Glory, the new Blood and Glory Legend comes with the same slash and kill action but in a totally new form. Blood and Glory Legend revolves around gladiators who are there to fight for glory and players begin as novice gladiators fighting their way up the ladder while gaining experience as well as newer skills and abilities as they evolve. Earlier it was the fight to the top to be the ultimate gladiator, but now it's the path to glory while being a legend.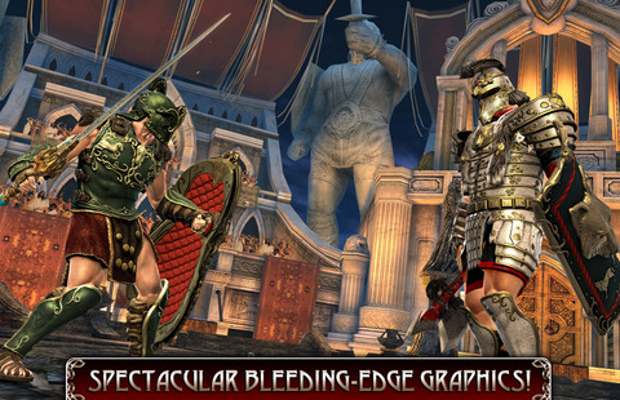 The game brings in improved graphics and game play. The visuals have also been improved and the character's movement, which was earlier just limited to some moves in front of the opponent now takes a larger viewpoint as well. The game also incorporates new slow motion glorious strike moves along with special moves just to bump up the action and excitement of the game.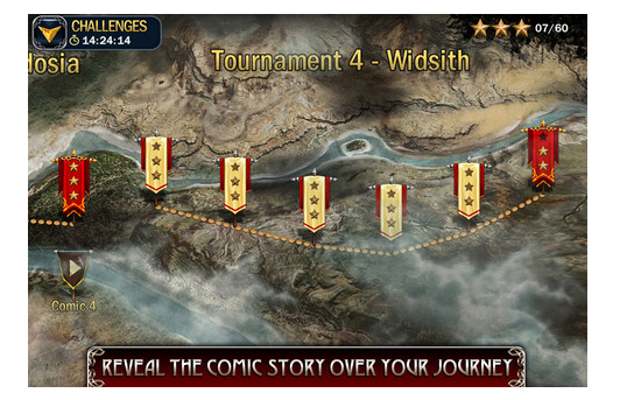 It is very nice to have played this game that offers hands on action for players, rather than just aiming to shoot.
The only catch is that your health will not last through an entire tournament. So you can fight well, survive to the end, and become the champion, or stumble terribly in the first match and have little to no health to get you through the remaining four, but by spending some glu coins, which are awarded upon completing each level you can buy health potions during a tournament or fight.
###PAGE###
Spy Mouse
The story of mice stealing our cheese is not new and most people hate it when they do that, but this time it's your chance to help the squeaky little buggers steal cheese from houses. As simple as it might sound, though, the game brings in some real challenges that keep growing with each stage. Cats-the most common enemy of mice are in plenty and players will have to work their way around them by outsmarting them and reaching the ultimate goal, the cheese, and that too in the shortest possible time.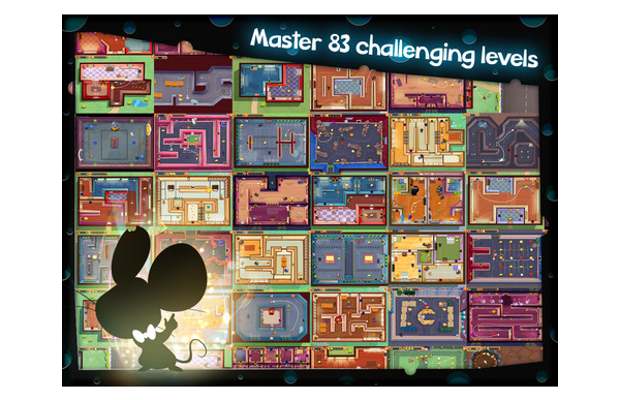 The game starts at the most basic of levels, teaching players how they can guide the mouse to steal the cheese and get out of the house, but as levels become harder so does the danger. Players will often find themselves struggling and running for their mouse's life while being chased by the cat or saving the mouse from the trap.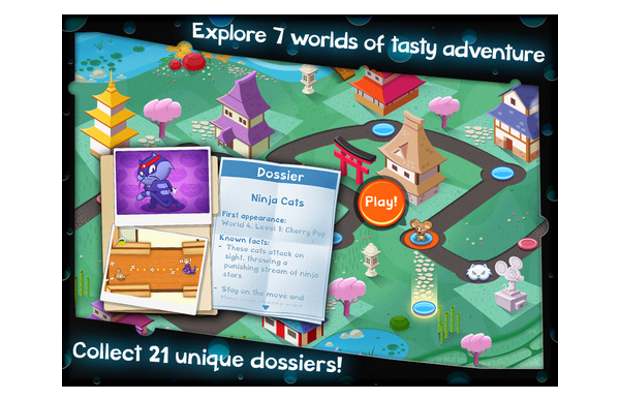 There are 83 different stages spread across seven worlds, which are plenty to keep players glued to their devices. The game doesn't just need players to be smart but at the same time be quick as well to get the job done.
Apt for the whole family, the game will keep players entertained as there are plenty of goals to complete and stages to work your grey matter.
What's My IQ is exactly what you will be asking yourself once you get cracking with the questions this game throws at you. What's My IQ is a puzzle based IQ testing game with some very tricky questions that might be very difficult for even the brainiest players to answer. What's My IQ comes as a whole new puzzle game with a series of creative puzzles and absurd solutions that users would never have thought of! Each puzzle is unique and pushes the player's creative thinking to the limit.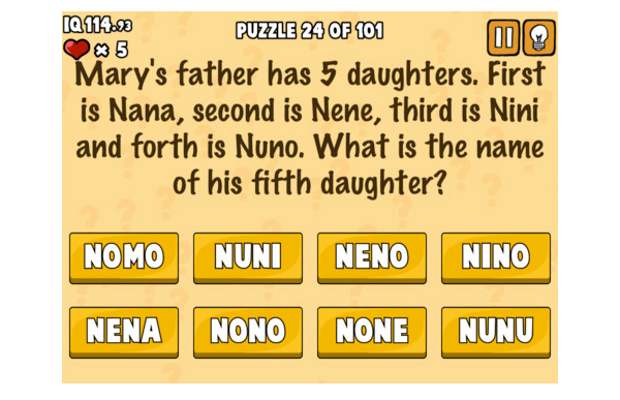 The game has a total of 50 tricky puzzles to solve and all of them require a good deal of thinking to solve. The game also offers solutions or cheats to 20 puzzles just in case players get stuck with the game at any point of time and need help.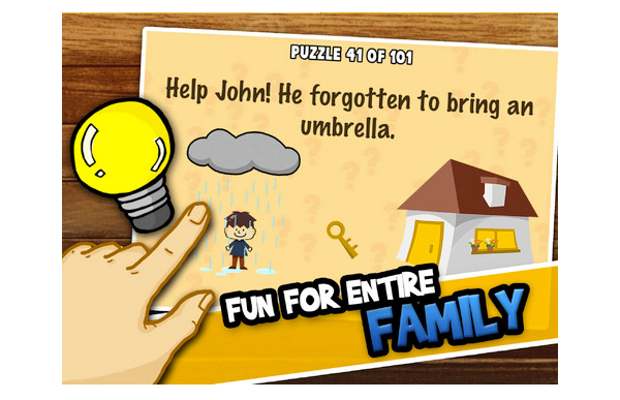 The game is appropriate for any and all members of the family and can also be used for a small IQ competition at home just to prove who is the brainiest of all.