Zebronics has become the first Indian brand to launch a soundbar that comes with two subwoofers. Dubbed as the Zeb-Juke Bar 9550 Pro Dolby 5.2, the new soundbar also offers two satellite speakers, each with a 75W output. Meanwhile, Blaupunkt also debuted a new soundbar with a curved face.
Zebronics Zeb-Juke Bar 9550 Dolby 5.2: Price, Specs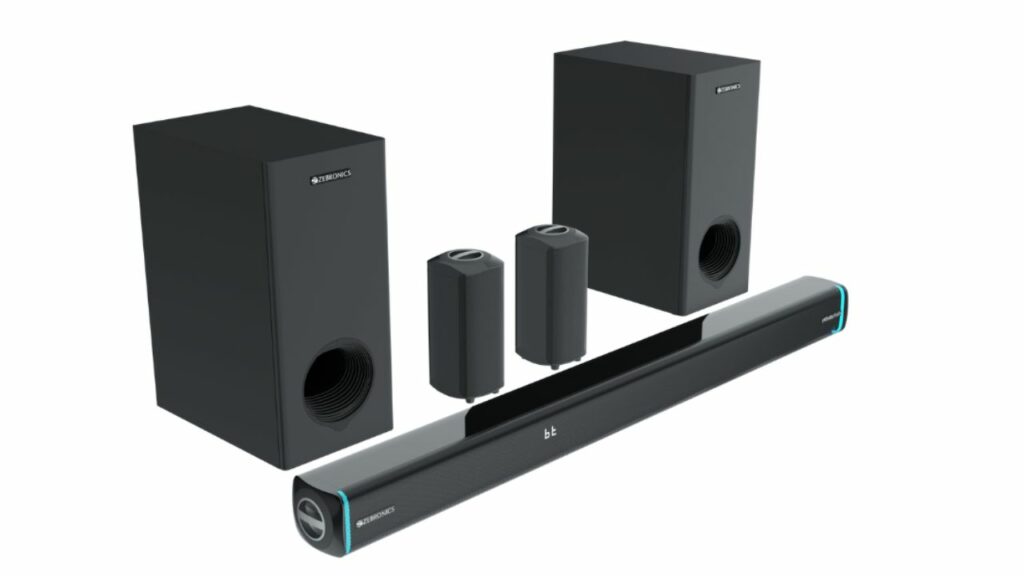 The ZEB-JUKE BAR 9550 Pro Dolby 5.2 will be available on both Amazon and Flipkart at an introductory pricing of Rs 19,999 from 3rd November 2023.
The whole package features a soundbar housing three 75W drivers, along with dual wireless satellites, each with an output of 75W. To top it off, there are two wireless subwoofers, each packing a punch at 75W. It is coupled with the immersive quality of Dolby Audio.
"The triple-driver soundbar and satellites work in harmony to reproduce crystal-clear audio, while the subwoofers add a depth of powerful bass", according to the brand. The Zeb Juke Bar – 9550 Pro Dolby 5.2 soundbar from Zebronics offers a set vibrant RGB lights. For connectivity, it supports BT v5.3, HDMI (ARC), Optical-in, AUX, and USB.
In a similar price range, there are other options available such as the Sony HT-S20R (Rs 15,500), Yamaha Audio SR-B20A (Rs 14,000), Sony HT-S400 (Rs 18,900) and more. While these do not offer dual subwoofers, they are known players in this segment and have a better brand reputation in some aspects.
Read More: Twitch to shut down its app on Nintendo Switch
Blaupunkt SBA01 Rekurve: Price, Specs
Listed for Rs 5,999 on Blaupunkt's own website, the SBA01 Rekurve has a 100W output. The curved face of the soundbar is designed by AI while ensuring that the sound flows out in a wider beam giving the listener a 360 degree experience. The Rekurve produces 80 watts of power with clear, deep bass and distinct mid- and high-frequency ranges.
It has three different sound modes to sync with what sort of content you are consuming. These modes have been designed and balanced for watching movies, listening to music and keeping up with the news. The soundbar supports HDMI ARC, optical, USB, and AUX inputs, apart from Bluetooth.
The SBA01 Rekurve includes a remote control, using which, users may personalize their audio experience by precisely adjusting the bass and treble. Additionally, you can easily alter settings without having to stand in front of the soundbar thanks to the long-range control feature.