A few years back, Samsung was the clear market leader in India. There was a time when Samsung smartphones, especially, between Rs 10,000 to Rs 20,000 were widely popular among users and some were quite trendsetters in their own right. Launches were awaited for the benchmarks they would set vis a vis other handsets. Quite simply, despite the flirtation with the Tizen OS, Samsung was king among Androids. So much so, that in a comparison encouraged by Samsung itself, if Apple was the sole owner of the iOS world, Samsung was seen as the worthy match in the much bigger Android universe. However, all that has changed with the advent of new players in the Android segment.
We recently saw brands like Xiaomi, Honor, Asus and the entrants like Realme, disrupting the market with impressive phones that had both the specs and an affordable price tag. With this, the Korean giant, which once dominanated in the market, has seen its market share being whittled away.
"In the INR 10-20k segment, smartphone users are more mature buyers who are majorly upgrading to new and better smartphones. Given that all smartphone brands have almost similar offerings, and there is not much of a difference in the brand attributes amongst various players in the segment, consumers look for the best offerings. Under these circumstances, it is not easy for Samsung to attract a hefty premium," said Narinder Kumar, Analyst, Industry Intelligence Group, CMR. He could have added, these are much better informed consumers with a decent sense of what they want, and the options they have.
As rightly pointed out by Narinder Kumar, the Samsung premium can no longer work. For example, take the case of the recently launched Galaxy J8. The smartphone comes loaded with a new display trend and offers you dual rear cameras. Going by the type of resolution and other internals, instead of a leader, the J8 looks more the underdog, when compared to the likes of Xiaomi Redmi Note 5 Pro or the Asus Zenfone Max Pro M1 that not only come with powerful specs but are also priced quite aggressively.
Therefore, to give a more clear view on what Samsung has been offering, we have picked the smartphones under different price segments that were launched in last six months. By the end of this article, things will become clearer on why Samsung is failing to cope up with its competition in this price band.
Samsung smartphones between Rs 10,000 to Rs 15,000
Coming to the sub-15K segment, which is one of the most highly-competitive ones, things are turning out to be pretty challenging for the Korean giant. As per data from CMR, Samsung had a market share of 26 per cent in the Q1 of 2017, while its arch-rival Xiaomi gained 31 per cent of market share. If you see the table below, you will find that Samsung market share was quite unstable and in Q3 and Q4 of 2017, the brand was way behind Xiaomi scoring just 27 per cent and 31 per cent market share as compared to 43 per cent and 40 per cent market share captured by Xiaomi.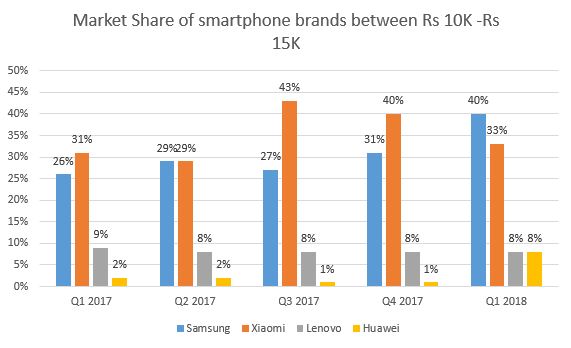 Source: CMR
This simply indicates that the brand has faced an intense competition with the new-age brand Xiaomi, while the rest of the competition including Lenovo and Huawei maintaining a steady growth in their market share.
Samsung launchedtheGalaxy On7 Prime and Galaxy J7 Prime 2 Rs 12,990 and Rs 13,990. In the table, you will notice something really odd. Both the smartphones come loaded with same specifications. Does the comoany really think the consumer won't notice?

Even then, both the smartphones fall short when compared to competition. Take the example of Honor 9 Lite. The company is giving you glass back and premium design, better display, dual rear cameras, octa-core 2.36GHz clocked HiSilicon Kirin 659 processor and the latest version of Android Oreo, all this for just Rs 10,999. This means you are paying Rs 2,000 more on the Galaxy On7 Prime and Rs 3,000 more on Galaxy J7 Prime 2 for the type of specs and performance that can be easily bought for Rs 10,999.
Moving on to Galaxy J6, its first smartphone with Infinity Display. The phone comes with a price tag of Rs 13,990 for 3GB RAM variant. The device comes with 5.6-inch HD+ display, Exynos 7870 processor, 3GB + 32GB memory, 13MP rear and 8MP front cameras, 3000mAh battery and Android 8.0 Oreo. This time as well the company introduced an age-old processor along with quite average specs which are almost similar to its other siblings.
The brand was not only late to the technology upgrade for its users but also failed to offer some respectable specifications. For your comparison, Asus did a really good job of providing the latest Snapdragon 636 chipset along with the latest display, insane battery backup and more for just Rs 10,999. That makes the latest galaxy phones look distinctly underwhelming.
Samsung smartphones under Rs 15,000 to Rs 20,000
Talking about price range from Rs 15,000 to Rs 20,000, Samsung recently launched two smartphones, the Galaxy J7 Duo and Galaxy J8, for Rs 16,990 and Rs 18,990 respectively. The Galaxy J7 Duo offers a 5.5-inch HD display, 4GB + 32GB memory, 13MP + 5MP rear camera, 8MP front camera, 3000mAh battery and Android Oreo.

On the other hand, the Galaxy J8 offers 6.0-inch HD+ display, Qualcomm Snapdragon 450 SoC, 4GB + 64GB memory, dual 16MP rear cameras, 16MP front camera, 3500mAh battery and Android 8.0 Oreo. That said, starting with the Galaxy J7 Duo, it is a shame that Samsung is giving you an HD display at a price that high. Other competitors like Xiaomi, Asus, Realme and Honor, is giving you Full HD+ display, which has become a new standard in this price range. Moving on, Samsung is stuck with its two-year-old Exynos 7870 processor, which is currently present in most of the Galaxy J-series and Galaxy On-series. The chipset is an underdog when compared to the new Qualcomm Snapdragon 636 processor that powers Xiaomi Redmi Note 5 Pro and Asus Zenfone Max Pro M1. Even Honor 7X that comes with Kirin 659 processor, comes with octa-core and it is clocked higher than 1.6GHz present in Exynos 7870.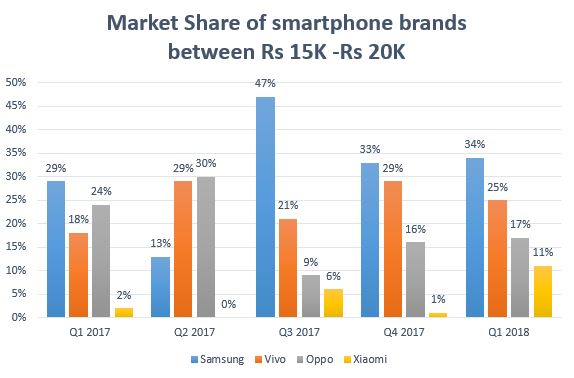 Coming to the recently launched Galaxy J8, this is the first smartphone that comes with Samsung's most-touted Infinity Display. However, in this phone as well the brand is giving you an HD resolution as compared to other devices. Plus, most of the phones priced that high comes loaded with dual rear cameras and offers better processing power as compared to the Qualcomm Snapdragon 450 chipset. On the design front, you get a plastic body on both the smartphones, while other manufacturers are giving you more premium metal or glass finishes that sure looks better than the one present in these two.
Conclusion
With its amazing brand visibility and user base, there is no doubt that the Samsung brand carries a lot of heft. However, in smartphones, other than an Apple, we believe almost no other brand can charge the sort of premium Samsung aspires to. The brand needs to get over its Apple hangup and focus harder on protecting market share on the back of its reputation for quality and more, without charging the sort of premium it is trying for. Firms like Xiaomi have simply changed the benchmark on that, and the market is dancing to their tunes now. It's a dance Samsung will do well to master, or face market share losses that while not qute catastrophic, will certainly hurt.