Twenty years back, LG, a then barely known Korean company in India entered the country with a mission to establish itself as a serious player. For LG, the Indian market was ripe for the taking, with limited global competitors, and the heady tailwind of success in their own and other Asian markets behind them. The first range of products it launched in India were TVs, Refrigerators, Washing machines and Air conditioners.
India must have been a particularly attractive target to Korean firms at the time, as even today, Samsung remains LG's biggest competitor across key white goods categories. Perhaps the one category where LG has reason to be dissatisfied would be mobile phones, where its domestic rival Samsung has stolen the thunder comprehensively.
In 1998, LG established its first factory in Pune and later on the added one more factory in Greater Noida. These facilities manufacture Flat Panels, Refrigerators, Microwave ovens, Washing machines, water purifiers & Air conditioners. Today, LG has around 4,000 employees in India. the Pune factory is touted to be a marvel for fans of robot led manufacturing.
As a sign of intent and seriousness for the Indian market, look no further than perhaps LG's biggest selling point in India today, its service network of over 1000 service centres across the country. Backed by an aggression rarely seen before in the market and a focused approach to gaining market share at all costs initially, in two decades of its operations in India, LG today has a 35 percent market share in Refrigerators and washing machine, 24 percent in flat panels TVs and 18 percent in ACs as per GFK data.
To commemorate its 20 years in India LG has launched an attractive set of offers, where the company is offering Rs 20,000 Cashback Offers on select products, 20 Months EMI Programs, 20% Discount on MRP on select Products and Free Gifts with Many Products. Details on all offers are available on LG's website.
Coming to India after the market had been ruled by Japanese brands who had probably become somewhat complacent, LG has been no slouch when it comes to product innovations and marketing chutzpah, with a whole lot of products, including some real innovations, besides a value for money pitch for most of the products that has served it well over the years.
Some of LG's key product highlight in the last 20 years include:
TV
LG Golden eye TV (The unique Golden Eye Technology with Gamma Correction adjusts the picture to the ambient light.) Sampoorna TV ( It facilitated on screen display in vernacular languages like Hindi, Tamil and Bengali)Soccer TV (LG had launched a new CTV model, looking like a football, which according to it is the world's first soccer TV in India)
Soccer TV (LG had launched a new CTV model, looking like a football, which according to it is the world's first soccer TV in India)
Sampoorna TV ( It facilitated on the screen display in vernacular languages like Hindi, Tamil and Bengali)
Soccer TV (LG had launched a new CTV model, looking like a football, which according to it is the world's first soccer TV in India)
Cricket TV (LG produced television sets with built-in cricket games)
LG OLED TV ( New category of TV with self-emitting pixels)
LG Mosquito away TV
Refrigerators:
LG door cooling Refrigerators
LG Dios ( Large capacity refrigerators with unique features)
LG Refrigerators with Inverter Linear Compressor (for Greater Energy Savings and Low Noise)
LG Preserve Nutrition refrigerator
LG Power cut ever cool refrigerator (Power Cut Evercool Refrigerators retains freshness and keeps food and vegetables fresh for 7 hours in the refrigerator even after the power cut)
LG Dual Fridge (convert the freezer into fridge and providing extra storage)
AC
LG Plasma Gold Air conditioners (These ACs packed with unique features, such as Plasmaster Ionizer. This technology was developed to give 99.9% pure air)
LG Art cool Air conditioners ( AC with a frame that allows the customer to modify & personalise the unit with their own artwork or photography)
LG Mosquito away AC
LG Dual Inverter AC ( LG is the first manufacturer to shift the entire line of split ACs to Inverter ACs. LG Dual Invertor ACs complies with ISEER Ratings (Indian Seasonal Energy Efficiency Ratio), a new efficiency rating for AC by BEE (Bureau of Energy Efficiency)
Washing Machine:
LG Twin wash washing machine (wash two separate loads at the same time)
Mobile Phones:
LG Shine Mobile Phone ( steel body)
LG Shine Slider phone for Rs 15,999 and bar phone at Rs 8,999
LG Chocolate mobile Phone
LG G series phone ( recent launch is LG G6)
LG Prada: India's 1 st Full Touch Screen Phone
LG Optimus 2X: India's 1 st Dual-Core Smartphone
LG Optimus 3D: India's 1 st Full 3D Smartphone
LG Optimus VU: India's 1 st 4:3 Ratio LTE Smartphone
LG G Flex: India's 1 st Curved Smartphone
LG G5: India's 1 st Modular & Quad DAC phone – The modular slot in the LG G5 can be swapped for different modules which LG calls as Friends.
LG G6: India's 1 st with Dolby Vision
Water Purifier
LG water purifier ( with stainless steel storage)
The company has put out a
unique video to commemorate

its 20th anniversary, that will probably connect with Indian consumers for its feel good message. It is told through an inspiring story of a single mom and her daughter who goes on to become an astronaut. It traces the journey of a girl from the year 1997 to 2017. And how an LG products were always around them in their struggle to meet their aspirations.
We recently caught with Amit Gujral, Head Corporate Marketing, LG Electronics India to know more about the current and future roadmap of LG in India. Here the excerpts of the interaction.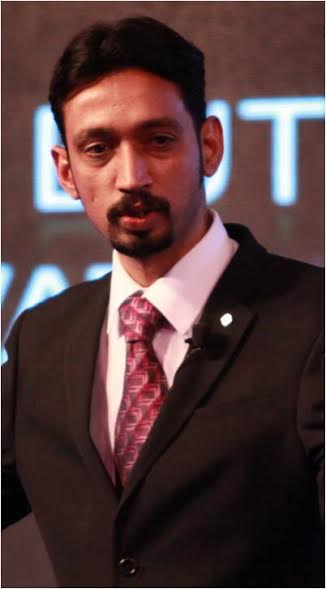 What role does marketing play for LG?
LG believes gone are the days when people have been marketing only about the price factor, easy to buy or value for money feature of their products. Today's consumers are very well educated; the level of awareness is too high these days. They look into factors like what benefits do they derive from what they purchase, or is there any emotional lifestyle connected with them. That is the philosophy that keeps them driving to buy a product.
The core concept of LG marketing is "Outside- In" meaning we do not want to satisfy basis only what we think. The 'Outside' context here is consumers, who are there in the market, their needs and demands, what do they perceive etc. So we learn from them and adopt our strategies. Marketing is just not marketing communication; it starts from the product. The whole phenomenon revolves around the consumers primarily.
How did LG tackle demonetization?
Demonetization is a landmark decision of the Prime Minister. Rather than creating a havoc situation. for our customers, we decided to ease up the EMI option for them. We made sure that every touch point where a consumer wants to buy an LG product has this facility available of an extended EMI, thus ensuring ease of buying for the customer. We put customers first!!
What has been LG's commitment to R&D?
When we talk about RD, there are two approaches. One is the pure research and development for new innovations and products based on consumer studies with utmost Quality Control and the second is the production R&D. We have a very conscious understanding and strategy to have 'no compromise' when it comes to R&D or production of our products. $10 million per annum is totally spent on R& D by LG India. We have our R&D centres in India. For non-mobile business, it is in Greater Noida and for mobile business, it is in Bangalore.
What about product innovation?
We continuously and consciously reach out to customers to know what they want from the products. We are also consciously understanding the Environmental changes happening over time and how not just people but even Governments are aligning for Health conscious and Environment-friendly products and practices. For example, We have an understanding that from 2018 all the ACs in India shall have to be Inverter ACs, as they are more energy efficient. It's all about saving power and making ACs environment-friendly. It is a move to help consumers to save money and eventually save the environment.
We at LG, from 2017 onwards, have changed the entire AC line-up into inverter ACs. Today in the market LG has the most energy efficient ACs because we made it dual inverter, which is the best-known phenomena of energy conservation on ACs.
Talking about water purifier, we all understand that the need is for pure water. However, the majority of water purifiers sold in the country use plastic storage. We all know how plastic over a long period of time can cause health concerns. This is where we understood of being health conscious and environmentally friendly and so we came out with water purifiers that have stainless steel storage tanks.
Similarly, as we know, mosquitoes are a big menace. All forms of mosquito repellents are chemical in nature. Strategizing as a health-conscious organisation, we went on and added non-chemical mosquito repellents in ACs as well as in Televisions.
How do you segregate the dealer network across your different product lines?
The fabric of this country's dealership has largely been like Multi-brand and Multi-Product selling outlets for Home Appliances and Home Electronics. However, the Smartphone line of business is being catered by a different set of partners by and large with few exceptions.
For our Home appliances and Home Electronics line of products, we have around 20,000+ outlets and around 700 LG exclusive Brand Shops. For the Smartphone business, we have our presence at around 3000 outlets.
What is your strategy for selling the products online?
We have our own online brand store, but as per the FDI rules in the country till about recent past, we directly cannot sell to our customers. For our customer's ease, we have this online brand store (https://www.lgbrandstore.com/in), wherein the products are being delivered through our offline LG brand shops across India. When it comes to the partnership with any e-commerce player, it is kind of very exclusive in terms of product proposition which we and they together understand. We also look at what can be the most convenient proposition for the consumers when it comes to Online Purchase for them. So it's not that we sell everything on e-commerce but only strategic and partner plus consumer proposition-oriented products.
If we take the different product lines, which business is growing for you?
On a holistic level, we are growing almost in double digits in this country, year on year. And that contribution comes from all our product line. We do enjoy our number 1 market share across various verticals like air conditioners, washing machines, microwaves and so on.